One of the most repeated truisms among Donald Trump's supporters is that who we see during the campaign is not who we will get as president.
Trust us, we are told, Candidate Trump is an act designed to energize voters, and President Trump will be the Reaganesque leader we've always dreamed of. Just wait, they say, Trump with change/evolve/pivot/mature into a commander-in-chief of whom we can be proud.
There will be no pivot. Trump will not evolve. He has spent the last year and a half actively trying to convince us the he is a cruel, erratic authoritarian who adheres to no person or movement's principles while rejoicing in his own ignorance — and we should believe him.
This experiment has already been run: Rodrigo Duterte, the "Trump of the East," ran a strikingly similar campaign for the presidency of the Philippines. His supporters made almost identical promises, that the weight of the office and the advice of experts would constrain and moderate him. They were dead wrong.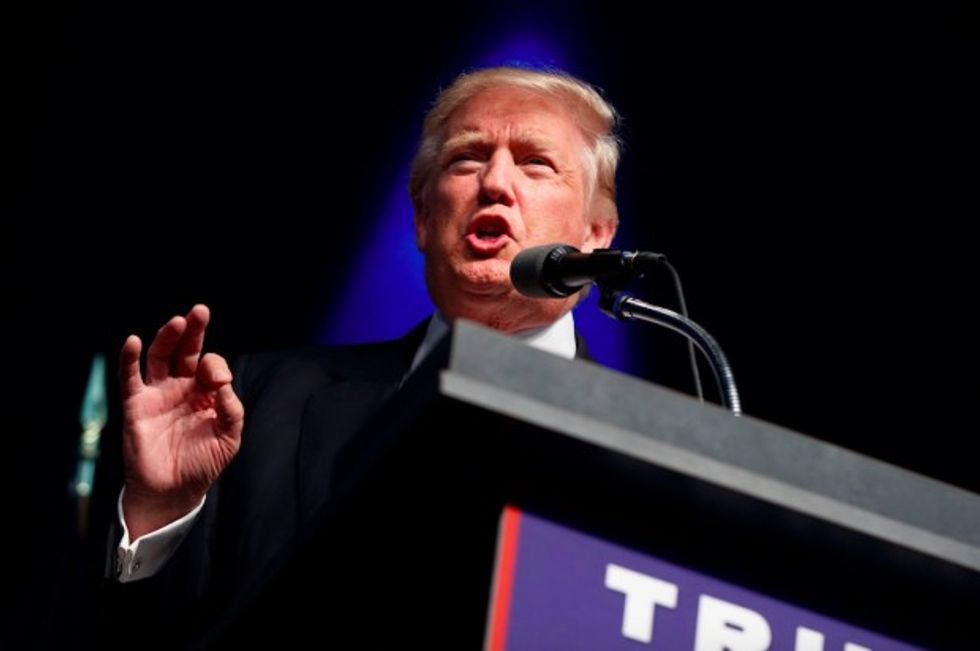 Republican presidential candidate Donald Trump speaks during a campaign rally, Tuesday, Sept. 13, 2016, in Clive, Iowa. A war of words over Donald Trump's "deplorables" is intensifying as Republicans and Democrats fight to score political points over Hillary Clinton's charge that millions of the New York billionaire's supporters are racist, sexist and homophobic. (AP Photo/Evan Vucci)
Like Trump, Duterte's political fortunes rose alongside his bombastic, anti-establishment rhetoric. His freewheeling tell-it-like-it-is style endeared him to his core supporters, insulating him against criticism of his terrible statements about women andviolently aggressive approach to crime. Duterte also shocked many by calling for distancing the Philippines from its traditional allies, like the United States, and pursuing a closer relationship with China. Despite Beijing's history of blatantly provocative antagonism against the Philippines and its interests, Duterte claimed he could make it all better by just negotiating some tremendous deals.
Just a few months into the presidency, the weight of the office, the company of the establishment, and the advice of experts have done little to moderate the Trump of the East. Duterte's authoritarian predilection toward violence has persisted; at his encouragement, vigilante violence has likely claimed thousands of lives. He has kept his promise to put "cutting deals" at the center of Philippine foreign policy, courting investment from Beijing even as it continues to undermine filipinos' long-term security and prosperity.
Though few took him seriously, Duterte appears to be following through on his campaign pledges to turn his back on the U.S. alliance. After calling the President of the United States the "son of a whore," he now appears to be halting joint operations with the United States, calling for U.S. bases to be moved, and, shockingly, ordering his defense secretary to turn instead to China and Russia for military hardware. Duterte is taking astoundingly irresponsible steps that no one could possibly construe as being in the Philippines' long-term interests — steps that he promised to take months ahead of time.
Trump's supporters promise this couldn't happen here. Mr. Trump's running mate — ostensibly his chief advocate — has sworn up and down to skeptical members of Congress that Mr. Trump is not as callous and uninhibited behind closed doors, but rather "a different man" with a style more akin to Reagan. Senator Marco Rubio assures us Trump, upon entering the Oval Office, will evolve and find his real policy positions. Senator Tom Cotton, who has made suspicion of Russia and Vladimir Putin's intentions a focus of his career, has "hope" that Mr. Trump will eventually wise up and abandon his flabbergasting embrace of the Russian despot.
Imagine for a moment if, like in the Philippines, the campaign version of Trump is who actually becomes President Trump. Violence has persistently broken out at his rallies fueled by mere innuendo; imagine if Trump's rhetoric had the largest platform in the world. Trump has bafflingly doubled down on his admiration for Putin; imagine if he is at the head of U.S. foreign policy. Trump has recklessly advocated curtailing U.S. security guarantees unless paid sufficient protection money; imagine if he is in the situation room when a an aggressive nation takes him at his word and fills the vacuum.
Donald Trump is not Rodrigo Duterte, but the parallels are too compelling not to take as fair warning. Duterte's campaign portrayed elite concerns that his rhetoric evinced a dangerously erratic nature as disdainful of his supporters. Duterte had no use for the "political correctness" crowd who thought his statements were cruel and disrespectful. Duterte also fervently denounced the know-it-alls who thought abandoning his country's allies and instead embracing its chief geopolitical foe was egregiously naive.
Duterte was telling the truth the entire time. What if Trump is too?
Harry Krejsa is a national security analyst and Asia-Pacific regional expert in Washington, D.C.
–
TheBlaze contributor channel supports an open discourse on a range of views. The opinions expressed in this channel are solely those of each individual author.