Headlines and front-page photos of 3-year-old Aylan Kurdi's body washed up on the Turkish peninsula rocked the world last week, unequivocally beckoning to humanity that more than 200,000 dead Syrians and 11 million displaced refugees is not acceptable.
Kurdi — along with his 5-year-old brother and mother — drowned shortly into their journey from persecution to asylum when their boat capsized.
This civil war is nothing new for Syria, but jarring images of a facedown, lifeless child floating to shore like debris has finally revealed to the West that this refugee emergency is not a policy issue, but a crisis of humanity.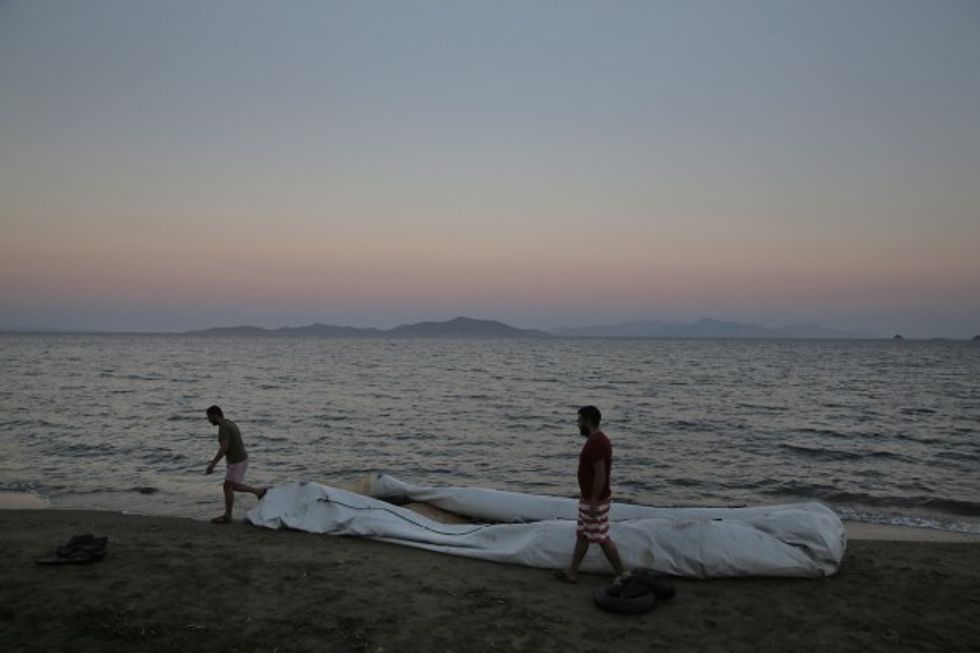 Migrants who tried to begin their journey with a boat from near the coastal town of Bodrum, Turkey, early Wednesday, Aug. 19, 2015 to cross to the nearby Greek island of Kos collect their belongings after they were towed back ashore by a private boat. Following their failed attempt and after the Turkish coastguard took off the boat's engine according to them, the private boat, which owner Arif Yılmaz, 52, said he was hired by a media crew following migrants leaving Turkey, towed them back ashore. (AP Photo/Lefteris Pitarakis)
For generations, the United States has been heralded as a hero of humanitarian aid, but the efforts of our European counterparts has severely dwarfed the role our government has played in addressing this crisis.
For example, German Chancellor Angela Merkel says her country plans to take in at least 800,000 asylum seekers this year alone and United Kingdom Prime Minister David Cameron says the U.K. plans to accept thousands more refugees along with investing £100 million in humanitarian aid to camps in Syria, Turkey, Lebanon and Jordan.
All this compared to the measly 1,500 refugees the U.S. has admitted into its borders since the start of the Syrian civil war in 2011.
"It is reprehensible that our own country is refusing to take in those who are being persecuted by [Islamic State] or have been left homeless from the civil war in Syria," Vernon Brewer, founder and CEO of World Help and author of the new booklet "Hope for Iraq," told me. "Given our role in Iraq and the [surrounding] region, America has a responsibility not just to send aid, but take in the Syrian Christians and Muslims who are being persecuted in the midst of this brutal war."
As The Week's Ryan Cooper wrote last week, this crisis offers the United States the opportunity to do an "uncommon amount of good." By the way, the U.S. is much larger and wealthier than any of the European nations currently aiding the Syrian refugees.
Even as immigration reform rhetoric ramps up on the 2016 presidential campaign trail, the United States still remains among the most open of nations. In fact, Glenn Beck recently voiced plans to walk thousands of displaced Muslims and Christians across the open U.S.-Mexico border in lieu of the State Department's inaction.
For years, the United States has engaged the Middle East on its home turf and now, as the Islamic State spreads from Iraq and further into Syria, seeking a global caliphate, our government has turned a blind eye.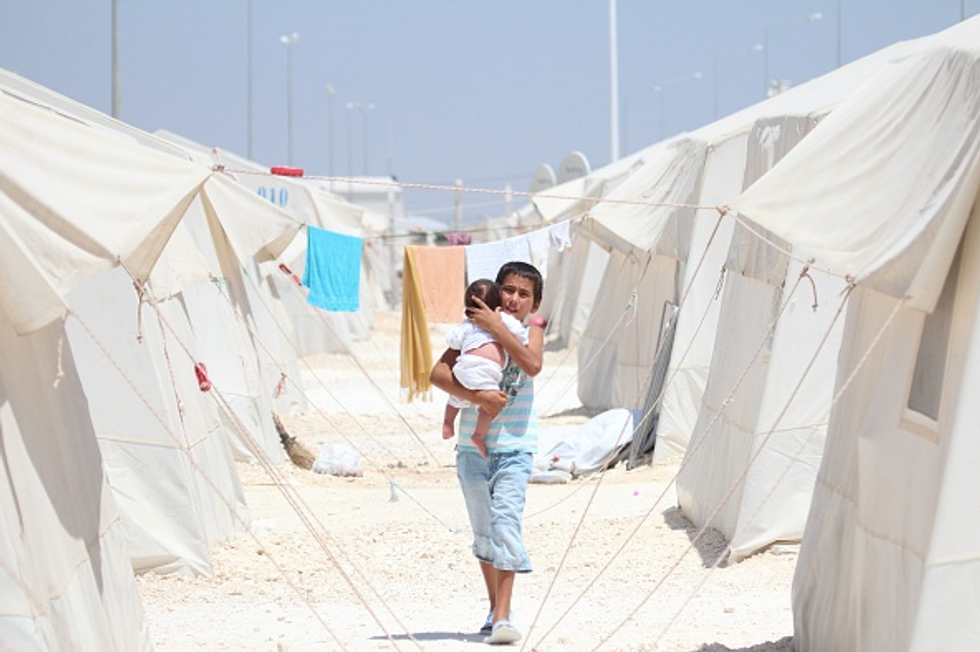 A Syrian boy carrying a baby walk past the tents at a refugee camp in Suruc district of Sanliurfa on July 14, 2015, as the Syrian Kurds who fled the clashes between Daesh and Kurdish armed groups about a year ago, make preparations for the Eid al-Fitr marks the end of the Muslim holy fasting month of Ramadan by preparing sweets despite the all harsh conditions at the camp away from their home. (Photo by Halil Fidan/Anadolu Agency/Getty Images)
President Barack Obama and his administration have downplayed the Islamic State since the U.S. troops' withdrawal in 2011, when he and Vice President Joe Biden gushed about a "stable" and "self-reliant" Iraq. In addition, the president refuses to call Islamic State what it is, a radical Islamic terror group, downgrading the gravity of its mission.
"We have to recognize that we are in a struggle with radical Islam that is seeking to purify the region of both Christians and Muslims who refuse to accept their brand of radical Islam," Brewer told me.
Brewer went on to say Christians in America must educate themselves on the severity of the situation, coming to the realization that "these are children of God who deserve our help."
The United States has a moral obligation to follow the lead of our European allies and help these Syrian refugees and the Christian Church has a spiritual duty to band together with our persecuted brothers and sisters.
Pope Francis has declared the coming year the "Holy Year of Mercy" and called on European Catholic parishes to house refugee families. The U.S. needs to play its part in extending mercy to the persecuted Muslims and Christians seeking refuge from their war-torn home.
"[We should] use [the pope's] declaration as inspiration to help those coming from Syria who have been left homeless as a result of this conflict," Brewer said.
We cannot continue to wake up to read headlines of lives just like Kurdi's lost in search of safety. The time is now and the need is great. The United States must rise to the occasion and stand by its humanitarian legacy today just as it did in generations gone by.
–
TheBlaze contributor channel supports an open discourse on a range of views. The opinions expressed in this channel are solely those of each individual author.