The pro-life movement has honed in on exposing Planned Parenthood and their allies in the abortion industry for the past several years for covering up sex trafficking, child abuse and statutory rape, taking money to abort black babies, defrauding taxpayers of millions of dollars, and ultimately selling the body parts of aborted babies.
But what if pro-lifers are failing to focus enough energy on the women choosing to get an abortion? What if there were an enormous number of women in their very own communities who they overlook, who they somehow fail to miss who are experiencing their own turmoil of facing an unintended pregnancy?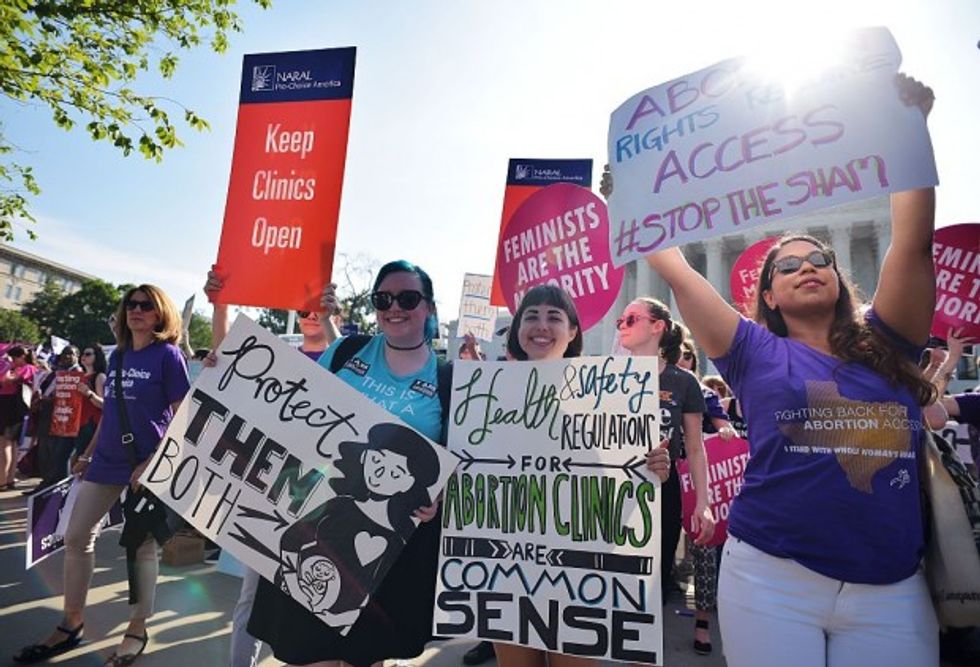 Protesters hold placards outside of the US Supreme Court on June 27, 2016 in Washington, DC. (MANDEL NGAN/AFP/Getty Images)
National polling company Gallup found that 52 percent of women having an abortion self-identify as a Christian. In 2015, Lifeway Research found the number to be closer to 70 percent. Lifeway also found that 76 percent of those active church-going women said that their church had no influence on their decision to abort.
This should be shocking to Christians. The knowledge that it is more likely than not that a woman going into an abortion facility identifies as a Christian and whose church had no influence over their decision to have an abortion should stir the hearts of pro-life Christians, many of whom pray outside these same abortion facilities, sit in churches with these women, and plan pro-life events.
Where are Christians and the pastors and priests going wrong?
Most denominations are implicitly pro-life and the Catholic Church is outspokenly against abortion, declaring it a "grave evil." Yet new polling from the Institute for Pro-Life Advancement shows that only 5.5 percent of Protestant pastors said there is a pro-life ministry in their church.
What a tragedy. How does the Christian community expect to end the practice of abortion and make it unthinkable if there aren't any programs that teach about the pro-life position, have programs that make it a point to discuss alternatives to abortion or show their own parishioners and congregants love and compassion when faced with an unplanned pregnancy?
Imagine being a young woman, or married woman for that matter, sitting in a church and thinking, rightly or not, that they are being judged for getting pregnant or contemplating abortion. It's lonely to not have a single soul to talk to in that room for fear of being condemned.
Then imagine the same woman hearing repeated messages full of love and compassion for those facing unintended pregnancies, or about stories of women who overcame difficult situations or even homilies about alternatives to abortion and where to get help. Big difference.
The same survey of priests and pastors also revealed how often leaders of Christian churches talked about abortion from the pulpit. Seventy-three percent of Non-Mainline pastors and nearly all (91 percent) Catholic priests have talked about the pro-life cause from the pulpit in the past year. However, Mainline pastors rarely address the topic, with only 41 percent of Mainline Protestant pastors having talked about abortion in the last year.
Often, being introduced to the pro-life position comes through one's faith and if that introduction isn't persuasive and nothing is ever said again in their place of worship about the tragedy of abortion, opportunities are missed to build a well-educated and passionate pro-life community.
The base of the pro-life movement is found in churches but if Christians aren't hearing the pro-life message on a regular basis, they aren't going to be able to get active saving lives, converting others, and, ultimately, changing the hearts and minds needed to transform our culture.
If women seeking abortion aren't educated on their resources available through their own faith communities and do not feel supported during an unintended pregnancy, there is an enormous amount of work that needs to be done in our churches across the country.
If pro-lifers want to end abortion, they need to start in their own communities. When Christians stop going to abortion facilities and feel supported by their own faith, then the abortion industry will have its own crisis because they will be losing clients. No more big abortion facilities. No more Planned Parenthood. No more abortion.
Kristan Hawkins is president of Students for Life of America.
–
TheBlaze contributor channel supports an open discourse on a range of views. The opinions expressed in this channel are solely those of each individual author.