Love is a powerful and motivating force. When we're shown the right kind of love, it can make a life-altering impact and change us for the better.
Unfortunately, America hasn't been shown the right kind of love in a very long time. In fact, I'm convinced there have only been two times in the last 15 years where America caught a glimmer of that loving feeling.
The first of these was Sept. 12, 2001.
The day after terrorism shook us to our core, we stopped looking at one another through division and labels and instead saw one another as good, decent human beings and were proud to call each other neighbor.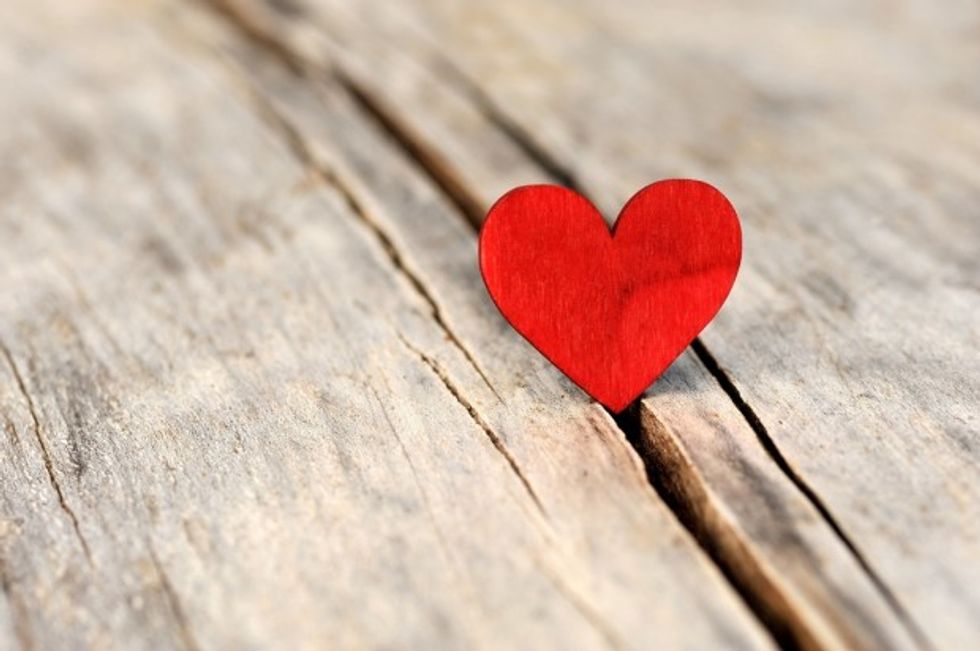 Shutterstock
Love had brought us together. Only a month later, fear and anger took root and pushed all other feelings to the curb.
The second time was in 2008, when a freshman senator from Illinois named Barack Obama had become the first African American president in U.S. history.
He was like that guy at the bar who swooped in on the girl that had just broke up with her abusive boyfriend of eight years. Obama was the rebound guy that was just so sweet and understanding.
The story went something like this…
On a cold autumn day a girl named America sat at the end of a bar in tears. Battered and shaken, she couldn't believe she had let her boyfriend take advantage of her again.
America knew she had a problem. The last few guys she dated had abused her. Whether it was an affair with another woman or all of America's money going to his "special habit" that, according to him, had a purpose--only she never found out what.
Vulnerable and in pieces, America wanted to be loved again. But she wanted someone who would be different from all the rest. As she looked up over her wine glass, she noticed a handsome 40-something walking toward her wearing a finely pressed suit and a charismatic smile.
"Hello, beautiful," the man smoothly greeted.
"I was watching you from across the bar and couldn't help but notice that you've been crying. I see your bruises, too. It's a shame anyone would do this to you. And your tears... they hide your beauty. Look girl, I haven't had too many relationships, but I know for certain that this is the feeling you get when you're in love. If you decide you'd like to know what it's like to have hope again, give me a call. I'd love to be the change you're looking for," the man said standing up from the barstool. He reached in his pocket and casually placed his ballot in front of her.
"By the way," he added placing his hand on her shoulder. "Name's Obama. Barack Obama." With that, he turned toward the exit and walked out.
"Could he be the one I've been looking for?" America wondered, feeling butterflies in her stomach.
Going weak at the knees and blushing with excitement, she jumped out of her chair and ran out the door after him.
No one had spoken to the poor girl like that in years. It swept her off her feet, just like one of her past relationships with a guy named John F. Kennedy.
(Photo by Pete Marovich/Getty Images)
"You're the one! You're my choice!" America yelled as she threw her arms around him.
Obama smiled reassuringly, grabbed her by waist and laid one on her.
In tears, America passionately gave in. Not only was this the first time a man had treated her like this, but it was the first time a man of color had ever come close to a real relationship with her.
The two then interlaced fingers to hold hands as they began skipping down the sidewalk of a new administration.
Nobody really knew much about Obama back then. It was his charming personality that had sold him to the American majority.
Unfortunately, dreamy President-elect Obama had become same old broken promises, backroom agendas, and lack of transparency, President Obama.
To be clear, I'm not claiming the President doesn't love America. I'm telling you that it has been a long time since America has been loved the right way. President Obama does show love. Selectively. And those who disagree with him find themselves being treated unfairly.
During a trip to the Ronald Reagan Presidential Library, I was able to see a hardcopy of the electoral map of Reagan's reelection from 1984.
I was stunned to see how every state in the union, with the exception of one, had come together in approval to see him return for four more years.
I can remember thinking about how loved the United States must have felt by Reagan in order to have shown him that kind of affection at the polls. His unconditional love had made America believe in herself. She started to sparkle like the shining city on a hill she always knew she could be.
It's been almost three decades since America has been loved the right way.
As we search for our next partner, shouldn't we make absolutely certain that unconditional love is their only objective?
TheBlaze contributor channel supports an open discourse on a range of views. The opinions expressed in this channel are solely those of each individual author.