If you care about religious freedom — in fact, if you care about freedom ("period") — you must take the time to go see "God's Not Dead 2," in theaters nationwide this coming April.
I recently had the opportunity to pre-screen the movie, and I have to say it is one of the most important films of this decade when it comes to the loss of liberty in America. It will stand throughout history as a testimony of the many warnings we have received about the wrongful trajectory we are on.
I enjoyed the first "God's Not Dead" movie, as did a lot of you (it was the highest-grossing independent faith film of 2014). But "God's Not Dead 2" is that rare sequel that not only meets but blows away the expectations set by the original. It is a well-made, engaging, funny, and honest look at one woman's struggle to be truthful and good in a society that demands, under threat of law, a phony compliance to the spirit of the age.
It captures accurately the terrible reality of the current threats to religious freedom we read in the headlines every single day. It also exposes how a few political ventriloquists manipulate our broken legal system to disseminate their personal worldview and disdain for all things religious (and specifically Christian), in order to impose their preferred brand of agnosticism on the country.
The performance of Melissa Joan Hart ("Sabrina, the Teenage Witch") is superb. She delivers an insightful and serious character, dealing with complex emotions that we all can relate to, not the caricature of a Christian we are so often offered from Hollywood every time a believer is portrayed in a movie.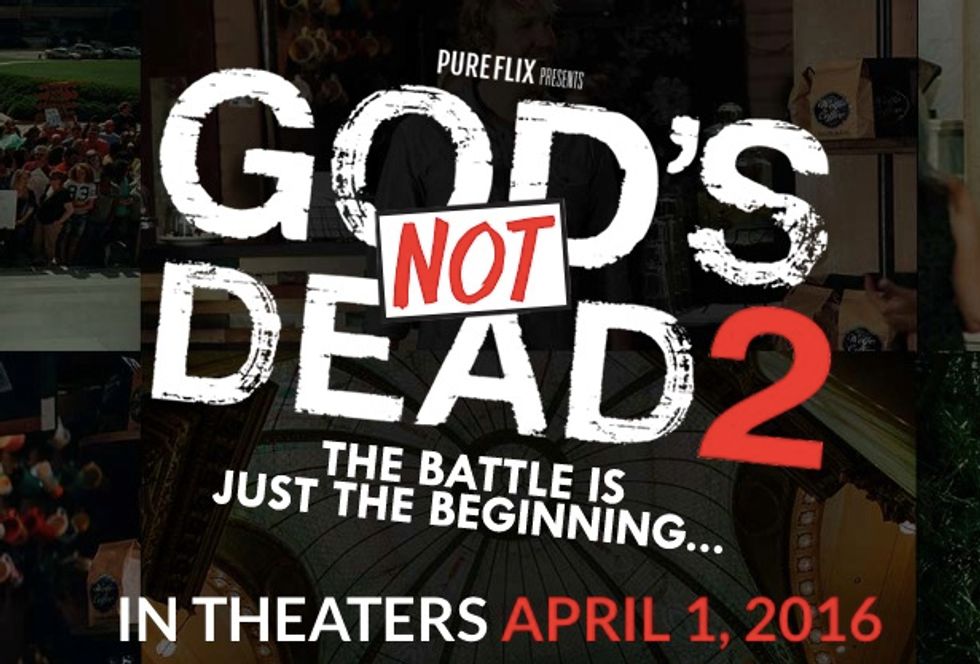 Her character, Grace, is a great teacher who happens to be a Christian and who is vilified for mentioning that offensive "J" word in school, which for some unknown reason (certainly not because it is required by the Constitution) no public employee is ever to utter while on the job, no matter in what context.
Grace's life is quickly turned upside down as the usual bloodsuckers come out of the shadows to protect that incredibly frail "wall of separation between church and state." You know, this is serious business — you can see it in the face of one of the attorneys as he asks if the teacher actually quoted (cue dramatic music), horror of horrors, "the words of Jesus."
Since Grace does not deny it and refuses to apologize for her words, of course this menace to society, repeating that preposterous statement that we should "love one another," must be removed from being able to infect our children.
I won't say more so as not to spoil the movie for you. But trust me, there are layers upon layers of good writing and performances in this movie. Be sure to stay for the whole movie, including the credits (hint, hint). This movie is jam packed with good stuff.
Still, you've seen the story before, in real life. And I pray to God you can see how distorted our reality has become. Good people, the best public servants and pastors and business owners and CEOs and bakers and photographers and teachers like the one in the movie, are being vilified and ostracized for expressing their Christian views, while we reward those who go after them to promote their radical agnostic ideology. If you need to understand what the reward is for the attorneys suing these Christians, remember to pay attention to the attorney's fees awarded in many of these cases.
Why do we continue to lift up those who exist to tear down, while we allow those who want to bless and bring uplifting messages to be discriminated against and harassed out of existence? Not surprisingly, we are becoming less tolerant of each other, not more so. Worse yet, we are becoming less free, while the power of the state continues to grow and interfere in every area of our lives.
God's Not Dead 2 can help awaken the conscience of our nation to this imminent threat to liberty. So make sure you go see it in April, and bring a friend with you. You'll be doing much more than enjoying a film. You'll be engaging in the battle for freedom.
–
TheBlaze contributor channel supports an open discourse on a range of views. The opinions expressed in this channel are solely those of each individual author.