What's your definition of a hero?
My definition is someone who carries out a selfless act above and beyond what they are obligated to do and in the process, exhibits courage far outside of what is normally expected.
The definition of a hero in the dictionary is a man of distinguished courage or ability, admired for his brave deeds and noble qualities.
Whichever definition you choose, there are at least three men, in my opinion, who truly epitomize what it means to risk life and limb for a noble cause and deserve the title of hero.
The three men are all members of the same family who are risking their lives to fight the enemy in a foreign country.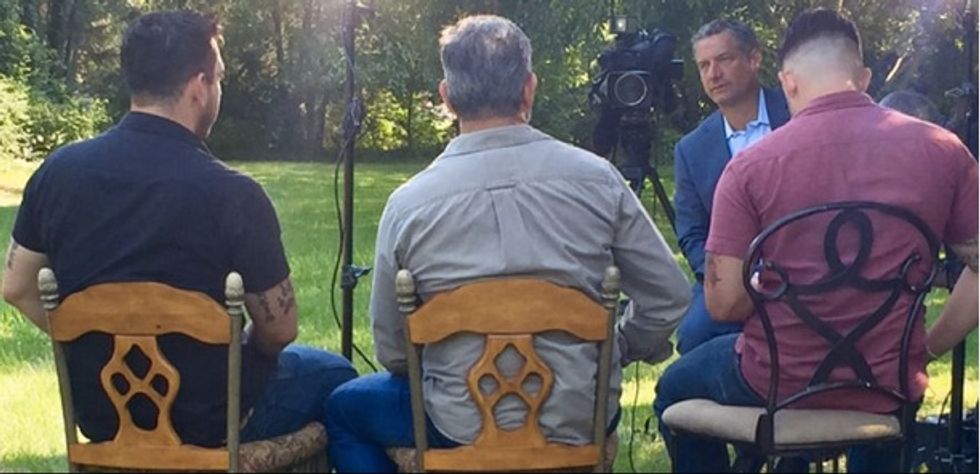 Screenshot: Fox News
Harry M., a veteran of the U.S. Marine Corps, a civilian police officer and a staff sergeant with the U.S. Army National Guard, his son Josh, a 29-year-old veteran of the U.S. Marine Corps and former gunner who served two tours in Afghanistan and finally, his brother, James, 23, who also served two tours in Afghanistan as an infantryman in the U.S. Marine Corps, have decided they are through with doing nothing about threats coming from the Islamic State.
They are determined to turn the tables on the terrorists.
"ISIS has threatened our nation and us individually. They came out and said every military member needs to watch out because we are coming for you. We are Marines. We are going to bring the fight to them," James said.
"Every day we're not there, people are dying. I know I can make a difference. I know he can make a difference and I know he can," Josh said of his brother, James and father, Harry.
The father and sons have asked that their last names not be used for security reasons and although the U.S. State Department doesn't endorse them going to fight in Iraq with the Kurds against the Islamic State, they also don't forbid it.
When asked if there was any message that the three men wanted to convey to America before they left to courageously take up arms against the Islamic State, each man seemed to have his own reasons for going.
"I think one thing that is important is try not to get wrapped around the edges of why we are doing this," Harry said. "Try to understand that there are men in this country who are willing to go one step beyond and confront whatever threat is there, whether here at home or overseas. I love my country, I love the ability to debate, I love the ability to worship as I want, I love the ability to pursue happiness and I'm willing to put my life on the line, not just for his country but for complete strangers."
"I want them to know that we are not out for bloodlust," James said. "We are out there to protect and serve, and not just serving the United States, but people, humanity. Being a good person. We have the capabilities to protect others and that is what we are about."
Josh explained his reason for going in simple terms.
"I'm an American and this is what we do," he said. "This is what I do…"
I recently interviewed G.M. Davis, author of "House of War: Islam's Jihad Against the World," on my radio show Stand For Truth Radio and asked him to explain the beliefs of those, like the Islamic State who follow the teachings of what President Barack Obama has referred to as the "religion of peace."
Mr. Davis, who studied political religions and totalitarianism and received a Ph.D. in political science, explains that "Islam is indeed a religion of peace, and here is what is meant: Islam seeks the subjugation of the entire earth under Islamic law; when Islamic law becomes universally triumphant, peace will reign; therefore, Islam is a religion of peace. That the 'peace' of Islam presupposes the destruction of non-Islamic civilization is surely more than a technical point to the infidel."
Davis further explains in his book that it's time for Americans to realize that the Islamic State and their beliefs are one of "violence" that is called for in the Koran. He describes their beliefs more as a political system with religious aspects rather than simply a religion. It is a system of government where there can be only one winner.
Willingly walking into a dangerous situation without any obligation to do so other than a sense of duty to protect Americans and those who are being slaughtered by the Islamic State in a foreign land, is in my opinion one of the most selfless and noblest acts that anyone can do for another human being.
And as Americans, we need to be fully aware of the truth about the Islamic State and the doctrines they follow in their war against those who do not adhere to their beliefs.
To learn more, hear my complete interview with G.M. Davis on Stand For Truth Radio.
–
TheBlaze contributor channel supports an open discourse on a range of views. The opinions expressed in this channel are solely those of each individual author.