I've come to the Supreme Court of the United States today to pay my respects to a special man, Justice Antonin Gregory Scalia.
As I stand here in front of the Supreme Court in the nation's capital, watching this incredibly somber scene, I think of what this moment might mean for the country.
Justice Scalia was a man of principle and character during a time when most people have forgotten the meaning of those words. He was a true defender of freedom and truth— one of the greatest ever at the Supreme Court.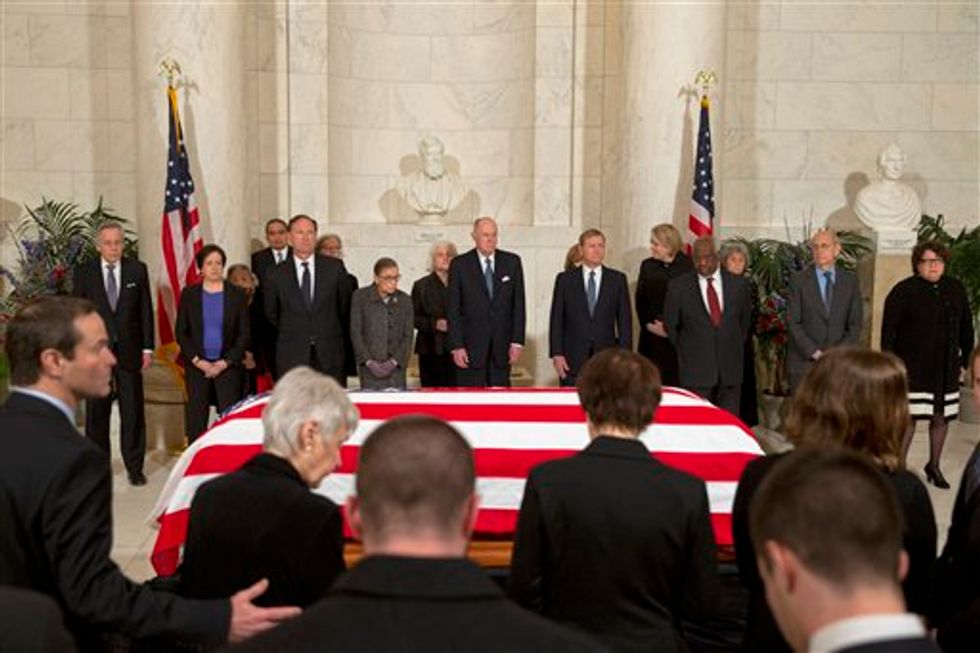 The family of late Supreme Court Justice Antonin Scalia take their seats as Supreme Court Justices stand for a private ceremony in the Great Hall of the Supreme Court in Washington, Friday, Feb. 19, 2016, where Scalia will lie in repose. From back left are Counselor to the Chief Justice Jeffrey Minear, and Supreme Court Justices Elena Kagan, Samuel Anthony Alito, Jr., Ruth Bader Ginsburg, Anthony M. Kennedy, Chief Justice John G. Roberts, Jr., Clarence Thomas, Stephen G. Breyer, and Sonia Sotomayor. (AP/Jacquelyn Martin)
Though I did not know him personally, like many other thousands upon thousands of law students who reject on principle the superfluous, amorphous, incoherent, and dangerous idea of a "living, breathing" constitution, I found great solace in Justice Scalia's prodigious intellect and his stupendous gift of communication.
His influence on me, as with so many other attorneys, is second to none when it comes to Constitutional Law. His humble, honest, and careful approach to constitutional interpretation revealed a man who knew the value of the place he held and who respected the Constitution and especially the people he served: "We the people."
Considering the level of attacks against our Constitution while he served in office for 30 years, we can safely say we are as free as we are today in no small part because of him.
Just recently, we saw incredible victories for liberty that would have been potentially lost without him. The Hobby Lobby case, which upheld the religious liberty rights of Americans who want to conduct their businesses according to their religious beliefs, was decided by a 5-4 vote. Town of Greece v. Galloway was another 5-4 decision upholding a town's right to open its meetings with prayer.
For those interested in the Second Amendment, recall simply that Scalia wrote the Heller decision in 2008, where the individual's right to possess a firearm was so close to being erased by a stroke of the pen from the Supreme Court. Think of that. Right now, absent Scalia, the individual's constitutional right to own a gun does not have majority support at the Supreme Court.
That is why this somber scene is most appropriate for this occasion. The cold, misty winter morning sets the proper landscape. The large, hallow hall, the bitter whiteness of the marble walls, the flag over the casket, the deep black drape below it, all contribute to the feeling of seriousness about Justice Scalia's passing.
Our country is in serious trouble. It is not because of Justice Scalia's absence at the Court. It is just that this occasion reminds us that time is running out — that men and women of "character" are becoming harder to find.
Just thinking of the person President Obama is getting ready to nominate to replace Scalia is enough to drive the point home.
Justice Scalia's legacy will live on. His writings will continue to provide a great foundation for law students for years to come. But today his legacy reminds me we have lost that great art of defining terms. Today we say goodbye to one of the great (perhaps one of the last) ambassadors of it.
I think of comments from the left celebrating his death. Just before coming here, I listened as a caller on C-SPAN said her first words when hearing about the Justice's passing were, "Well hallelujah, happy birthday to me!"
I usually get mad at such fatuity. But not today. Today, I just felt sad.
Sad for the country and our future.
We have a lot of work to do.
–
TheBlaze contributor channel supports an open discourse on a range of views. The opinions expressed in this channel are solely those of each individual author.