The United States is hosting an upcoming summit at Camp David for the leaders of Persian Gulf states. The objective of the summit between President Barack Obama and leaders from the countries of the Gulf Cooperation Council is to calm the fears of those that believe a nuclear weapons treaty with Iran is not in their best interests.
Leaders that the president was hoping would attend, have chosen instead to stay home and send their representatives.
Although the leaders aren't coming right out and saying it, many see the lack of positive response to Obama's summit as a clear rejection of the administration's plan to reach a nuclear weapons deal with Iran.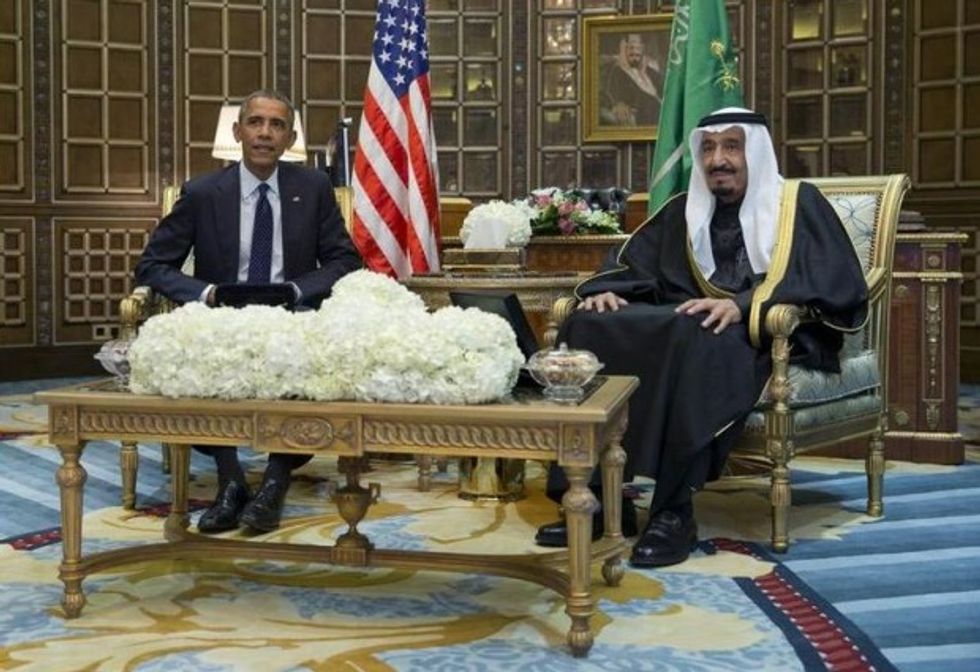 President Barack Obama and new Saudi Arabian King Salman bin Abdul Aziz, are photographed as they participate in a bilateral meeting in Riyadh, Saudi Arabia, Tuesday, Jan. 27, 2015. (AP Photo/Carolyn Kaster)
Saudi Foreign Minister Adel al-Jubeir stated that the summit coincides with a humanitarian cease-fire in Yemen, where a Saudi-led coalition is fighting Shiite rebels, or Houthis. Crown Prince Mohammed bin Nayef and the king's son, Deputy Crown Prince Mohammed bin Salman will represent their nation, but King Salman will not be in attendance.
It seems clear that Salman is not on board with Obama's nuclear weapons treaty with Iran. Salman is apparently using the conflict in Yemen to gracefully bow out of the summit, while at the same time showing indifference to what Obama hopes to accomplish.
"We first learned of the King's possible change of plans from Saudis on Friday night," a senior U.S. administration official indicated to a news outlet. "This was confirmed by the Saudis on Saturday. We coordinated closely with our Saudi partners on the alternative arrangement and timing of the announcement and look forward to welcoming Crown Prince Mohammed bin Nayef and Deputy Crown Prince Mohammed bin Salman. This is not in response to any substantive issue."
Other leaders with close ties to the Saudis offered health concerns as the reason for keeping their major players at home.
It should really come as no surprise to this administration that the Saudis would not be chomping at the bit to see an Iran nuclear weapons deal finalized. It is simply not in their best interests and in fact threatens their very existence.
To understand some of the possible objections of Arab leaders regarding an Iran nuclear weapons treaty with the U.S., a brief history regarding Yemen will help to explain.
The explanation is very simple.
Millions of barrels of oil pass through Yemen from Saudi Arabia to Asia markets. If Saudi Arabia loses its ability to use the passageway through the Red Sea because it is shut down due to military conflicts and the like, then the Saudis would be crippled financially overnight.
The Saudis believe that the Houthis in Yemen are financially supported by Hezbollah in Iran and are attempting to control the very waterways which the Saudis need in order to transport their oil.
You may recall that the U.S. earlier this year, supported Saudi Arabian airstrikes to assure that the Iranian-backed Houthis didn't cross over into the southern tip of the Arabian Peninsula. Yet the U.S. is currently sitting at the bargaining table with the same Iranian government who is a tangible threat to Saudi Arabia's way of life.
Additionally, Tehran will receive billions of dollars if a nuclear weapons treaty is reached with the U.S. If this occurs, Iran would be in a position to destabilize the Middle East even further by infiltrating other countries.
Such a great sum of money would allow Iran to build a strong militia with other countries, including Russian, who may not face the same restrictions that the nuclear weapons treaty with the U.S. would impose on Iran.
Iran could quickly rise to a formidable enemy in the Middle East, with the U.S. in the middle promising as we have in the past, to protect Saudi Arabia and other Saudi supported allies, should their security interests become threatened.
The Saudis may be weary of Obama's abilities to provide security and are seeking assurances from the U.S. that they are up to the task.
Perhaps the Saudis are unimpressed with the judgment of a leader who one day sits down at a bargaining table with Iranian leaders, while they threateningly chant "death to America," and the next day seeks to convince Saudis, an ally of America, that Iran is not a threat to their sovereignty.
Feature Photo Credit: AP
–
TheBlaze contributor channel supports an open discourse on a range of views. The opinions expressed in this channel are solely those of each individual author.