Donald Trump seems to be the topic of every conversation.
Everyone is wondering what he'll say next—especially those in his campaign who have to run damage control every time he says what he's thinking before he thinks about what he's saying. GOP officials and advisors like Ben Carson and Newt Gingrich are urging Trump to stay on message.
"Hopefully," said Carson in an interview with The Hill. "Donald Trump will soon recognize that if you take the bait every time, you'll never have a chance to discuss the real issues."
And that's what has a lot of Americans frustrated. It is the topic of conversation everywhere I go—in the store, at the gym, my neighbor across the street, even my physical therapist brought it up.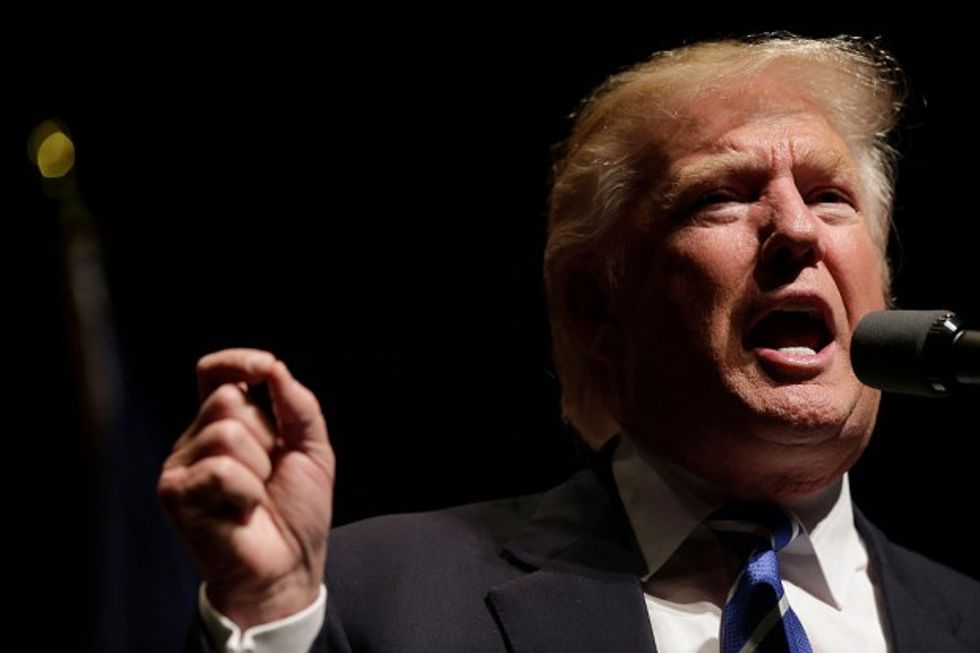 Republican Presidential candidate Donald Trump speaks during a campaign event on July 28, 2016 in Davenport, Iowa. Trump, who received the GOP presidential nomination last week during the Republican National Convention will face Democratic Presidential candidate Hillary Clinton during the November general election. (Photo by Joshua Lott/Getty Images)
"How do you vote for this guy?"
None of these people have any intention of voting for Hillary Clinton but every time they think they might be able to support Trump he opens his mouth again.
It's like a bipolar epidemic sweeping the country. One day you're so excited you want to put a Trump sign in your yard and support the "movement" and the next day your determined it's not even worth going to the polls to vote.
Most of the people I work and associate with are women—specifically mothers. Everyone knows Donald Trump needs the women's vote, but let's be realistic; he is not going to get the liberal, feminist vote.
And he shouldn't want it.
They want what Hillary is offering—or at least they think they do. So there's no sense wasting time pandering to the "It's my body" or "equal pay" crowd.
Donald Trump doesn't need the women's vote; he needs the mothers' vote.
If he keeps repeating the things he said in his convention speech, he'll win them over. But if he keeps trash-talking, taking everything so personally and flailing personal attacks at others, he will ostracize us; and he will lose.
As my neighbor said, "Hillary's policies and ideals are so bad, if he'd just say nothing at all until November he'd beat her."
Unfortunately, he just can't seem to shut up.
Let's face it, Trump is a buffoon. He is insensitive, crude, rude and often ridiculous. Even his staunchest supporters recognize it. That's either what they love about him or what they choose to ignore about him. But there's no sense denying it. It is who he is.
The Republican Party elites are fit to be tied claiming Trump is ruining the party. Newsflash—the party was already ruined. That's why so many people voted for Trump. They are fed up with the corruption and cronyism from both parties and love the fact that Trump is shaking up the status quo. Unfortunately, he has taken shaking to the extreme and doesn't seem to know when enough is enough, or how to take the high road on anything. It's not very becoming for a U.S. president who will represent us to the world.
So how do we vote for him? That's the big question.
People are hungering, even begging for Trump to give them a reason to vote for him. Just when we think we have one, yep, he opens his mouth again. Trump is his own worst enemy and his own best friend. It certainly doesn't help that every time he says something offensive the media pounces on it. No matter how much Hillary lies or how offensive she is, the media will always sweep it under the rug. But Trump scratches his nose wrong and its front page news for a week. Like it or not, that is the way it is. Hillary will always come out smelling like a rose and Trump will always come out smelling like manure. So why does he keep saying things the media can jump on and make people want to stay home in November?
My physical therapist—a young single girl under 30—felt sure some independent candidate was going to emerge and take the nation by storm. While that sounds nice it is, unfortunately, not possible. The rigged political party system adopted by the states over a century ago has seen to that. The parties have done their due diligence to keep their power and block any real competition to their two-party system.
So what about the other parties? Most people don't even know there are any. Many who do are looking in that direction. But the Libertarian Party candidates seem to be just two more establishment cronies under a different name. Then there's the Constitution Party. Many are considering that route. Darrell Castle seems like a respectable enough man and their platform certainly supports their Party's name. In our current state of politics he can't win, but it at least gives us a more favorable option. I have never been one to buy into the "wasted vote" rhetoric. Your vote is never wasted if you vote your conscience. And I'm convinced the whole "wasted vote" mantra is just another way to keep the parties in power by convincing people the two parties are their only real choice. Still, our vote comes with consequences and we should know what they are before we cast our vote.
This election, like no other, is vital to the preservation of freedom. It has come down to one thing—keeping Hillary Clinton out of the White House. Anyone who seriously and honestly cares about this country knows what a Hillary presidency will mean. I'm not talking about the GOP game players. To them it's simply about power and job security. I'm talking about people who know what freedom means, who care about the future of this country, want to provide for their families, and know that America is the last bastion of hope for the entire world. Those are the people who are truly troubled, because they know a vote for anyone but Trump will only help Hillary. And that's the rub. For as offensive as Donald Trump is, the thought of Hillary in the White House scares them to death.
If I had my way we would have a four-way race in November with Bernie Sanders, Donald Trump, Hillary Clinton and Ted Cruz. Then everyone would have an opportunity to vote their conscience and values. That is of course, just a pipe dream. So we are back to the same question. What do we do?
My advice is to vote your conscience, whatever it is, accepting the consequences, whatever they may be; and buy stock in clothes pins because I envision a big run on them in November.
Kimberly Fletcher is the author of WOMEN: America's Last Best Hope and the president and founder of HomeMakers for America Inc. The views in this article are solely of the author and not representative of HomeMakers for America Inc. Follow Kimberly on Facebook and Twitter @proudhomemaker and on her Blog
–
TheBlaze contributor channel supports an open discourse on a range of views. The opinions expressed in this channel are solely those of each individual author.