By Joseph E. Schmitz 
One of the favorite pastimes of elite commentators is to opine on what they call the simplicity and unsophistication of Donald Trump. Never is this more prevalent than in the "critique" of his approach to radical Islamic terrorism, both generally and specifically with regard to the Islamic State.
What one Harvard-based think tank commentator recently described as Donald Trump "stoking the public's fear of terrorism, . . . stigmatizing all Muslims here and abroad, and calling for an unfocused, all-out war on the Islamic State," is, simply stated, pragmatic leadership.
Here is the pragmatic immigration screening test Donald Trump proposed on Aug. 15, 2016, in his Youngstown, Ohio, speech, "Understanding The Threat: Radical Islam And The Age Of Terror":
"The time is overdue to develop a new screening test for the threats we face today."
"In addition to screening out all members or sympathizers of terrorist groups, we must also screen out any who have hostile attitudes towards our country or its principles – or who believe that Sharia law should supplant American law."
"Those who do not believe in our Constitution, or who support bigotry and hatred, will not be admitted for immigration into the country."
Hardly "stigmatizing all Muslims here and abroad."
The radical Islamic terrorists of Islamic State control physical territory, with an actual capital in Raqqa. There is nothing for which the U.S. military, and our American allies, are more thoroughly prepared for than the takedown of an enemy force in the field, and the seizure and holding of that enemy's territory.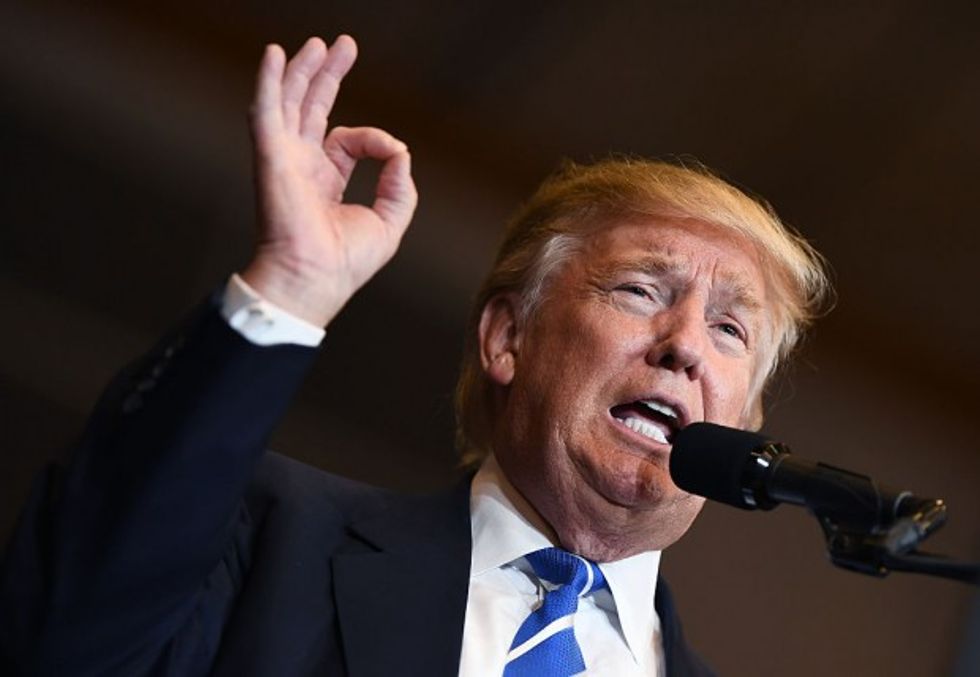 JEWEL SAMAD/AFP/Getty Images
Islamic State ideology makes the establishment of a state -- complete with an expanding physical infrastructure -- the chief evidence of their "chosenness" as a holy state, aka caliphate. Why then is it "wrongheaded" or a mistake to defeat them militarily and decimate their meta-state? Wouldn't this undercut their ideology and sap their support?
Donald Trump proposes to do just that. It sounds like pragmatism.
Islamic State "fighters" carry out the most base and disgusting attacks upon innocent civilians. They have absolutely no regard for life. When this country faced particularly bloodthirsty enemies, it found the courage to oppose extremism (Kamikaze attacks and countless instances of facing down guerrillas waging asymmetrical warfare) and to retake enemy territory (the Pacific Island campaign, D-day, the liberation of Europe).
Donald Trump advocates not torture but the utilization of means fit to the task to interrogate captured terrorists. Is this barbarity . . . or pragmatism in the face of a determined, resourceful, and ruthless enemy?
Terrorists from harboring states in the Mideast have infiltrated the sovereign territory of our NATO allies, and Islamic State openly talks of this as a desired tactic against the USA. Donald Trump favors a temporary ban on immigration from these harboring states along with much more stringent border protections. Once again, the Trump approach is not illiberal, extreme, or "racist." It is a straightforward, and pragmatic, approach to the most pressing issue of our nation's security.
In the heat of a campaign, a certain misrepresentation of the opponent's view is expected. But the Clinton campaign, and its amen chorus in the mainstream press, have sunk to new depths in mangling what are clear, common-sense, and pragmatic ideas.
Legally metered and controlled immigration isn't a radical departure from the norms of state action; it is the right of any sovereign state and the principle-based pragmatic foundation of the immigration policies that Donald Trump proposes.
A modern and robust military is a necessity to safeguard our interests. And, a more realist foreign policy calibrated to a weighing of our current interests and burdens -- not those of almost three quarters of a century ago -- is not rash. Rather, it is prudent and pragmatic.
On issue after issue, a common sense and straightforward approach to our national security has been transmogrified into an unrecognizable monstrosity by people determined to obscure the real choices before us. Nowhere is this more clear than in the obscuring of the Trump approach to countering radical Islamic terrorism.
Mr. Trump offers not theory, but real leadership and a bent toward action aimed unerringly at the locus of the problem, whether it be the kinetic jihad of ISIS or what the Muslim Brotherhood calls its "Civilization-Jihadist Process." In the Muslim Brotherhood's own words describing "the role of the Muslim Brother in North America": "their work in America is a kind of grand Jihad in eliminating and destroying the Western Civilization from within."
Spare me think tank pseudo-sophistication. Give me pragmatic, patriotic leadership, and a man of action. Give me Donald Trump, and give me his American pragmatism in the face of our 21st Century enemies, both foreign and domestic.
Joseph E. Schmitz is a foreign policy and national security advisor to Donald Trump. He served as Inspector General of the Department of Defense from 2002-2005, and is now a Partner in the law firm, Schmitz & Socarras LLP. He graduated with distinction from the U.S. Naval Academy, earned his J.D. degree from Stanford Law School, and is author of, "The Inspector General Handbook: Fraud, Waste, Abuse, and Other Constitutional 'Enemies, Foreign and Domestic'" (2013).
–
TheBlaze contributor channel supports an open discourse on a range of views. The opinions expressed in this channel are solely those of each individual author.