There was much ado about New Jersey Gov. Chris Christie's on-stage presence with Donald Trump after the polls closed on Super Tuesday.
However, as the chuckles subsided a very serious scenario emerged in which Trump could barnstorm the month of March and emerge the winner of enough delegates to convincingly become the Republican nominee for this summer's Republican National Committee convention.
Chris Christie is the man who can help him get there.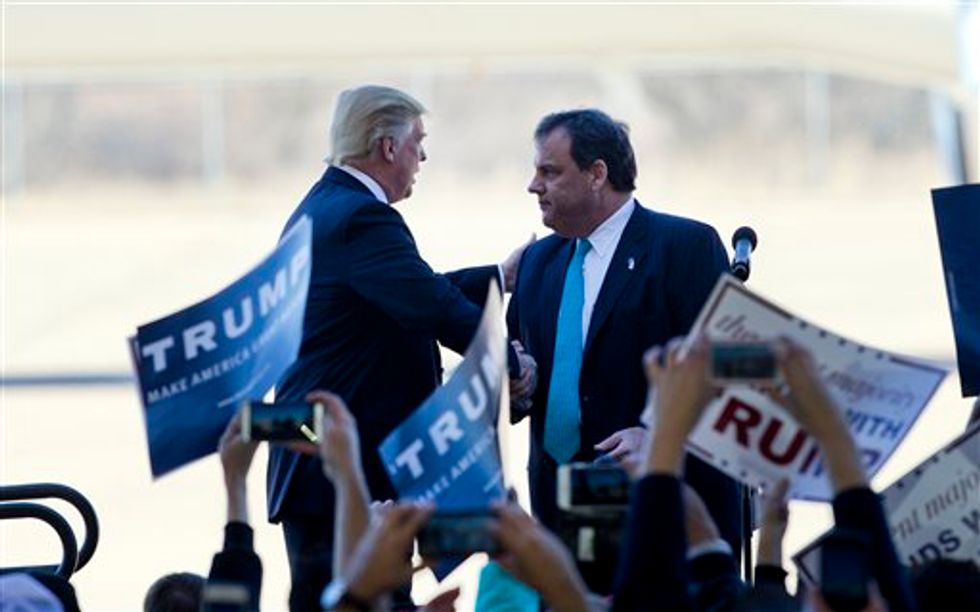 Republican presidential candidate Donald Trump, left, talks to New Jersey Gov. Chris Christie during a rally Saturday, Feb. 27, 2016, in Bentonville, Ark. (AP Photo/John Bazemore)
To understand the full effect of what Christie can bring to the table, one only needs to know three little letters: R... G... A.
It stands for Republican Governors Association.
As the chairman of the prestigious Republican Governors Association during the 2014 midterm elections, Christie became one of the quietest, steadiest, top-performing political figures in the United States - a story that will now have great impact on the 2016 election.
Under Christie's chairmanship, the GOP racked up a whopping 31 Republican governors - the highest majority either party has held in more than 16 years.
Christie's RGA didn't just win red states. His organization won in some of the largest, toughest, most competitive states including Florida, Michigan, Massachusetts, Wisconsin and President Barack Obama's home state of Illinois.
Coincidentally, these are all states one needs to win in a presidential election.
Under Christie's management, the RGA also aggressively flipped three blue states to red: Arkansas, Maryland and Massachusetts. (Maryland and Massachusetts are two blue states which Obama won twice.)
As head of the RGA, Christie was also able to successfully defend critical red-state governorships.
He spent $61 million to successfully defend incumbent GOP governors in key states including Florida, Michigan, Wisconsin, Maine and Arizona. He also defended GOP gubernatorial incumbents in Oklahoma, Texas, Idaho and Nebraska.
Why does this matter?
There are now 31 governors in a garden variety of blue states, red states, big states and key swing states who owe Christie a debt of gratitude for their jobs. In politics, debts of gratitude are usually repaid with loyalty.
One can bet that Christie is working the phones in an attempt to get his governor allies on board with Trump.
In the first 48 hours after his own endorsement of Trump, Maine Gov. Paul LePage and former border-state Arizona Gov. Jan Brewer lined up behind Trump. Rumor has it that Florida Gov. Rick Scott was spotted at Mar-A-Lago last weekend and was pressed hard to endorse Trump, which would be a crushing blow to home-state Sen. Marco Rubio.
However, endorsement power is not the only way that Christie can help Trump - he has also proven himself to be a voracious fundraiser.
Christie raised over $100 million during the 2014 midterms, setting a record for the Republican Governor's Association.
It is proof that Christie can put together national campaigns and raise extraordinary funds during a national election year.
Trump will need that kind of organizational and financial support if the rumors are true that Super PACs are recalibrating in a behemoth effort this spring to take down Trump.
If Trump advances to the general election, Christie's political and fundraising prowess could come in even more handy.
Hillary Clinton already has labor-union backing and has stated she expects to raise $2 billion for the race. Trump, who thus far has strung his campaign together with free media coverage, will be forced to up the ante for the general election.
Christie is just the guy to help him do it.
Under Christie, the RGA was able to outspend key Democrat organizations in the last major general election.
During the 2014 midterms, the RGA spent a prevailing $130 million compared to the Democratic Governors Association's $70 million. That's nearly twice as much purchasing power in the marketplace as Democrats.
With Christie, the RGA was also able to force big labor to put more than $200 million into states with gubernatorial races.
In a number of states, it was Christie himself who made the strategic executive decision to spend "early" in order to put competitive races out of Democrats' reach, narrowing the map of states in which they'd have to play "defense." It was a strategy that paid dividends.
Finally, Christie will not only bring fundraising and endorsements to the table but he will bring to bear dozens of success stories of governors whose successful records in key states can illustrate how Republican principles work better than Democrat policies in states all across the nation. It is something that no other Republican candidate will be able to do, and it will give Hillary's campaign a tough narrative to overcome after eight years of failed policies with a Democrat in the White House.
How do we know Christie can pull this off?
He did it less than two years ago in almost identical circumstances.
Now, with Christie's desire to ascend to the prestigious Attorney General post in a potential Trump administration, Christie will be more incentivized than ever to bring all of his RGA-honed fundraising tactics, organizational skills, and endorsements of key governors to help put Trump over the top and deliver the White House.
–
TheBlaze contributor channel supports an open discourse on a range of views. The opinions expressed in this channel are solely those of each individual author.