Venezuela's tragedy continues to deepen.
In a country rich with oil, basic foods and medicine are a dwindling luxury. 90 percent of Venezuelans say that their incomes do not enable them to put adequate food on the table. The severe shortages have sent child malnutrition rates soaring. Meanwhile, the mass of humanity which recently took the rare opportunity to cross Colombia's border and purchase basics, illustrates the desperation among Venezuelans. President Nicolas Maduro, whose economic mismanagement is largely responsible for the unfolding disaster, offers no answer. He even refused much needed aid, viewing it as an admission of the very crisis he has created.
Instead, Maduro has long blamed imaginary foreign "plots." His regime's only proposed solution combines breath-taking incompetence and brutality – Venezuela's government recently resolved to boost food production by forcibly removing workers from their jobs to have them farm land. This virtual medieval serfdom demonstrates the desperation facing Venezuela under Maduro.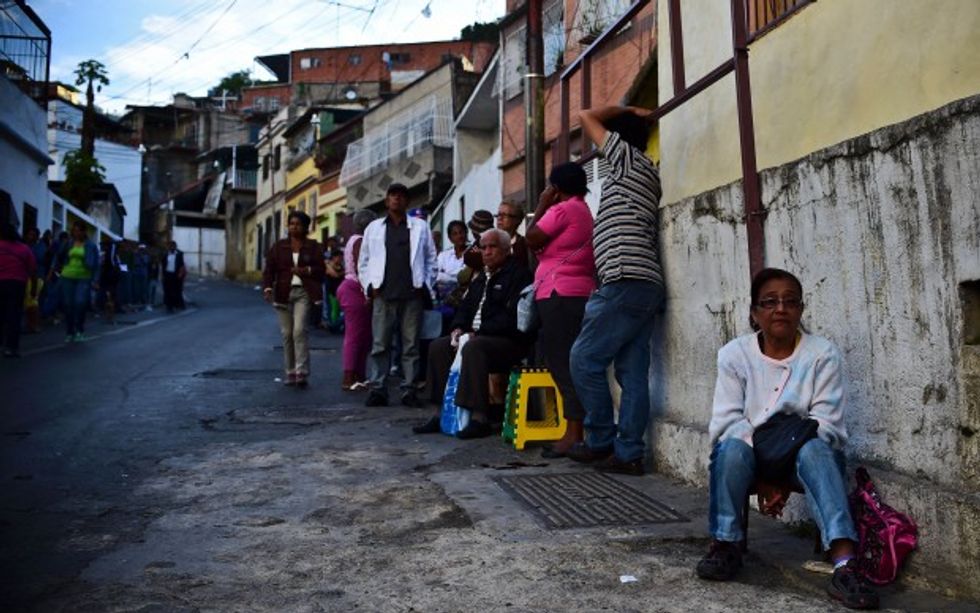 People queue to buy basic food and household items outside a supermarket in the poor neighbourhood of Lidice, in Caracas, Venezuela, on May 31, 2016. (Photo: RONALDO SCHEMIDT/AFP/Getty Images)
While the clock is ticking on Venezuelans' basic survival, time is also fast running out on their last remaining glimmer of hope. The opposition's push for a recall referendum, a vote on Maduro's position, is a real opportunity for change. A recent poll indicated that 88 percent of likely voters, if handed the chance would choose to oust Maduro. Given such overwhelming public sentiment, Maduro is doing all he can to disrupt the process. The constitution stipulates that unless the referendum is held by the year's end, Maduro and his cohorts will remain in power. The race is on.
Consequently, the regime-backed National Electoral Council (CNE) inexplicably took two months to hand the opposition documents to collect an initial 200,000 signatures required to begin the process. Within days, the opposition secured the signatures of 1.85 million Venezuelans.
However, it took until last week, over three months later, for the CNE to announce when the next stage of the referendum process might begin. The news was not good, with the collection of signatures from 20 percent of registered voters "probably" set for late October. It all but rules out the chance of a vote this year. At the same time, the government said it is launching 9,000 lawsuits over the initial signatures, further sabotaging the prospect of a timely referendum. Maduro has no intention of relinquishing power. He has no regard for the constitutional process which he is bound to uphold. Nor does he respect the wishes of the people he purports to represent.
Should Maduro get his way, there should be no illusions what the consequences may be. Opposition leader Henrique Capriles recently summarized at a pro-referendum protest, "The people don't want violence, but the people's patience is running out." Sadly, there is deadly precedent. In 2014, at least 40 unarmed protesters were killed by Maduro's forces as they marched for change. As the clock counts down, a starving people will likely conclude that they have little to lose by taking to the streets.
Secretary of State John Kerry admirably cautioned Maduro's government several weeks ago "not to play a game of delay" over the referendum. But if Washington is serious about preventing disaster in its own backyard, action must be taken without delay. Venezuela no longer has time to waste. The United States must flex its considerable muscle and compel Maduro to let his people speak. Washington must galvanize its regional partners in this effort, via the Organization of American States if necessary. For the sake of Venezuelan lives and the very stability of Latin America, losing the referendum race is no longer an option.
Carlos Marquez is the Executive Director of the Venezuelan American Leadership Council (VALC), a Washington DC based non-profit looking to bring together Venezuelan expats and all Americans who want democracy and freedom in Venezuela.
–
TheBlaze contributor channel supports an open discourse on a range of views. The opinions expressed in this channel are solely those of each individual author.