Oscar Biscet is hispanic. More fascinating still, he's also black. Even more amazing, he's a foreign Latino human rights activist from a nation where recent polls show over half the residents desire to emigrate to the U.S.
Oscar Biscet is Cuban dissident and political prisoner who was honored by Amnesty International as one of its official "Prisoners of Conscience," not that this has much induced the U.S. media to ever mention him. This Spanish-speaking former political prisoner seems to seems to understand the English language better than many native- born, ruddy-cheeked, apple-pie eating Americans, from Karl Rove to Jeb Bush.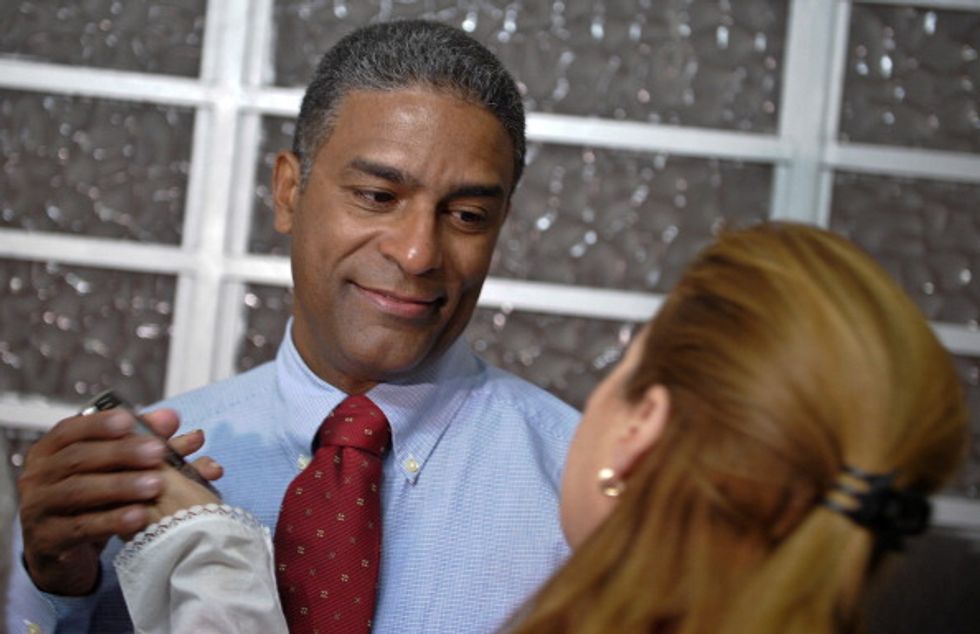 Cuban dissident Oscar Elias Biscet (L) looks at his wife Elsa Morejon, a few minutes after his release from jail, on March 11, 2011. Biscet is one of hardest opposition leaders in Cuba and remained in jail sincer 2003. AFP PHOTO/ADALBERTO ROQUE 
Interestingly again, it was Jeb's brother, George W., who awarded Oscar Biscet his Presidential Medal of Freedom in 2007 (in absentia.)
Oscar Biscet suffered longer in Fidel Castro's gulag than Alexander Solzhenitsyn suffered in Joseph Stalin's gulag—and for essentially the same "crime." Both Solzhenitsyn and Biscet refused to renounce truth. "Live not by lies" famously advised Solzhenitsyn.
"When you know the truth, the truth will set you free. When you know the truth, you change," Biscet explained during an interview with the Catholic News Agency.
"Trespassing through any country's border without authorization is a crime punishable by law," observed Biscet in a Spanish-language tweet from Cuba last week.
"Today we are all Donald Trump. And just what's behind all the complicity and hypocrisy by NBC and Univision anyway? NBC and Univision mutilate freedom of expression. They denounce and censor Donald Trump but always promote the Castro-Communist dictatorship."
#Cuba#HoysomosDonaldTrump#Univision y #NBC mutilan la libertad de expresion. Censuran a Trump pero promueven la dictadura castrocomunista.

— Dr. Oscar Biscet (@OscarBiscet) July 9, 2015
#Cuba#HoysomosDonaldTrump Detras de Trump, Univision y NBC? y La hipocresia y la complicidad de Univision... Ver en blog de Nuevo Accion.

— Dr. Oscar Biscet (@OscarBiscet) July 9, 2015
Oscar Biscet has never been afraid to insult a Stalinist regime by speaking truth to their power. Indeed rather than renounce truth, this man stoically suffered years of horror in Cuba's jails and torture chambers.
That such a man is also unafraid to insult the insidious power of political correctness and fashionable opinion when they trample truth--this should not be surprising.
Which probably explains the virtual media black-out on Biscet's suffering which took place 90 miles from our shores. Anti-communist human-rights activist Oscar Biscet was jailed and tortured by a Stalinist, terror-sponsoring regime that craved to nuke us, after a closed, kangaroo trial. His "crime" was peaceful protest. All this took place 90 miles from U.S. shores in a locale absolutely lousy with international press bureaus and their intrepid "investigative reporters." From CNN to NBC, from Reuters to the AP, from ABC to NPR to CBS, Castro welcomes all of these to "embed" and "report" from his fiefdom.
This fiefdom, by the way, is responsible for the jailing and torture of the most political prisoners (many black) per-capita of any regime in the modern history of the Western hemisphere, more in fact than Stalin's at the height of the Great Terror. But from the media all we learn is that it provides "free and fabulous healthcare" while bravely suffering a "cruel" and "archaic" embargo by a superpower.
Nelson Mandela, on the other hand, was convicted by the independent judiciary of a U.S. ally after a trial perfectly open to international observers. His crime was terrorism.
Can I venture to guess, dear readers, which one of these black political prisoners you have heard most about in the U.S. media?
Thought so.
Oscar Biscet's "crime" was greatly compounded by this Cuban medical doctor specifically denouncing the Castro regime's policy of forced abortions - which go a long way toward's explaining those miraculously "low infant-mortality" figures the media is always gushing about.
And regarding that poll showing half of Cubans crave to leave Cuba. This is from a nation with a standard of living formerly higher than half of Europe's and swamped with more immigrants per-capita (primarily from Europe) than was the U.S--which Cubans treated as their tourist playground.
Yes, "The Godfather II" notwithstanding, in 1953 – owing to Cuba's large middle-class -- more Cubans vacationed in the U.S. (then voluntarily returned home, despite U.S. visas being available to them for the asking) than Americans vacationed in Cuba. When my parents and grandparents and uncles and aunts said "Adios, America!" they weren't referring to Ann Coulter's great book. They followed up with: "next time we also plan to see Rock City and Ruby Falls!"
–
TheBlaze contributor channel supports an open discourse on a range of views. The opinions expressed in this channel are solely those of each individual author.