If you are a veteran attending college and have been diagnosed with post-traumatic stress disorder, you had better choose your words wisely when requesting a new counselor, because political correctness and inexperience, could result in you being labeled a "threat."
That's what allegedly happened recently to former active-duty U.S. Marine Jeremy Rawls who suffers with PTSD, due to combat-related issues from two tours of duty in Iraq.
Rawls, a student at Mississippi College, was assigned a female counselor who dresses in traditional Muslim attire, most likely similar to what Rawls saw while serving in Iraq.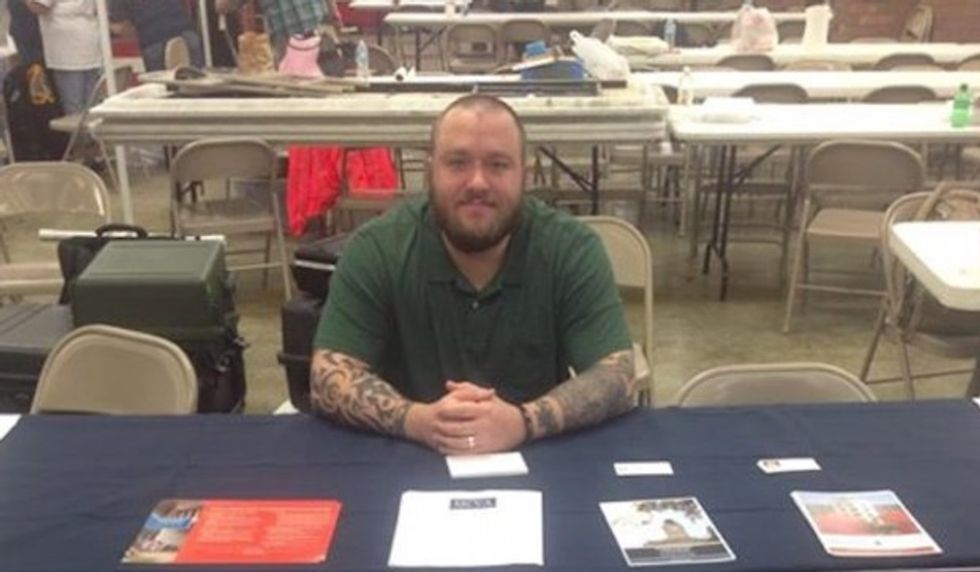 Jeremy Rawls. (Facebook) 
Rawls, not wanting to "traumatize her" and feeling that "it wasn't a good environment to be talking about [my disabilities] with that specific person," asked the school to provide him with another counselor.
Rawls made the request to the college when he stopped by the counseling office to pick up paperwork that he is required to fill out every semester in order to be declared disabled.
According to Rawls, attempts to meet with school staff members to discuss his request for a new counselor were ignored. He was finally able to meet and discuss the issues with the college's administrators.
Rawls indicated that following the meeting "Their response was suspending me pending a mental evaluation which I provided and then they put me on further restriction and a reintegration program."
Associate Dean of Students Jonathan Ambrose allegedly sent Rawls an email notifying him of his suspension from the college and further indicated that the administration and the intervention staff had a "due diligence in not only the protection of yourself [Rawls], but also the campus community as a whole from potential harm or the threat there of."
The email also apparently informed Rawls that he was "not permitted to be on campus for any reason or attend class during the duration of the Interim Suspension" unless Rawls had "written permission" to do so.
According to Rawls, he has recently been allowed back on campus to attend classes and events related to class or graded assignments. However, he must also "demonstrate regular attendance in mental health therapy at a licensed therapist" of his choice, according to a second email from Ambrose.
AP photo. 
There are other restrictions listed in Ambrose's email that prevent Rawls from participating in all activities open to other students who attend the college and he lost his work-study position that he secured through the Department of Veteran's Affairs.
As a licensed therapist who has treated individuals with PTSD, I am appalled by the allegations pertaining to the treatment of Rawls.
One of the most important aspects of providing effective psychotherapy is that a mental health professional must be trained in how race, culture, ethnicity and other issues may impact the therapeutic process.
The professional is also required to be competent in the area for which the client is seeking treatment. If not experienced in the particular area, a referral should be made to another therapist.
While the Mississippi College counselor and the administration may not be licensed therapists, they have disabled students like Rawls who attend their college. Therefore, at the very least, colleges and universities should familiarize themselves with and become aware of how to manage issues that may arise within a diverse populations of students.
If unfamiliar with PTSD and issues pertaining to the diagnosis, then a school should either hire someone who is experienced and can appropriately help those individuals or seek assistance from an outside source.
Additionally, Rawls should have immediately been given another counselor upon request.
There will be times when a client is not comfortable with their therapist, for whatever reason. The issue could be simply that the client prefers to speak with a therapist who is of the same race or cultural background or there may be a myriad of other reasons.
It doesn't matter what the reasons are. If the concerns cannot be resolved, then the therapist should be replaced because the client won't feel "safe" to delve into issues of importance and the best interests of the client will not be served.
At a minimum, the school should have been familiar enough with PTSD to understand that being around someone who dressed similarly to those in Iraq where the combat-related issues occurred, might trigger unpleasant memories of the trauma. This could lead to flashbacks about the combat experience which may go undiscussed due to the fact that the client does not feel comfortable with the counselor.
Rawls made it clear that he was not comfortable discussing his disabilities with the particular counselor.
It appears that the college may have allowed political correctness and not professional judgment to get in the way of doing what was best for Rawls.
Perhaps the school did not want to remove a Muslim counselor at the risk of appearing politically incorrect in today's overly sensitive cultural. However, the needs of the client should have been given the highest priority.
In addition, Rawls allegedly told administrators that he did not want to "traumatize" the counselor. It seems that the school may have thought that Rawls was using the word "traumatize" to convey a threat of physical harm when he was merely trying to protect the counselor from experiencing emotional angst due to what he might discuss during therapy.
The misinterpretation could be due to an inexperienced staff who overreacted merely because the word was used by a veteran diagnosed with PTSD instead of someone else. Learning about PTSD through proper training will help staff avoid unnecessary stereotypes in the future when assisting other veterans.
It is indefensible when political correctness and inexperience end up causing problems for those coping with PTSD. It's especially troubling when those issues arise after a veteran seeks help from those who are supposedly trained to know how to assist him.
Rawls and other veterans deserve better.
–
TheBlaze contributor channel supports an open discourse on a range of views. The opinions expressed in this channel are solely those of each individual author.