So Ben Carson has no problem with a Muslim president, as long as they're a heretical infidel. And Jeb Bush says multiculturalism is wrong for America.
They're both right, but they're also both mistaken, and it comes down to the precise meanings of the words "heresy" and "multicultural."
Of course it's true that imposing shariah law on others is completely incompatible with the U.S. Constitution. It's incompatible with freedom of speech, freedom of religion, equal treatment for women, and any number of other things we value. If a Muslim is going to be president of the U.S., they're going to have to reject those parts of their religion that stand at odds with the Constitution and American values.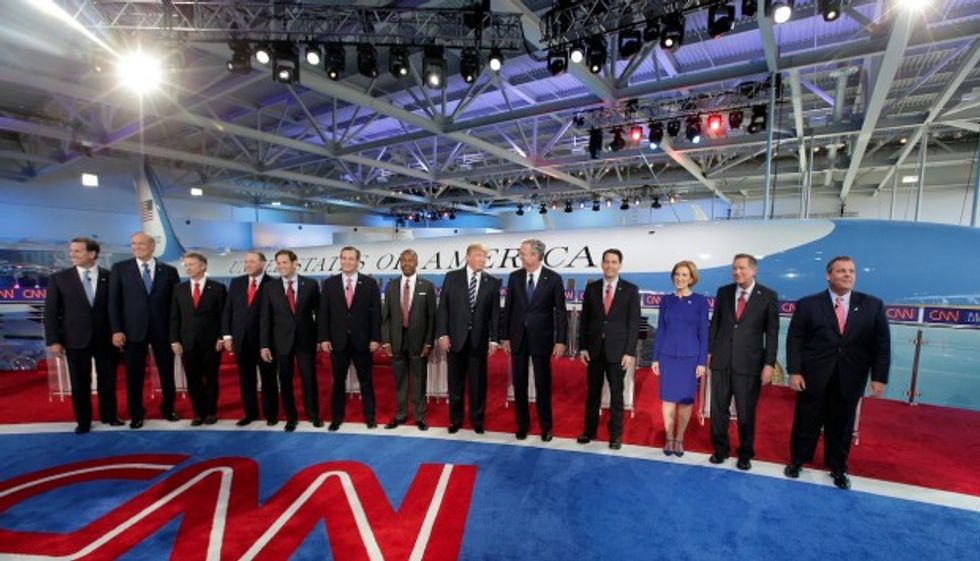 Republican presidential candidates stand on the debate stage at Reagan presidential library in Simi Valley, California, Wednesday, September 17, 2015. (AP/Chris Carlson) 
In other words, they'll have to be a heretic, an infidel, just as Carson says.
But, as much as some people shrug off the outrage surrounding Carson's remarks as being based on a "gotcha" hypothetical – after all, there are no Muslims currently running for president – it's important to realize Carson's position is hardly peculiar to Islam.
Everyone is focusing on Islam right now because Islam is more tied to violence than any other religion. That hasn't always been true in the past, and it might not always be true in the future, but it's true in the world we live in today.
But it's also true that other religions have the same lack of compatibility with the Constitution and American values.
Judaism, for instance, prescribes the death penalty for blasphemy, adultery, homosexuality, and for cursing one's parents. A Jewish candidate for president would have to promise not to enforce those rules on gentiles or on fellow Jews. In other words, they'd have to disobey their own faith and be a heretic.
That's the sense in which it's fair to say that Carson and the rest of us "could support a bad Muslim for the presidency but not a good one": a president can be a Muslim, but not an Islamist. A president can be Jewish, but not chief of the halakha police.
These are necessary heresies to hold office, in the same way that we need a heretical Christian for clerk of Rowan County, Kentucky, one who doesn't interfere with the dispensing of marriage licenses to same-sex couples in the name (as she sees it) of Christianity.
And, of course, that's what political candidates of any number of faiths routinely do: they promise to hold office as infidels.
Which brings us to Bush's declaration that multiculturalism is wrong for America, that people have to assimilate into American society. Here's what "assimilation" means: you have to accept things like freedom of religion, freedom of speech, representative and constitutional government in which we have checks and balances and the separation of powers, and so forth.
So long as you've accepted these values – which largely amount to respecting the rights of others – you're free to indulge in a multitude of cultural and religious beliefs and behaviors, as many as you please. This is the only acceptable sense of "multiculturalism": we'll let you do what you want, just as you let others do likewise.
And, of course, that's what Americans of any number of faiths – Christianity, Judaism, Islam, Hinduism, Buddhism, Confucianism, etc. – routinely do. They live peacebly as infidels among other infidels.
Again, the religion that today most often violates these standards is Islam. What Islam needs – as people like Glenn Beck and Ayaan Hirsi Ali point out – is a reformation, in the sense of the Islamic community accepting that they can't impose their religion on others. Lots of Muslims do accept that, but their numbers don't approach the overwhelming majorities that have reached that same conclusion as in, say, Christianity.
It turns out reformation is heresy, after all. And that's a good thing.
In fact, it's an American thing.
–
TheBlaze contributor channel supports an open discourse on a range of views. The opinions expressed in this channel are solely those of each individual author.