I spent the weekend listening to national media commentators (so called "experts") gloat over the two big winners of the weekend: Donald Trump and Hillary Clinton.
But there's one little problem with that scenario: only one candidate actually won big.
Donald Trump spent almost nothing (about $1 million) to score a resounding double-digit victory in South Carolina, even while his opponent Marco Rubio spent 12 times more ($12 million) and scored the endorsement of the two most popular Republican politicians in the state (Gov. Nikki Haley and U.S. Sen. Tim Scott). Now that's a big victory.
But when it comes to Hillary, the national media is either ignorant, stupid, lazy, delusional, or purposely lying. Hillary's razor-thin Nevada victory wasn't a "decisive victory." It was an embarrassment that required spending millions of dollars to garner a pathetic 6,316 votes in an anemic turnout.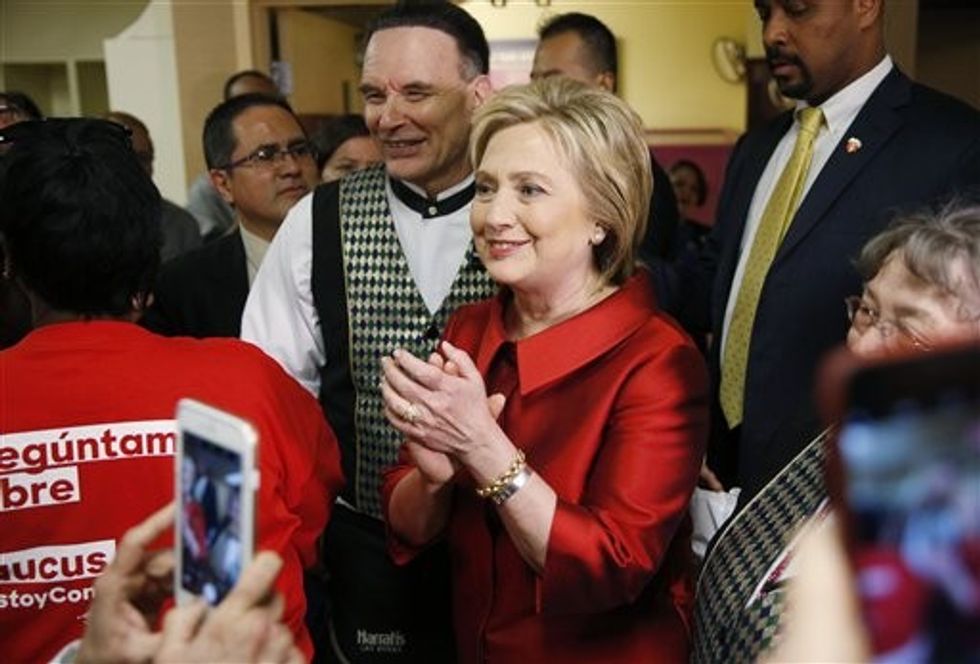 Democratic presidential candidate Hillary Clinton visits with Harrah's Las Vegas employees on the day of the Nevada Democratic caucus, Saturday, Feb. 20, 2016, in Las Vegas. (AP Photo/John Locher)
"Decisive victory?" I heard those words many times this weekend to describe Hillary's victory. The national media is committing fraud. Hillary once led Bernie Sanders by 40 points in Nevada. She led by 25 points less than 30 days ago. And he won by five points.
But more importantly, the turnout was embarrassing, especially considering the millions spent on TV advertising. Hillary not only spent millions to draw a measly 6,000 votes, overall turnout was down one third from 2008.
And she lost by 70 points among voters who voted based on "honesty."
Hillary's victory was more disaster than "decisive." But that sure wasn't the theme I heard in the mainstream media this weekend.
But now let's look closely at how she achieved her razor-thin, embarassing victory. This is the part where questions should be asked. Here's the part missing from mainstream media reporting: Hillary scored this "decisive victory" by changing the rules at the last minute and playing "dirty politics" to avoid a humiliating defeat that might have sunk her entire presidential campaign.
Hillary was losing with days to go. Her team was in panic mode. Remember who this is - Hillary is the most famous woman in the history of politics. Yet she was going down to a humiliating defeat to unknown Vermont socialist kook Bernie Sanders. Her entire dream to win the presidency was in danger of imploding.
Enter Nevada Sen. Harry Reid.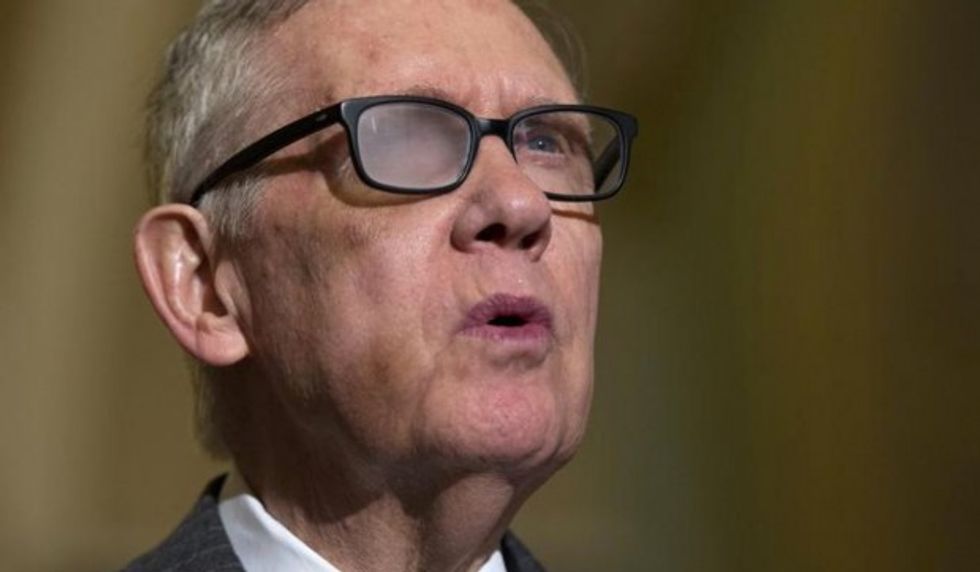 Senate Minority Leader Harry Reid of Nev. speaks to reporters on Capitol Hill in Washington, Tuesday, March 17, 2015, following a policy Luncheon. Reid is wearing special glasses as part of his recovery from injuries suffered in a violent exercise accident in January. (AP Photo/Molly Riley)
Reid "fixed" the results for Hillary by twisting the arms of casino and union bosses.
Why isn't the national media reporting this? She needed pure corruption, intimidation and manipulation to squeak out an unimpressive win in Nevada. Reid saw Hillary about to lose Nevada and with it, her entire campaign.
So in the days before the caucus he called casino bosses of every Vegas Strip casino and convinced them to give union employees three hours off - with pay - to vote in the caucus.
This happened at the last second to deliver victory for Hillary. This was in full cooperation with union bosses who supported one candidate. Everyone understood clearly who this move benefited. And it wasn't Bernie.
That meant union maids, dishwashers and bus boys - many of whom speak little or no English - were paid to take off work in order to vote. That got Hillary a few hundred extra votes and put her over the top in Nevada. That's how she achieved her "decisive victory."
After spending millions of dollars on TV ads, she needed union and casino bosses to basically order their union employees to take half their day off, and pay them to vote.
A few hundred union votes at six Democratic caucus sites inside Strip casinos saved her entire run for the White House. That may not be illegal, but it's sure dirty corrupt politics at its finest. And America's voters have a right to know. Yet I've not seen one mention on the national news of how Hillary's victopry was achieved. But I have seen the fraudulent theme that Hillary scored a "decisive victory."
If not illegal, it sure smells unethical. Why would casino bosses cave to pressure from Harry Reid and Hillary Clinton? This was all reported publically by liberal journalists, like Jon Ralston, and NBC News analyst. What did Harry Reid and Hillary promise them? Isn't this a case of "pay for play?"
I'd also ask if these actions violated Securities and Exchange Commission law. Most of the Vegas Strip hotels are publicly-traded companies. Not only did they violate the trust of their paying hotel guests by providing less than optimal service, but I believe a strong case could be made they committed fraud against their shareholders. If I own stock in a public company, casino bosses have no right to use shareholder money to pay employees to take the afternoon off to vote for the candidate supported by union bosses. That crosses into the area of theft of shareholder value.
The real question is what could possibly be in it for the unions and casino bosses? Did Hillary agree to pay back this massive favor with favorable actions toward Las Vegas casinos once she's president? Isn't that a bribe? Of course everyone involved will deny any deal was offered or accepted.
Whether this is just unethical and "dirty-politics-as-usual" one thing is clear - it smells bad. This is precisely why the American people are angry. This is why every non-union worker in America should be outraged. Casino guests and shareholders should be outraged.
Do other companies provide paid time off to vote? Do other companies get caucus sites placed inside their building to enable employees to vote with ease? It's sure not a privilege I've ever experienced. Why should union employees receive something of value that I don't, in order to stuff the ballot box for Hillary Clinton? What did she agree to give to the union and the casino bosses in return for this favor?
This is precisely why voters like Donald Trump. Because they are sick of "business as usual." They are sick of backroom deals. They are sick of corruption and bribery dominating elections.
And this is why Trump is booed at GOP presidential debates by donors, lobbyists and CEO's. Because he can't be bought or bribed. Because under future President Donald Trump America isn't for sale. Unfortunately under President Hillary Clinton it's already been sold.
She sold her soul to the devil, Harry Reid and the Vegas Strip casinos for 6,316 lousy votes.
Shouldn't the national media be reporting how Hillary's weak, unimpressive, embarassing victory was achieved? The American people have a right to know there was nothing fair, decisive or ethical about it.
–
TheBlaze contributor channel supports an open discourse on a range of views. The opinions expressed in this channel are solely those of each individual author.