It turns out radical leftists are right. There are two very different Americas. There's one where free speech is not allowed for conservatives - especially white male conservatives. No white male conservative can ever criticize President Barack Obama without being called a "racist" or being called a Klu Klux Klan member.
Then there's the America where leftist protestors can run roughshod over the rights of Donald Trump and his supporters, without being called out, blamed, or having to face consequences for their rude, hateful, or violent actions.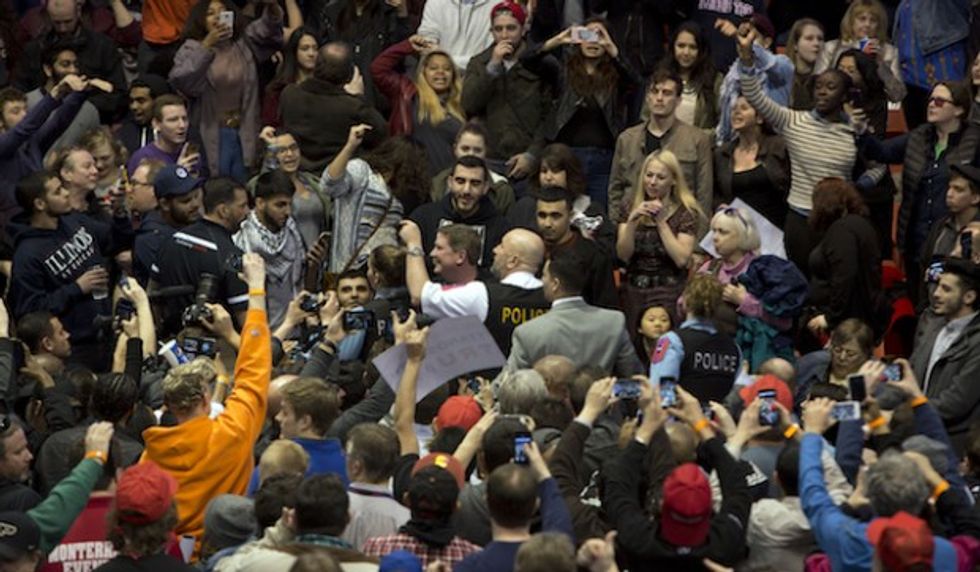 Anti-Donald Trump protesters and his supporters confront during a Trump rally at the UIC Pavilion in Chicago on March 11, 2016. Tasos Katopodis/AFP/Getty Images)
And here's the best part - in Obama's liberal America, the media gets to frame it as Trump's fault if he is attacked, if he refuses to apologize for standing up for his own rights, or if his supporters fight back in self defense.
The media paints Trump as "the bad guy" for being attacked. They say Trump and his supporters are violent. They say Trump is a racist.
If a conservative Republican candidate is a punching bag and doesn't defend himself, he loses the election. If he responds in self defense, it's all his fault. That's one hell of a rigged game. Tails we lose, heads we lose.
But I want you to imagine just for a moment an America where Obama was under the exact kind of attack as Donald Trump is right now. It's laughable that this could ever happen to Obama. But just dream with me for a minute...
What if white conservatives joked openly about the assassination of President Obama?
Because liberals are doing it openly every day. Unhinged liberals call for the murder of Trump all over the Internet. A New York Times columnist actually joked about it out loud. There were even 12 separate tweets by liberal journalists celebrating the death of Supreme Court Justice Antonin Scalia.
Can you imagine if a white conservative journalist tried to joke about the assassination of Obama?
What if conservative protestors used their cars to block the road to an Obama event? It happens to Trump.
What if they chained themselves to their cars so they could not be removed easily by police? All of this with the idea of denying Democrats the right to attend an Obama speech simply because we didn't like what Obama stood for.
Leftists are doing it every day. But the media blames Trump.
What if white conservatives stood outside Obama events with signs laced with filthy curse words and cursed out everyone trying to enter? A black police officer recently described the anti-Trump protestors as "the most evil and hateful people ever."
What if white conservatives infiltrated the crowd at Obama events and in the middle of his speech tried to shout him down? Would the media say that's their right to free speech? What about the rights of the attendees who have waited in line for eight hours to hear their candidate speak? Do their rights matter?
It happens to Trump all the time.
What if white conservatives went to Obama events with the intent of starting fights with Obama's supporters? Would the media blame Obama's supporters for responding in self defense? Would the media blame Obama for how individual supporters choose to act at his events?
What if a right-wing billionaire, like Trump, hired paid protestors to try to disrupt Obama events? Would the media blame Obama? What names would the media call that conservative billionaire? Would they blame it on racism? Leftist billionaire George Soros is doing it every day to Trump.
But the media blames Trump.
What if the conservative protests got out of hand at Obama events and violence and riots broke out? What if it got so bad that Obama's events had to be cancelled because police believed the lives of attendees might be in danger? It happened to Trump in Chicago.
What if these paid conservative protestors started to carry it to the next level and charged at the podium while Obama was speaking, with the intent to hurt him?
Would the media blame Obama if he was attacked?
What if it got so out of hand that white-powdered substances were mailed to the homes of Obama's children, so they had to be evacuated, fearing for their family's lives?
What if "White Lives Matter" radicals promised to incite riots if Obama won the election? Well "Black Lives Matters" leaders have made that promise. Why is no one crying foul?
All of this is happening every day to Donald Trump. And amazingly, the media is blaming Trump.
I believe if white conservatives ever did this to a black president, or black candidate, or Hillary Clinton, or a Latino leftist candidate, the media would blame it all on race. Conservatives would be called "racists" and the media would say a "race war" had begun. Leftist leaders would demand martial law. There would be a Million Man March in Washington, D.C. We'd see unrest across the country. Cities would burn.
If this was happening to Obama, I guarantee you Obama would not be blamed by the media. It would be the "shameful, hateful conservative extremists and racists, organized by evil right-wing billionaire Donald Trump to disrupt Obama events." That would be the storyline. Guaranteed.
But somehow I don't hear that narrative applied to George Soros, MoveOn.org, and the leftist protestors attempting to silence or hurt Donald Trump.
Somehow this is all Trump's fault.
Yes, there are two very different Americas. There are two very different sets of rules. There is a double standard a mile wide.
In the real world I live in, what leftists are doing to Trump is disgusting, un-Constitutional, criminal and in many cases racist. The left is clearly scared, desperate and hysterical. They will do anything to stop a Donald Trump presidency- and that includes violence.
Obama should be very thankful that conservatives don't treat him the way the vile left treats Trump.
–
TheBlaze contributor channel supports an open discourse on a range of views. The opinions expressed in this channel are solely those of each individual author.