Nobody could have known that, after the death of Freddie Gray in Baltimore from injuries sustained while in police custody, there would be riots that would harm any number of civilians and police who had nothing to do with Gray's death. Everybody's got a response after the fact (including President Barack Obama and Rush Limbaugh), but nobody saw it coming.
It's all about the response.
For me, my first response is to ask, why is Gray's death still a mystery? How many spine-related incidents did he have during the hour or so that he was in custody such that two weeks later we still can't zero in on the responsible party?
[sharequote align="center"]You can't treat evil the same as good, but you can't simply retaliate with more evil, either.[/sharequote]
My second response is to remind myself that, of all the pithy sayings about how to answer injury ("an eye for an eye," "turn the other cheek," "hatred ceases by love," "recompense injury with kindness"), my favorite is Confucius':
Someone said: What do you think of the saying: 'Repay hatred with kindness'? Confucius replied: Then how will you repay kindness? Repay hatred with justice and repay kindness with kindness.
There are alternate translations, but the point is that you're going to be hard pressed to avoid evil and hatred in this life, your only real power is in how you respond to it. And that response has to thread a needle. You can't treat evil the same as good (i.e., repaying hatred with kindness), but you can't simply retaliate with more of the same, either.
When Mayor Stephanie Rawlings-Blake said that the city had decided to "[give] those who wished to destroy space to do that," she was making the mistake of the first sort. People who are destroying the city of Baltimore and endangering the lives of innocents don't deserve to have their misbehavior respected, they need to be stopped. (The mayor insists her words were mischaracterized.)
The rioters, of course, are making a mistake of the second sort: they're taking the righteous indignation at Gray's death and using it as excuse to loot and harm people (both civilians and police) who have no connection whatsoever to Gray's death. So, instead of undoing or outweighing injustice, they're creating more of it.
And this is one of the most perilous parts of being human. We're so outraged by immoral behavior that we're frequently driven to follow it up with yet more immoral behavior.
It's true that African Americans have suffered massive injustice in the form of slavery and segregation. Even today, with black men facing far higher rates of arrest and incarceration than other American males, there's a concern that a bigoted, hasty generalization is at work against them, that some police officers assume that a black man is more likely to be up to no good.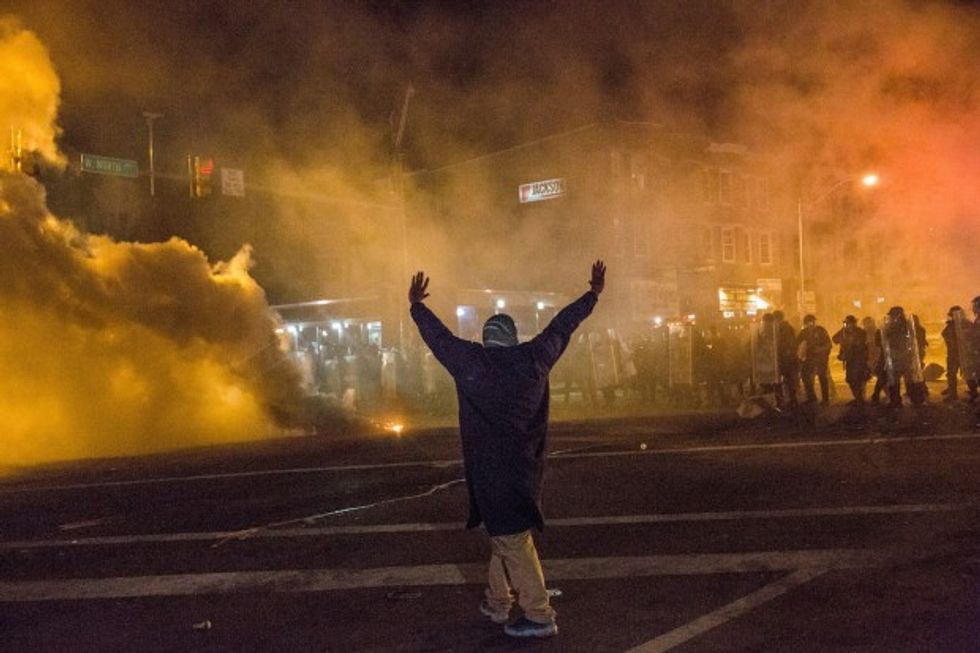 A protester walks through tear gas as police enforce a mandatory, city-wide curfew of 10PM near the CVS pharmacy that was set on fire yesterday during rioting after the funeral of Freddie Gray, on April 28, 2015 in Baltimore, Maryland. (Photo by Andrew Burton/Getty Images)
Gray may well have been a victim of that. But the quickness with which some people conclude that all police share this assumption – to the point of squaring off in the streets against officers they have never met before – is itself an unfair generalization.
And look the way that "hands up, don't shoot" became a rallying cry in protest of the shooting death of Michael Brown by police officer Darren Wilson in Ferguson, Missouri. Investigations ultimately found no evidence for the claim that Brown was shot while raising his hands in surrender, but the people who displayed the gesture publicly – from the St. Louis Rams to members of the House of Representatives – haven't taken it back.
Another example is the Rolling Stone magazine article on "Jackie," an anonymous student who claimed she was raped at the University of Virginia. In their haste to be outraged at the injustice of rape, many people failed to fact-check Jackie's allegations, with the result that a campus fraternity was shut down based on a story that was eventually retracted.
It's trite to point out how much harm is done in the name of good intentions, but trite is sometimes true. Outrage is easy, justice is difficult. When we encounter injustice and evil, we need to make sure that our righteous indignation is heavy on the "righteous" and easy on the "indignation." Otherwise, you get Baltimore, April 2015.
Martin Luther King knew this. So did Confucius. It's up to the rest of us to hurry up and learn.
–
TheBlaze contributor channel supports an open discourse on a range of views. The opinions expressed in this channel are solely those of each individual author.