Recently, I read an article in which the New York Post accused a private school in Manhattan of teaching white students to feel guilty about the supposed "benefits" they receive by virtue of having white skin or "white privilege."
According to the New York Post, Bank Street School for Children has a new diversity program which is segregating children based upon their race. The "Racial Justice and Advocacy" program divides children into an "advocacy group" for white students and the "kids of color affinity group."
White children, beginning as early as age six, are told "they're born racist," while students of color are "taught to feel proud about their race" and are given cupcakes and treats which white children are denied.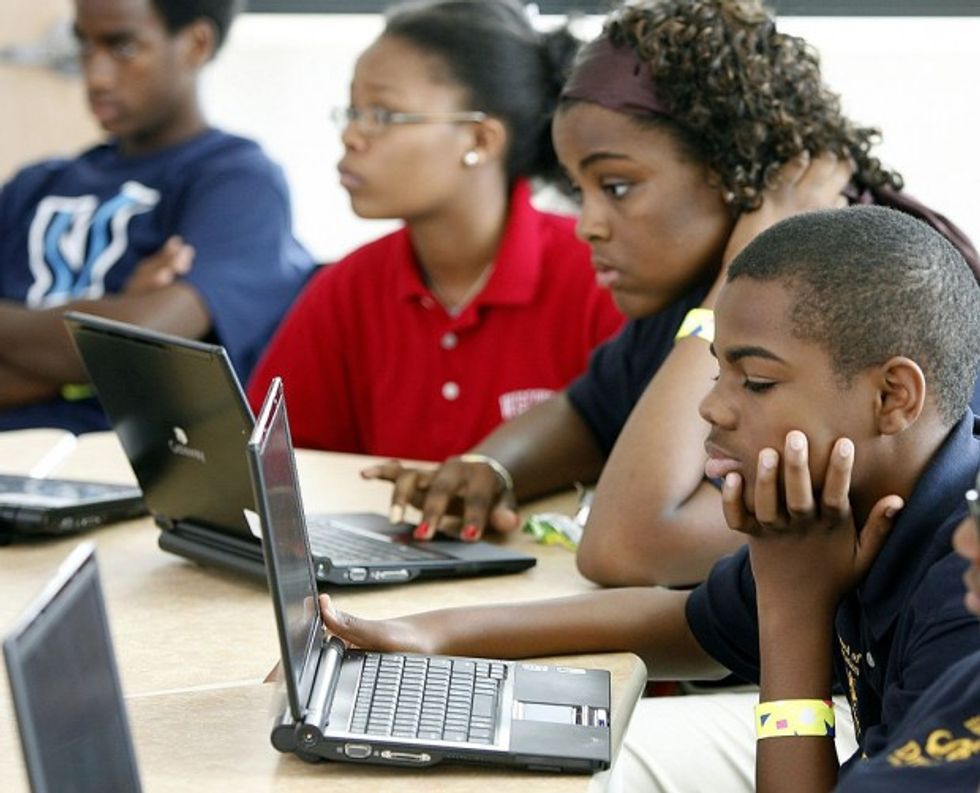 (Photo by Tim Shaffer/Microsoft via Getty Images) 
The program is taught by the school's Director of Diversity Anshu Wahi, described as a "longtime social activist." Wahi allegedly has also indicated in school presentation slides, her desire to give students of color "a dedicated space" to "voice their feelings" and "share experiences about being a kid of color."
Additionally, the program apparently teaches white students to increase their "awareness of the prevalence of whiteness and privilege," challenge "notions of colorblindness [and] assumptions of 'normal,' 'good,' and 'American'" and "understand and own European ancestry and see the tie to privilege."
Many are deceived about the origin and concept of "white privilege." It should be noted that white privilege was started by a feminist in the 1980s, with a desire to prove that men, especially white men had an "unacknowledged male privilege," or an unearned advantage men have in society by virtue of being born male. The concept had nothing to do with the struggles of non-whites due to their lack of privilege. The notion was then expanded to include a "white privilege" analogy to male privilege and thus, the "white privilege" theory was born.
It is alarming at how far "white shaming" (let's call it what it really is) has gone in this country and especially in some schools today. As a licensed psychotherapist, I am even more shocked by the fact no one seems to acknowledge what this private school is alleged to have done in terms of using "white privilege" to chastise white children. It appears to be nothing short of emotional "abuse."
According to a leading mental health network run by mental health professionals for consumers, an article describes emotional abuse to include humiliation, degradation, discounting, negating, judging or criticizing. Another aspect cited is the use of domination, control and shame. Finally, this type of abuse is also described as emotional distancing and the "silent treatment," isolation, emotional abandonment or neglect.
Segregating or isolating white children into different groups based upon skin color and informing them that because of their skin color they are somehow "harming" children of color, amounts to using isolation as a tool to shame, humiliate and judge these children for their perceived "wrongdoing."
Failing to offer white children positive reinforcements for who they are, yet offering children of color cupcakes and treats as incentives, also fits the definition of emotional abuse as described by the mental health network. These actions to degrade or discount white children's accomplishments and send the message children of color are somehow "better" than white children is evidenced by the rewards children of color receive and the absence of rewards for white students. The implication of "superiority" of one race over another is the very definition of racism.
Finally, not allowing white children to express their feelings about what it's like to be a white child, especially in an environment which does not embrace them, while giving children of color "space" to share their experiences, is an example of asserting dominion and control to promote the message that feelings of white children are not important or at least, not as important as those of children of color.
Psychologically speaking, emotional abuse can have long-term, negative implications which can scar a child for life and stunt their growth in a variety of ways, including creating issues involving self-esteem and how they perceive others. Why would anyone knowingly allow their children to be subjected to such treatment? Young children need to be protected. Perhaps it's time for the parents to sit down with the school, demand changes or remove their children from an unhealthy environment.
–
TheBlaze contributor channel supports an open discourse on a range of views. The opinions expressed in this channel are solely those of each individual author.