But for many who are trying to cope with the loss of a veteran who they claim committed suicide because proper medical treatment wasn't provided by the Department of Veteran Affairs, there is anger.
For VA whistleblower Brandon Coleman, a disabled veteran of the United States Marine Corps and VA employee for approximately eight years, it has been his calling to help suicidal veterans and their families who come to the Phoenix VA.
 Exterior view of the Veterans Affairs Medical Center on May 8, 2014 in Phoenix, Arizona. Christian Petersen/Getty Images
Coleman has dedicated his life to saving those who have seemingly been forgotten by a system that promised to take care of them once they completed their service for this country. At least that was what Coleman was doing until he spoke out last year against the Phoenix VA.
Coleman filed for VA whistleblower protection after deciding he had seen enough of what was happening to suicidal veterans "under his watch" as an addiction therapist at the VA hospital in Phoenix, Arizona. Coleman was determined to change what was happening and ensure that veterans received the treatment they deserved. He decided to take his concerns public.
Coleman claims he first brought his concerns to VA Management before going to the media and was told not to talk about his accusations publicly. Coleman made the decision that he could not remain silent any longer and went public in January 2015.
Coleman was subsequently placed on administrative leave when false allegations were leveled against him for supposedly having an altercation with another employee.
"I've been told everything from if I come forward, I would be terminated," Coleman said. "That's a common statement. I didn't believe any of it, until I was put on administrative leave for allegedly threatening other employees."
The allegations were proven to be meritless, according to Coleman.
Coleman was later further vindicated when a former acting human resources officer for the Phoenix VA Health Care System signed a sworn affidavit which alleged that shortly after Coleman's public appearance, "top administrators" met to discuss "options the morning after whistleblower Brandon Coleman complained that suicidal veterans were not being properly handled."
The human resources officer also claimed that regional VA counsel had advised top administrators during the meeting that Coleman could not be fired for speaking out to the media under the federal Whistleblower Protection Act, but he could be removed or suspended for unrelated misconduct.
Coleman claims it was approximately three weeks after the meeting took place with top administrators that he was accused of having an altercation with another employee. He claims he was suspended and his treatment program for veterans with substance abuse issues was dismantled.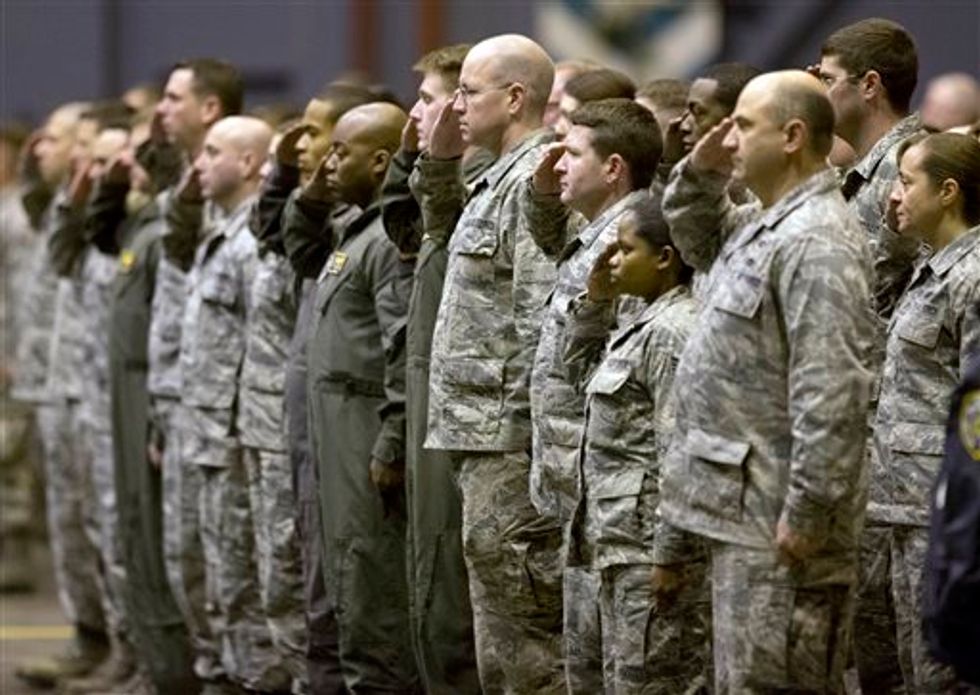 (AP/Mike Groll)
Sen. John McCain (R-Ariz.) immediately backed Coleman and sent a letter to VA Secretary Robert McDonald, calling on McDonald to investigate Coleman's claim's about how the Phoenix VA manages the care of patients at risk of suicide.
Surely, after Coleman's claims of retaliation as a whistleblower for speaking out publicly against the VA and having a senator come to his defense, he's definitely back at work, right?
You may be surprised to know that Coleman still remains on administrative leave over a year later even though he says he was cleared of any wrongdoing.
As for improvements within the Phoenix VA in its handling of suicides, new allegations have surfaced.
Recently, a letter, supposedly from a VA employee, was sent to a local reporter in Phoenix. The letter provides names, dates the suicides were committed, how the suicides were carried out and how the suicides could have been prevented.
The letter further gives "disturbing" details about veteran suicides and the lack of care they allegedly received at the Phoenix VA and calls for an outside investigation regarding the "full scope of the atrocities committed daily" at the Phoenix VA.
"This is a small sample of the amount of veterans, the dozens and dozens that commit suicide in the Phoenix area every year," Coleman said after reading the letter.
"The general public doesn't know what's really going on," he said.
This letter was written by staff at the management level who, for fear of losing their job, asked to remain anonymous. They say they couldn't just sit back and watch, especially when lives are literally on the line.
"There's so much corruption that runs all the way to the top, it's like a cancer that needs to be cut out," Coleman said.
Even more allegations have now come to light against the Phoenix VA.
Earlier this week, new information surfaced regarding the Phoenix VA's handling of suicidal veterans.
A new report has been leaked alleging that suicidal veterans who tried to get help at the hospital were turned away. Whistleblowers claim that once the veterans were turned away, they vanished.
"They could be dead, could have gone home and put a bullet in their head. Again we have blood on our hands," Coleman said.
Coleman further claimed that he had personally seen suicidal veterans walking out of the Phoenix VA and no one was held responsible for it.
"Oftentimes these veterans were eloping [walking out of the facility]. It was well known throughout the VA that veterans were eloping from the emergency department. I got tired of it," Coleman said.
Allegedly, in the final report signed by Chief of Staff Robert Nabors, employees were found negligent for not adequately monitoring emergency department patients with suicidal ideations, and didn't correctly complete a suicide risk level assessment for at least one veteran."
Additionally, the report claims that the VA admits that "10 suicidal veterans were allowed to walk out of the facility in just over a one-month period, but only five were actually checked on to make sure they were Ok."
Apparently no one knows who the other five are but Coleman says an additional five, never mentioned in the report but deemed suicidal, are also unaccounted for to this day.
"The VA is broken; it's the most corrupt system there is and the Phoenix area is the worst example of VA healthcare in the United States. This proves they lie," Coleman said.
Although it's been over a year since Coleman first brought his claims to the attention of the Phoenix VA and the public, apparently little if anything has changed.
How many more veterans will commit suicide before cries for proper medical treatment are finally answered?
–
TheBlaze contributor channel supports an open discourse on a range of views. The opinions expressed in this channel are solely those of each individual author.