Donald Trump taps into the fear of law-abiding America that terrorists are sneaking across our borders by demanding a temporary halt to all Muslims entering the country, and the White House responds by saying … he has fake hair?
Scathing.
That ought to get him.
In White House press secretary Josh Earnest's words: "The Trump campaign, for some time now, has had a 'dustbin of history'-like quality to it, from the vacuous sloganeering, to the outright lies to even the fake hair, the whole carnival-barker routine that we've seen for some time now."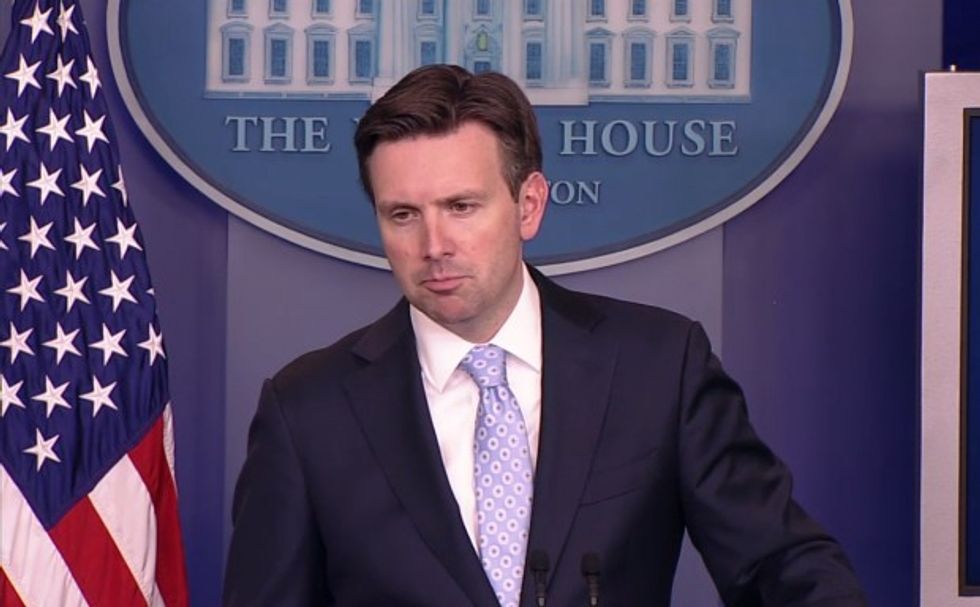 Screengrab via White House
He then wondered aloud if other Republicans were going to allow themselves to be dragged into the "dustbin of history" with Trump – with Trump and his fake ol' hair, that is. Earnest didn't do it, but what should have followed in the tone that was set was a sticking out of tongue. A nanny-nanny-boo-boo utterance or two.
Is this White House serious?
We've got radical Islamist terrorists shooting up California, terrorists in Tennessee, terrorists in Texas – and that's just in 2015, on U.S. soil. Don't forget the radical Islamist terrorists in Paris, terrorists taking down Russia's plane, more terrorists in Paris – and that's just the tip of the iceberg in overseas terror strikes this year alone.
And President Barack Obama's response, issued through his talking mouthpiece Earnest, is to pick on Trump's hair?
That's just unacceptable. Not to mention petty, desperate, obvious and condescending.
No wonder Trump is blasting by all projections and predictions for failure, many of which came from within his own party, and riding the polls to not just No. 1, but well past -- well into Can't Catch Me Now territory. He's got a solution, and it doesn't involve sad sound bites that reek of elementary school innuendo.
Trump's comments, which he read Monday from South Carolina: "Donald J. Trump is calling for a total and complete shutdown of Muslims entering the United States until our country's representatives can figure out what is going on." He later clarified on ABC News: "If a person is a Muslim, goes overseas and comes back, they can come back. They're a citizen. That's different. But we have to figure things out."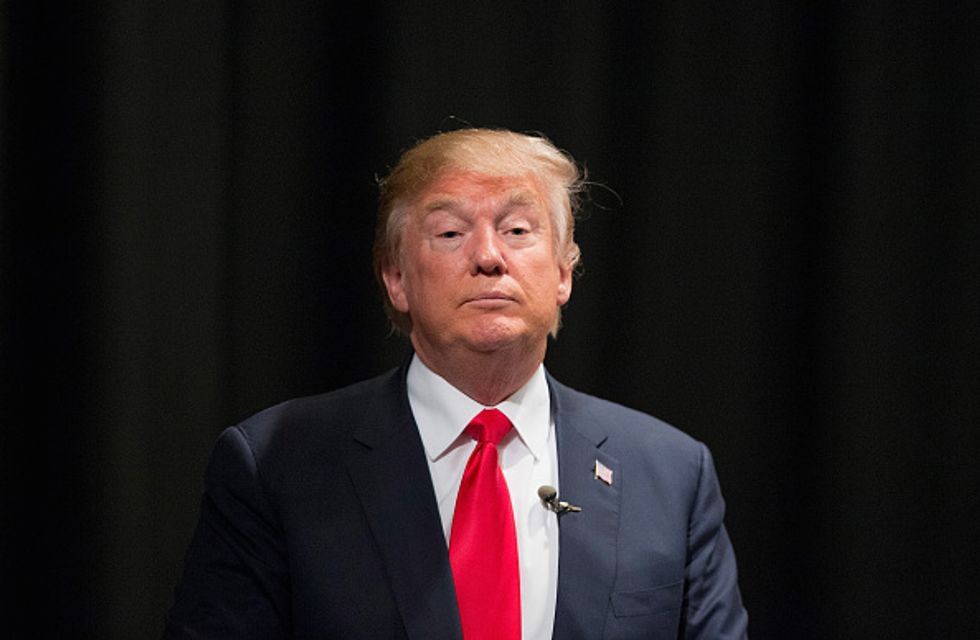 Republican presidential candidate Donald Trump speaks to guests following a town hall meeting at Des Moines Area Community College Newton Campus on November 19, 2015 in Newton, Iowa. . (Photo by Scott Olson/Getty Images)
Not the most thought-out statement in terms of considering the First Amendment, America's religious freedoms and the U.S. Constitution, according to several legal minds.
But you know who else has intoned similarly? Reverend Franklin Graham, on his Facebook page, after the Chattanooga, Tennessee, terrorist attack that left four Marines dead and several others injured. He wrote: "We are under attack by Muslims at home and abroad. We should stop all immigration of Muslims to the U.S, until this threat with Islam has been settled. Every Muslim that comes into this country has the potential to be radicalized – and they do their killing to honor their religion and Muhammad."
Like Trump, Graham pointed to World War II times and the temporary U.S. ban on Japanese and German immigration to America, to draw the overall logic and ask: "Why are we allowing Muslims now?"
Here's the thing: On Fox News on Wednesday morning, Dr. Sebastian Gorka, a globally recognized terror and national security analyst, said 82 Islamic State suspects have been killed or arrested on U.S. soil in the last 20 months alone. His assessment?
"If you just look at the facts, a Paris-like attack [130 dead, 368 injured] is not a question of 'if.' It is a question of 'when.' Do not expect this to be the last attack in America by jihadis," he warned.
And that's what the American people know – the same nerve Trump is touching with his border, immigration and Muslim messages. But the White House?
It's all about the hair. The hair – and gun control.
Earnest talks about the "carnival-barker routine" of Trump, as if his boss has something better to suggest. Well, the truth is the American people are sick and tired of playing the Obama version of Fantasy Terrorism, where radical Islamism does not exist and acts of terror are the fault of the Second Amendment. And poking fun of the hair of the candidate whose counterterrorism plans are obviously resonating with U.S. voters is hardly an approach that will shake loose that fantasy label any time soon.
Cheryl Chumley, a writer for WND.com and former news writer for The Washington Times, is also the author of "Police State USA: How Orwell's Nightmare Is Becoming Our Reality." She may be reached at ckchumley@aol.com or through her blog, cherylchumley.blogspot.com.
–
TheBlaze contributor channel supports an open discourse on a range of views. The opinions expressed in this channel are solely those of each individual author.