By Rebecca D. Costa
Who runs the world?
Women do. According to Emmy Award-winning political analyst Juan Williams, not just any women: independent, suburban, middle-aged woman do. That's because the next leader of the free world will be determined by who they cast their vote for in November. A fact that has not gone unnoticed by presumptive GOP Presidential nominee Donald Trump, who recently began accusing his Democratic rival Hillary Clinton of playing the "woman card."
Wisely, Clinton didn't deny it. She countered with "deal me in."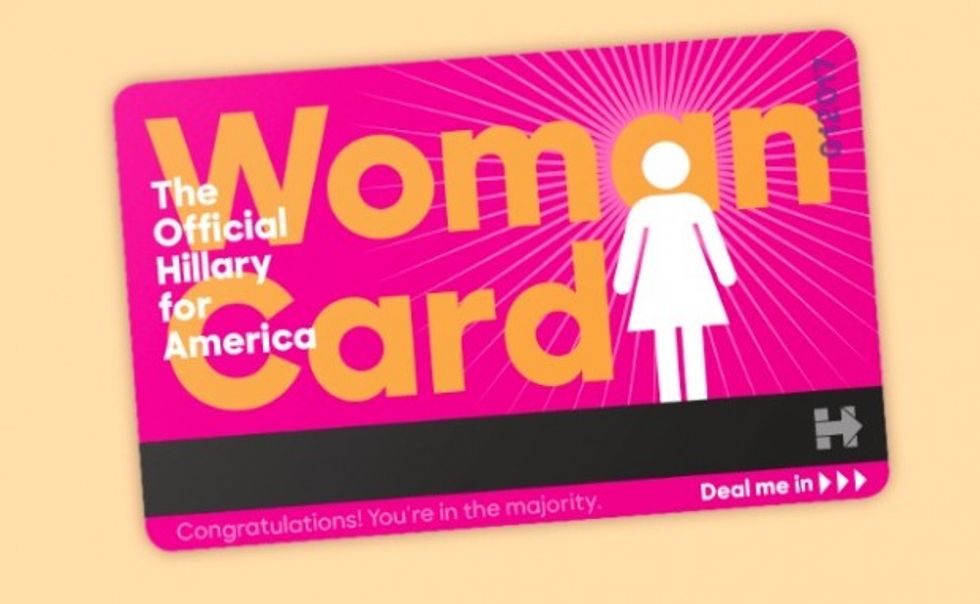 Screenshot, www.hillaryclinton.com.
What does Clinton know? First, women have been the largest voting block in the last five presidential elections. In 2008, ten million more women voted than men, paving the way for Barack Obama's presidency over Mitt Romney. And today, the Voter Participation Data Center reports 60 percent of all American women are registered to vote. Pew Research claims 52 percent of women voters are registered Democrats, and only 36 percent Republican. So, when Clinton plays the woman card she's catering to 52 percent of the largest voting demographic in the country.
But a generation ago this wasn't the case. In the 60's, men outvoted women by almost the same amount women are outvoting them now. So, not surprisingly, some of the 2016 polling studies leave out white males altogether. The term "rising american electorate" stands for unmarried women, people of color and millennials - and that's it. Just three groups of voters. The rising american electorate now constitutes 56 percent of Americans eligible to vote this year. Fifty-six percent.
But there is one interesting twist when it comes to women voters. In a recent survey, New York Magazine discovered female millennial voters wouldn't automatically support a candidate because of her gender. That's old feminist thinking. College-aged voters claim electing a woman president isn't as important as voting for a president who supports women's issues. Translation: Trump can still sway millennial females if he's willing to stand up for issues like equal pay for equal work, paid maternity leave, reproductive freedom, sex discrimination and other GOP lightening rods.
In the 2016 election, there's no question whether the women's vote will decide the next president of the United States. The only question is whether gender matters more than women's issues, or if party affiliation transcends both. Either way, when Clinton says "deal me in," she means "seal me in."
Rebecca D. Costa is an American Sociobiologist, Author and Host of The Costa Report, a nationally syndicated radio program.
–
TheBlaze contributor channel supports an open discourse on a range of views. The opinions expressed in this channel are solely those of each individual author.