The Justice Department has told Apple that it must break the code of the San Bernardino terrorist's iPhone. Apple should say "no" and continue to fight this injunction with every means at its disposal.
The case is eerily reminiscent of a lesser-known novel by Dan Brown (of "Da Vinci Code" fame). Brown's novel, "Digital Fortress," is situated amidst National Security Agency code-breaking machines and their handlers. Explicit in the novel is the debate between well-meaning public servants, seeking to increase citizen safety after Sept. 11, 2001 by monitoring terrorist communications, and privacy advocates.
"Digital Fortress'"characters are complex, so it is difficult to tell who the good guys actually are, especially because it turns out that the NSA had unsuccessfully tried to install a "backdoor" into software, allowing it unfettered access to global information streams. This concept of a backdoor is one of the elements of Apple's resistance to the FBI.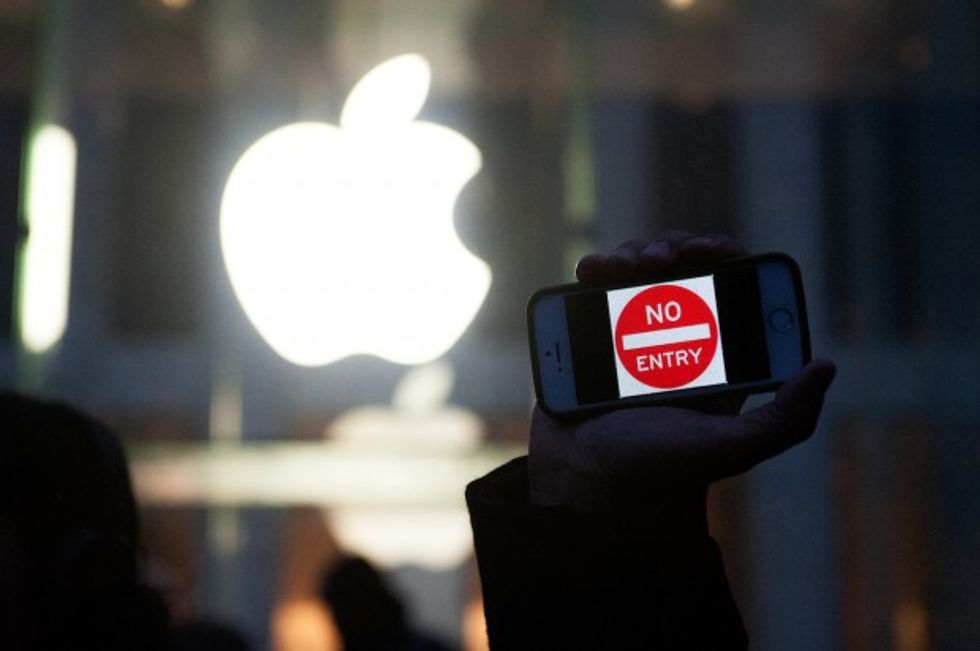 Bryan Thomas/Getty Images 
One of Brown's characters aptly realizes that the purported trade-off between security and individual freedom, in the form of privacy, is not a fair trade. He quotes the Roman satirist, Juvenal, "Quis custodiet ipsos custodes?" or "Who will guard the guardians?"
In other words, if agents of the state claim that citizens need a watchdog to secure their safety, who will ensure that those agents will not become tyrants and criminals later on?
A related, though problematic set of arguments was made by Alan Rusbridger, the editor of the British newspaper, The Guardian, after publishing the Edward Snowden leaks. Rusbridger's argument is far-reaching and it can help us understand that the San Bernardino case is about far more than a single iPhone now held in a police plastic baggy.
Rusbridger argued that the real crime was not Snowden's leak but rather the surveillance state that records every movement of citizens (for at least five years the United Kingdom has worn the mantle of the most video-surveillanced country in the world). Rusbridger complains that this has deleterious effects on a democracy, including effectively gagging the media at times ("prior restraint") and keeping civil society under constant watch. Part of the issue, according to Rusbridger, is that the data (e.g. emails, telephone calls), when collected, may be stored indefinitely. Worse yet, it is not clear that security agencies are actually transparent with the elected representatives to whom they are supposed to be accountable.
When applied to the Apple case, there are multiple concerns.
Should the government be able to force private companies to break the security features that protect individual privacy? What should be the tipping point for companies to collaborate with the government in security crises? (Shouldn't the standard be a ticking bomb scenario?) What guarantees that the government will not seek to learn from Apple how to extend this functionality beyond the individual iPhone in question? Is this case really about national security in the wake of San Bernardino or is it an attempt by the federal government to bully Apple, as it has tried to do with Microsoft and IBM in the past? In other words, is this an attempt by the government to signal to other technology companies, such as Google, Facebook, and Amazon, that they should play along when asked?
My inclination is generally to side with law enforcement on security issues, but something does not smell right about this case. Congressman Darrell Issa, long a technology watchdog, disputes the FBI's claims. He argues that Apple should not create a government backdoor to the iPhone's security features, and more importantly, he states that the FBI wants to use the technology to unlock more than a dozen iPhones in other cases. Issa fears that going down this path will cause widespread vulnerability to personal data and that the FBI is not being honest about its intentions.
It has been months since the San Bernardino attack, so it is unlikely that there is much actionable intelligence available on the phone. But more importantly, I cannot figure out why the government has not sought to break the iPhone's codes itself. Indeed, this is precisely the position that some individuals in Congress as well as Edward Snowden have taken. Snowden recently argued that the government can easily break into this iPhone if it so chooses. If this is true, it suggests that the government is persecuting Apple with far bigger stakes in mind than getting into a single Californian iPhone.
It is one thing for the government to utilize its internal experts to break into a single iPhone under the watchful eye of elected representatives of the U.S. Congress. When that iPhone is the property of villains and a lawful court warrant has been obtained (or a declared state of war exists), few of us have qualms about the U.S. government acting directly. However, it is something entirely different to bully a law-abiding company into giving up the trade secrets inherent to the DNA of its product and thus its social contract with its customers to protect their privacy. Few of us can imagine how opening a government backdoor into iPhone's security features is smart for our long-term security and privacy. The Justice Department needs to begin by answering the question of accountability and intentions, "Who will guard the guardians?"
Eric Patterson, Ph.D. is Dean of the Robertson School of Government at Regent University.
–
TheBlaze contributor channel supports an open discourse on a range of views. The opinions expressed in this channel are solely those of each individual author.