This is an excerpt from the author's new book "Faith in the Spotlight – thriving in your career while staying true to your beliefs" which is available on Amazon and will be released in stores on October 4. She will be signing copies of the book on October 3 at 8 p.m. via live stream.
"Don't let anyone look down on you because you are young, but set an example for the believers in speech, in conduct, in love, in faith and in purity." 1 Timothy 4:12 NIV
Why would I include a chapter on abstinence in a book about succeeding at work? The chapter title answers that question, at least in part. Many people think the concept of abstinence is out of place and old-fashioned. I get it; believe me. That idea is reinforced all the time in my industry. But I'm addressing abstinence because this personal choice has become a theme in my professional life. And instead of abstinence hindering my career advancement in any way, I can confidently say the opposite is true. Even though our culture encourages otherwise, I have thrived with my choice. But I realize I am not the norm and the conversation is a rare one.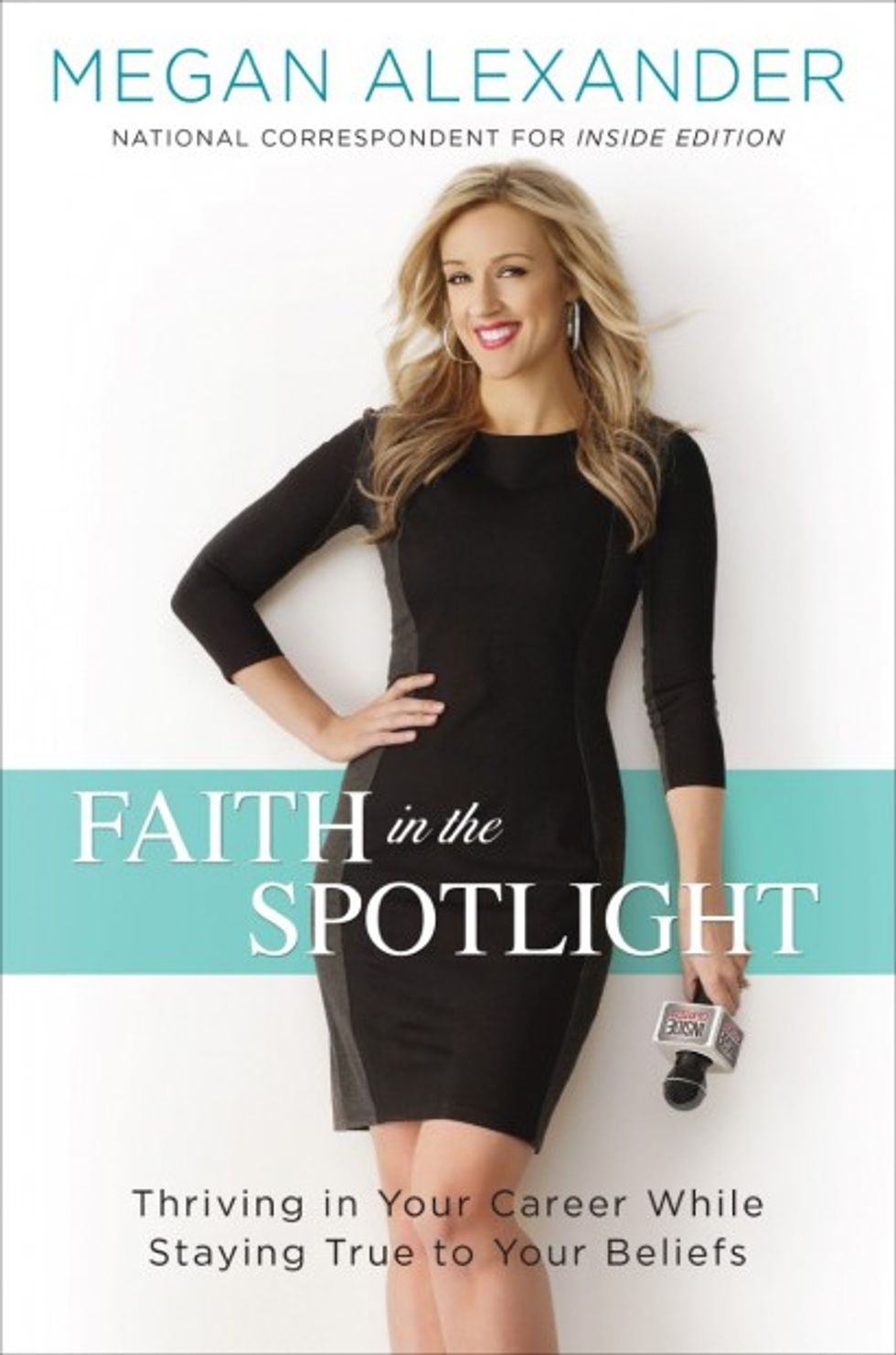 Courtesy of author
Paradigm Shift
Let's face it: We live in a sex-crazed world. We are bombarded with sex everywhere we look. It's in our schools, it's in our magazines, it's on our televisions, computers, and phones. I am often disappointed in Hollywood's portrayal of love. Movies and television make it seem like people should participate in sex as easily and as often as they brush their teeth!
Sadly, entertainment does little to encourage abstinence. Phone apps like Tinder can connect you to people looking for a quick hookup—no strings attached. As a culture, we are told there are no rules; you can do whatever you want, whenever you want. And along the way, never give any regard to the consequences or the wake of destruction you might leave in your path.
Also fueling this sexual freedom is our culture's message that one's self-esteem is based on how much sex a person can experience and how many men or women a person can conquer. Further, if you are a virgin or are saving yourself for marriage, you are considered old-­fashioned and out of touch. Young people are faced with an incredible amount of pressure to jump into a relationship physically—and they are encountering this pressure at younger ages all the time. . . .
Clearly, in our Tinder culture, abstinence requires a huge paradigm shift. Before people make that shift, they may look at my decision to wait and be confused or amused. But I believe there are more people out there who are still weighing the decision. And they are offered very little encouragement or role models from the abstinence side.
In a world of "I want what I want whenever I want it," the selflessness that comes with abstinence does not make much sense. But this choice is not just about saying no to yourself for a season. Abstinence is about putting the other person above yourself and saying they are worth the wait. You forgo the instant gratification of your own personal desires so you can create an even better and lasting future, and attempt to avoid pain and hurt along the way.
Whoa!
My own personal decision to abstain became public for a variety of reasons. While walking the streets of Manhattan one day, my phone rang. Lynette, my pastor's wife in New York, was calling. She told me she had just spoken with a friend who was the publisher of a women's magazine. They were planning an issue on sex and marriage, and they wanted to do a cover story on a young female who was prominent in the entertainment or media world and who had practiced abstinence before she'd gotten married.
Lynette said to me, "She's been asking around, and she can't find anyone! I told her I knew someone, but I wasn't sure she'd be interested in going public about this."
That someone was me—and Lynette was right; as she'd guessed, I wasn't so sure I wanted to be in the spotlight for this reason.
After all, I had been hoping to be able to just blend into the working world and simply do my job. But I sensed God was nudging me to showcase my faith more boldly. Colossians 1:10 came to mind: "The way you live will always honor and please the Lord, and your lives will produce every kind of good fruit. All the while, you will grow as you learn to know God better and better."
That night I told my husband about this opportunity and asked him what he thought. After all, he was one-half of the scenario. Going public with my story would mean going public with his, too. My husband had already had sex before he came to faith, but he decided to abstain until we got married (this is sometimes called "second virginity").
Brian thought about it for a moment and then said, "We say we always want to honor God in whatever we do. I never thought it would be this way, but why not?"
We both agreed that these days not just teens, but everyone, is facing an incredible amount of pressure to jump into bed before marriage. Movies, television, and advertising all portray premarital sex as normal. Abstinence isn't a popular topic, and no one seems to be talking about it. If they do talk about it, it seems to be met with a lot of sarcasm and shock. If sharing our story would make it "cool" to follow our path, and help people realize abstinence is an option, then our going public about our experience would be worth it.
So I wrote an article for the magazine. I hoped it might inspire a few people, but I never expected a big response.
Print, Television, and the Internet
At Inside Edition, my fellow reporters and I often do side projects. . . . [And] when any of the on-air talent gets a big gig, we are supposed to let our boss know about it. So when the magazine was published with me on the cover, I put a copy on my boss's desk with a Post-it note that said, "Hey, boss! Wanted to let you know I wrote an article about my marriage for this magazine. Just a heads-up! Thanks!"
I didn't expect to hear from him when I left for the evening. But that night my boss emailed me. He said, "Megan, I am so glad you gave me this magazine. Not only is it a great article, but I think it's very profound. I would like to do a story on the show about you and your husband and your decision to wait. Would you be interested?"
I looked up from my computer and called to my husband, "Oh, Bri-an . . ." and shared the email. God bless that man! His response remained the same: "If it helps one person, it's worth it." So my husband and I sat down for an interview with Deborah Norville, the host of Inside Edition, and the show ran my story. It was odd being on the other end of the interview for a change! Soon after, Fox News called and asked if they could put the story on their website—and I learned later that it was the number three trending story on FoxNews.com for that entire day.
I do not share this to brag, but because it indicates that people are interested in the conversation. People want to talk about it, and they have many questions. And I want single people to know they are not alone in choosing purity and that it isn't weird to decide to wait until marriage to have sex. This choice worked for me, and it can work for them and for you.
–
TheBlaze contributor channel supports an open discourse on a range of views. The opinions expressed in this channel are solely those of each individual author.