It's a powerful statement. And not just because it was repeated verbatim from the 2000 presidential race when Sen. John McCain conceded to his opponent in South Carolina, but because Kasich knew then that he had no road to the highest office in the land to begin with.
Math be damned, the mighty governor vowed to fight on and not suspend his campaign because, as he might say: "Golly gee gang, I just want to make Mayberry swell again." Ah, yes. So above the fray of politics as usual, this very charismatic leader, looking like he wears his father's suits anytime he steps in front of a camera has convinced himself that he just might be the modern Abraham Lincoln.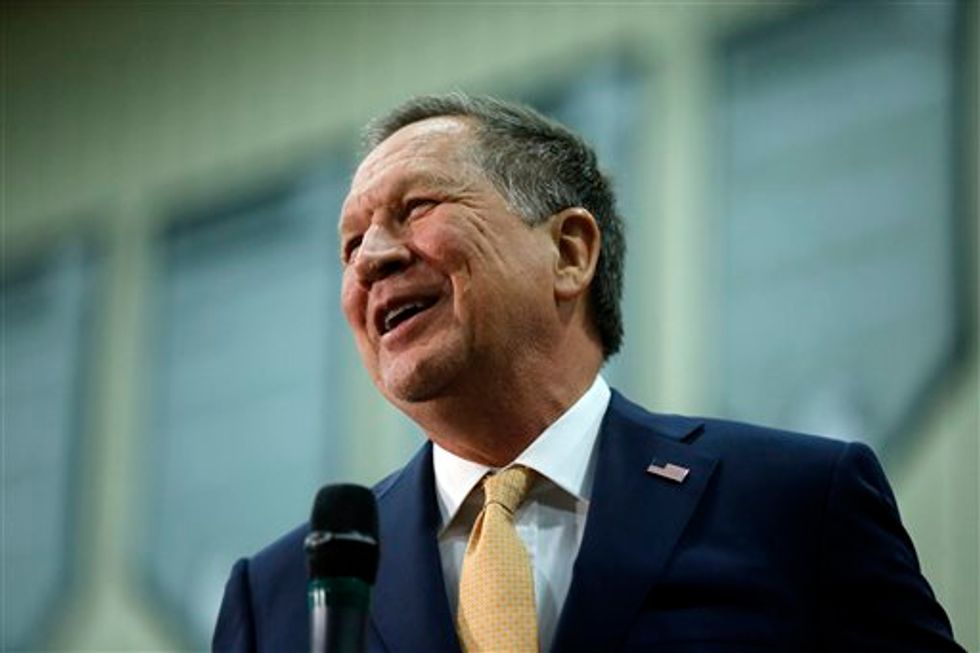 Ohio Gov. John Kasich speaks during a campaign stop on Monday in Westerville, Ohio. (AP/Matt Rourke)
Of course, Abraham Lincoln never told people that disagreed with him, "If you're not on the bus, we'll run over you with the bus. And I'm not kidding." But then again the modern bus didn't exist in Lincoln's time, otherwise he surely would have said such a thing. Because you see, like Lincoln, Kasich is our solution to so many problems. He's really a savior in oversized clothing, ready to take his rightful place as the GOP nominee at what many believe will be a brokered convention.
Kasich is like Lincoln in every way. That is if Lincoln was a delusional, career politician who was trying to destroy the republic by attempting to elevate a woman who should be in prison and a man who is a self-serving con artist.
You see, John Kasich is everything I despise about politics. He doesn't really stand for his party's own values and always tries to appear better than the rotting government he has contributed too. That's why during his Miss Ohio primary acceptance speech I was so mad I was yelling at the TV. He is more concerned about his own interests than the future of our country.
Because any intelligent person, like Sen. Marco Rubio for example, can understand that the way you show that you want what's best for America's future is by doing what's right and dropping out to presumably throw your support behind the candidate who has America's interests in mind. But don't worry about that, Kasich says. "[Donald Trump's] not gonna have enough delegates. He's gonna go there without enough delegates," he recently told CNN.
He's really figured it all out, hasn't he?
But what was really odd to me at the time was that after Trump dropped out of the last Fox News debate, which would have seen the final three candidates on stage together, so did Kasich.
Now, I understood why Trump would have fled a debate at this point. He knew that it would have been open season on him via Sen. Ted Cruz and he'd have been humiliated. He had nothing to win from a debate like that. But Kasich would have had he stayed on and debated Cruz one-on-one.
Finally Kasich would have received the ample time he incessantly whined he never got because it was always the Trump show.
So why bow out when he had such an opportunity?
My theory is that he removed himself as a form of solidarity with Trump because he is trying to play the field both ways. On one end he is trying to become the nominee by technicality of brokered convention because he has convinced himself that voters will want his brand of politics over the uncertain chaos surrounding the other candidates. And on the other end he is setting his safety net up by jockeying to be Trump's running mate because he is slimy enough to make such a deal.
That's right, the mayor of Mayberry John Kasich is just as capable of betraying supporters as Dr. Ben Carson.
If Kasich does betray supporters in such a way, like Lincoln, he might be directly connected to a civil war. But unlike Lincoln, who was the first president of the new GOP at the time, Kasich would ironically be the presidential candidate that would drive a stake through the heart of the Grand Old Party, finishing it off for good.
Wade Heath is a speaker, columnist and founder of the Do Good. Be Great. millennial movement. For booking contact: Events@WadeHeath.com.
–
TheBlaze contributor channel supports an open discourse on a range of views. The opinions expressed in this channel are solely those of each individual author.