Last year, House Speaker John Boehner joined forces with Democratic Leader Nancy Pelosi to invite Pope Francis to address Congress at next September's joint meeting. In their announcements, Boehner and Pelosi praised the Holy Father's message of "compassion" and "mercy" for the "needy" and the "disadvantaged."
That message is precisely why conservatives should dread the pope's upcoming visit. The language of "compassion" is a weapon of choice for advocates of the welfare state, the growth of a government increasingly intolerant of religious liberty, and even abortion-on-demand. Pope Francis, whether knowingly or inadvertently, plays right into that game.
It's because of his "compassion" that he opts for liberal immigration policies. Last year he joined American bishops in smearing opponents of President Barack Obama's amnesty as "racist and xenophobic." More recently, Pope Francis even expressed a desire to enter the U.S. via the Mexican border on his way to addressing Congress in September, musing that such an entrance would be "a beautiful gesture of brotherhood and support for immigrants."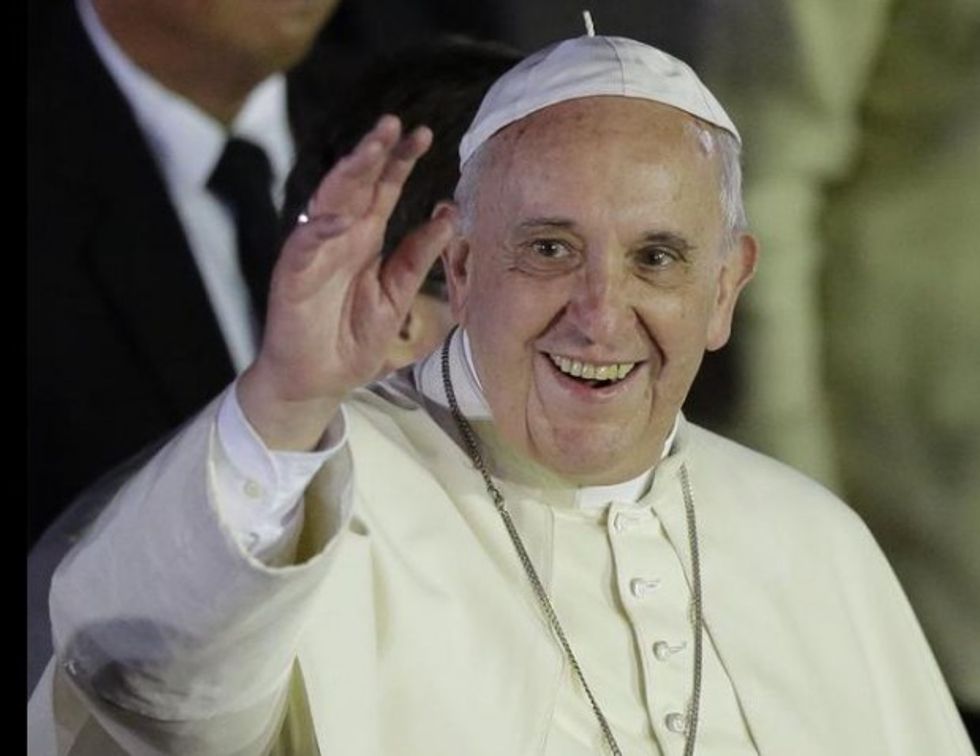 Pope Francis waves to well-wishers upon arrival from Sri Lanka, Thursday, Jan. 15, 2015 at suburban Pasay city, south of Manila, Philippines. Ecstatic crowds greeted the pontiff as he arrived Thursday in the Philippines, Asia's most populous Catholic nation, for the first papal visit in 20 years. (AP Photo/Bullit Marquez) 
He takes the same "compassionate" approach to the borders of jihadist-floodedEurope, despite reports on how jihadists plan to spread their murderous agenda in the West under the cover of "compassionate" immigration laws.
It's because of his "mercy" that Pope Francis held a private audience with a transgender "man" about to be married, after she wrote him a letter complaining that her parish priest was intolerant of her sex-change and her plans to "marry" a woman (Catholic teaching condemns both). After the meeting, Neria maintained her resentment of the Church, but praised Pope Francis for his openness: "I'm speaking about him, not the institution."
She might speak just as approvingly of Archbishop Timothy Dolan, who will lead a Lesbian Gay Bisexual Transgender posse in the New York St. Patrick's Day Parade this March. The LGBT movement explicitly presents itself as a top-down political coalition intent on imprisoning those who resist it. At the top of their blacklist are Christian ministers like Neria's pastor, who resist when activists use the government to force them to participate in LGBT "weddings." The "mercy" of Pope Francis and his bishops seems to operate in favor of the persecutor, not the persecuted.
It's out of love for the "marginalized" that Pope Francis joins anti-Christians in condemning free markets. Addressing the progressive United Nations last year, he congratulated their "harmonious economic and social development," but reminded them that some are still "relegated to the status of second-class citizens" and "deserve better." The U.N. must fight "the "economy of exclusion," the "throwaway culture" and the "culture of death.'" How? By an immediate "redistribution of economic benefits by the State."
Nor does he have anything good to say about free markets in America, where the Church's enemies—aided and abetted by misguided, big-government bishops—attack the economic liberty of Catholic institutions like the Little Sisters of the Poor.
Cardinal Timothy Dolan, left, Archbishop of New York and President of the United States Conference of Catholic Bishops, speaks with Hartford Archbishop Daniel Cronin, at the USCCB's biannual meeting Wednesday, June 13, 2012, in Atlanta. (AP/David Goldman) 
Just as the conservative Tea Party rose to correct a weak and ineffective GOP establishment, today's Tea Party Catholics need to bring a strong response to weak, conformist bishops and their pope.
When the Tea Party first arrived on the scene, America quickly came to realize that the movement was nothing new; its members were simply conservatives, while their representatives in Washington no longer were in any meaningful sense.
Like the GOP establishment, our pope and many of our bishops have lost their verve. While they offer lip service against abortion and euthanasia, they advocate for nearly every government-growing policy on the platform of the "Party of Death."
Tea Party Catholics should remind them that the culture of death isn't just a name for lax abortion laws or the legalization of medical mercy killings. When John Paul II coined the term, he addressed the disease, not just the symptoms; the misleading half-truths that motivate crimes against human dignity, not just the crimes themselves.
John Paull II wrote about the role "false mercy" plays in the culture of death, with obvious implications for abortion and euthanasia laws. As John Paul II warned, we can be led by a "perversion" of mercy to "kill the person whose suffering we cannot bear [emphasis added]."
But murder is just one of many logical conclusions of false mercy. At the very roots of the culture of death, John Paul II found a central lie: The belief that there is no "meaning or value in suffering," and that in fact suffering is "the epitome of evil, to be eliminated at all costs. This is especially the case..in the absence of a religious outlook which could help to provide a positive understanding of the mystery of suffering," he wrote.
That's right: the language of "compassion" often actually ignores people's suffering—whether it's the "mystery" of uniting their pain with the Passion of the Christ who saves us, or the simple, self-inflicted suffering of ordinary discipline, which in a free society is the best ticket out of poverty.
When Pope Francis sees the suffering of the poor, he reacts with all the panic of an atheist progressive, demanding governments "immediately" eliminate the very existence of any "second class," never noticing the ingenuity and potential of the poor themselves—who have risen out of abject poverty in every country where economic freedom is allowed to flourish.
When he encounters the suffering of unrepentant homosexuals, who reject the admonitions of their Church, he runs to their side, berating the Church for its "rigidity," never guessing that the sinners might be better off if they repent, not to mention the fellow citizens they harass.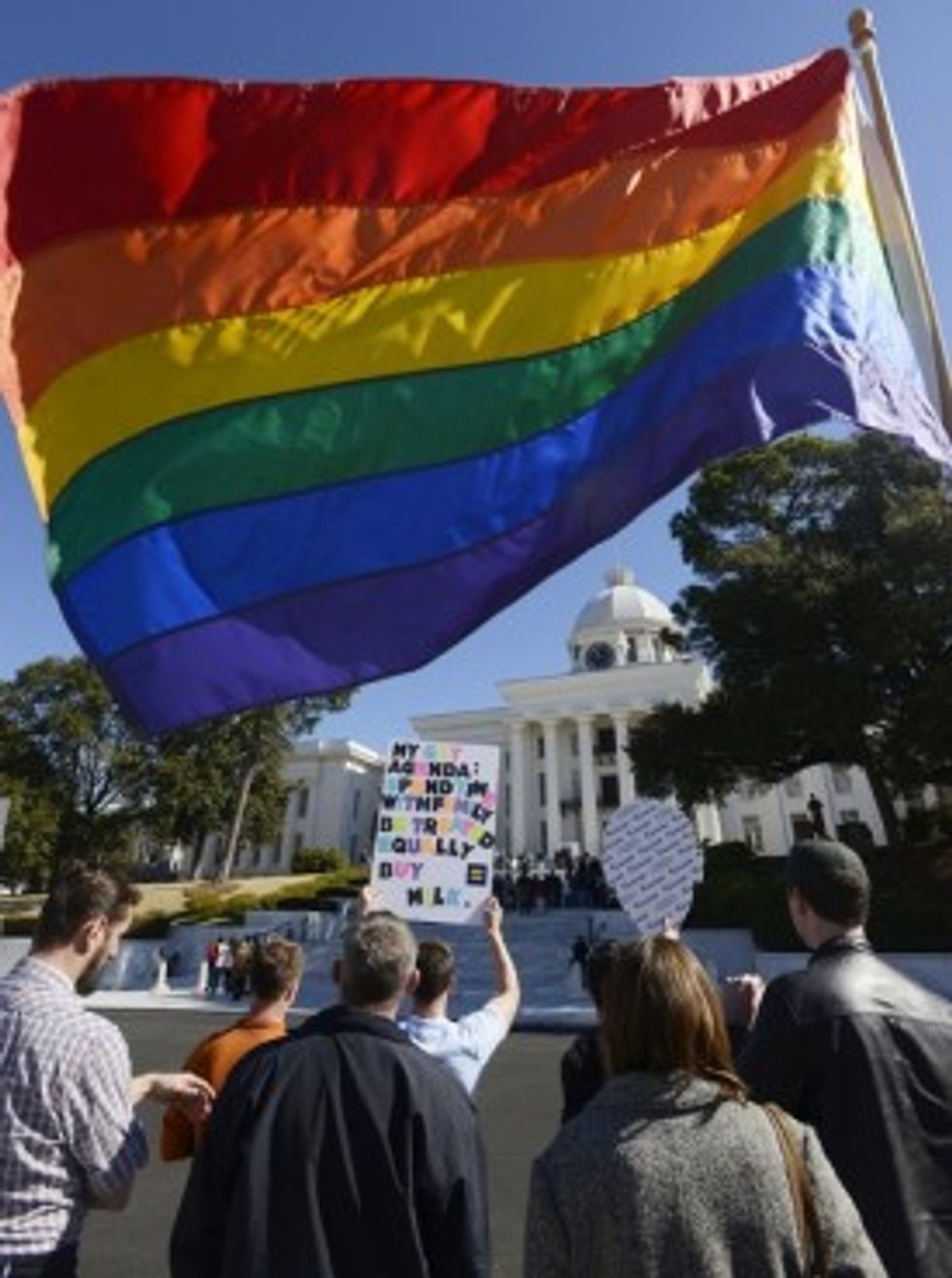 Same-sex marriage supporters hold a counter rally across the street from the Alabama Sanctity of Marriage rally at the State Capitol Building in Montgomery, Ala. on Saturday, Feb. 7, 2015. (Image source: AP/Montgomery Advertiser, Mickey Welsh) 
When illegal immigrants are lured by cynical politicians into the mortal dangers of the border crisis, he cries out "mercy!", never questioning those who benefit when millions of bewildered immigrants—mostly Christian—enter into America's vote-manufacturing welfare system, only to lose their religion and their dignity at the hands of the State.
Over at the Federalist, the brilliant Rachel Lu has argued admirably against the opinions of the Catholic Left. But when it comes to the dangers that they pose when wielded by a pope, she remains unmoved. Regarding his recent foray into environmentalist policy, she writes:
What's the worst that could happen here? [Pope Francis's] temporal power is still extremely limited. No head of state is going to institute extreme, economy-killing environmental protections at the say-so of Pope Francis.
A strange opinion for a Catholic during whose lifetime a Pope was credited with bringing an empire to its knees with the help of world leaders such as Margaret Thatcher and Ronald Reagan.
As they await the first papal address to the U.S. Cogress in history, conservatives should foresee what policies will benefit from Pope Francis's "compassionate" rhetoric: Last week, Cardinal Edoardo Menichelli, one of the pope's closest and most recent appointees, promised a "War on Capitalism" similar to that of Pope John Paul II against Communism.
If Tea Party Catholics stand by idly, and collaborators like Boehner have any say in who the future leader of the free world will be, then Pope Francis's War on Capitalism might just have a fighting chance.
Stephen Herreid is an Associate Editor of the Intercollegiate Review, and Editor-in-Chief of CandidWorldReport.com, where his work is archived. Contact him at sherreid@candidworldreport.com. Follow him on Twitter @StephenHerreid.
–
TheBlaze contributor channel supports an open discourse on a range of views. The opinions expressed in this channel are solely those of each individual author.