Throughout the world, May 1 is known as Labor Day (the holiday falls in September in North America). This holiday "is a celebration of laborers and the working classes" and of all the struggles they have gone through. Considering this, one can only wonder why unions celebrate it since they have been a net detriment to workers.
Yes, you read that right. The only thing unions have brought was structural unemployment. Sure, unionized workers earn more… at the expense of other workers who can't get hired since the cost of labor is too high. Because the only way a union can be successful is through coercion in order to stop other workers willing to work for less to come. In other words, they are violating the law of supply and demand, creating unemployment.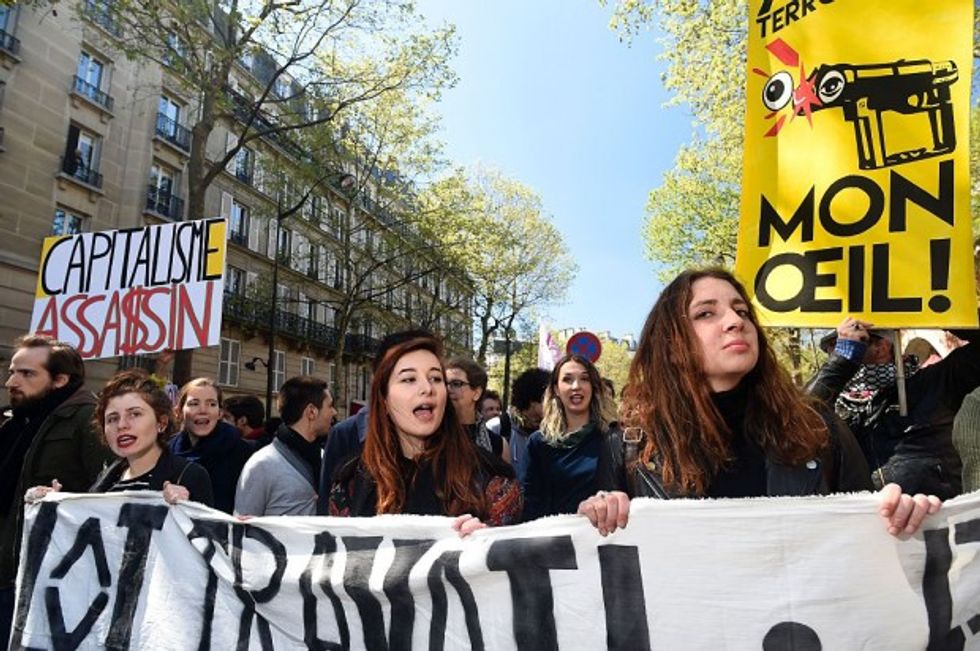 Protesters hold a banner as they attend a May Day demonstration on May 1, 2016, in Paris. (Photo: MIGUEL MEDINA/AFP/Getty Images)
In addition, nearly all union "achievements" - from ending child labor to higher wages for everyone - are a result of the dirty "c" word, capitalism. As Ludwig Von Mises showed so long ago, it was thanks to an exponential increase in wealth from the Industrial Revolution that humans were able to get out of their subsistence hell and start earning better money. The increase was such that having the whole family work was unnecessary.
Furthermore, their detriment to workers is more and more obvious every day with their campaign to increase the minimum wage to $15/hour. They call it "livable" but, once again, they completely ignore basic economics. Low-skilled workers are the first ones affected by an increase in wages since their productivity doesn't match. Therefore, restaurants like Carl's Junior will likely move towards automation in order to stay in business.
And if you think that corporations "just have" to redistribute their profits to their employees, think again. By factoring in all the costs (operation, taxes), McDonald's would at best offer $5/hour more to its workers ($12.25/hour). So despite making over $5 billion in profits in 2013, they still would not offer their workers a "living" wage.
Finally, union leaders are so full of themselves that they pride themselves with workers' achievements. Everywhere they talk about the union worker building up America. About union plumbers who voluntarily helped people in Flint, Michigan. About union members doing everyday jobs as though "regular" workers wouldn't be able to do it.
So if you really want to support workers, fight for their rights to voluntarily join a union. Right-to-work is not the catastrophe unions claim it is. In fact, once taking into consideration the cost of living there is basically no difference in wages.
Support workers. Fight union coercion.
–
TheBlaze contributor channel supports an open discourse on a range of views. The opinions expressed in this channel are solely those of each individual author.