© 2023 Blaze Media LLC. All rights reserved.
It is clear from Hillary Clinton's emails that she has a "public" and a "private" position on everything. According to Julian Assange, however, Donald Trump says the same thing in private that he does in public. Imagine that.
By Steven Mosher, for TheBlaze
We cannot know what is in someone's heart, but we can, it turns out, know what they put in their private e-mails … which is almost the same thing.
What is clear from Hillary Clinton's e-mails is how insanely duplicitous Csis. Even members of her staff who have worked for her for years query one another back and forth about what her "core" beliefs and values are. She herself admits to audiences of high-dollar donors that she has a "public" and a "private" position on everything.
Archbishop Joseph Chaput of Philadelphia has ably summed up her persona. The Catholic prelate, who has quite a way with words, sees her as a "scheming, robotic liar with a lifelong appetite for power."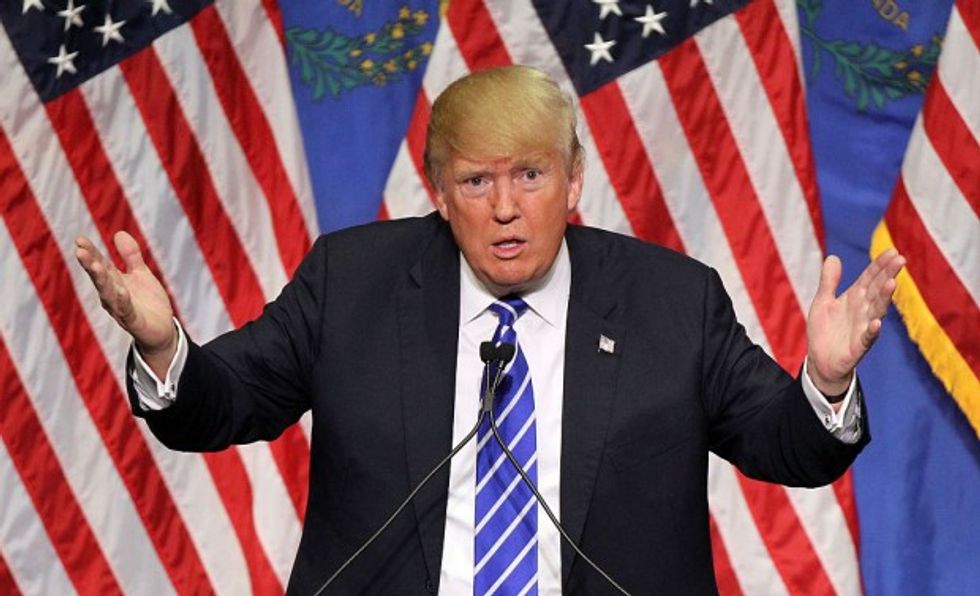 Getty Images/Isaac Brekken
In my reading, a "scheming, robotic liar" is someone who says whatever she believes her audience of the moment is gullible enough to swallow. Clinton's instinctive response to any situation is to lie to her advantage.
All of this we know from Wikileaks, which has released thousands upon thousands of the Clinton campaign's e-mails.
But where, some may ask, are Donald Trump's e-mails? And what do they reveal about his unguarded innermost thoughts?
Reporters have eagerly asked Julian Assange if he has Donald Trump's e-mails, too. Assange has responded in the affirmative.
"We do have some information about the Republican campaign," the Wikileaks founder replied. "The problem with the Trump campaign is that it's actually hard to publish more controversial material than what comes out of Donald Trump's mouth every second day."
Assange went on the consol the obviously disappointed reporters by saying that this is a "very strange reality for most of the media to be in."
Indeed, it flat-out boggles the imagination.
When have we ever had a political candidate running for president of the United States who actually says the same thing in public that he says in private? We might have to go all the way back to Abraham Lincoln, or even George Washington, to find one.
Unheard of. Unthinkable.
Now I know that a lot of people question whether Donald Trump means what he says.
They are understandably tired of politicians who promise to end pay-to-play politics when they are looking for votes on the hustings but then, once they are safely back in Washington among their own kind, shamelessly continue doling out favors to their donors and friends.
The whole Wikileaks episode constitutes a kind of "lie detector test" taken by the candidates.
Without question, Hillary Clinton has failed her Wikileaks lie detector test. Indeed, she admits as much in speeches to Wall Street bankers and Hollywood Leftists that were never intended to be shared with the likes of us.
Donald Trump, on the other hand, has clearly passed his Wikileaks lie detector test. On this you have the word of Julian Assange who, like him or not, clearly has some experience in dealing with duplicitous government officials.
Now you may approve of what Trump says or you may not. But you can be damn sure that he says the same thing in private that he does in public.
So when he says he intends to cut taxes, rebuild the military, jumpstart the economy, renegotiate our trade agreements, and secure our borders—he means it.
In other words, with Trump you get what you vote for.
Isn't that a bracing thought for jaded voters sick of being sold out by the Establishment?
Steven W. Mosher is the President of the Population Research Institute, a former Commissioner of the Commission on Broadcasting to the PRC, and the author of the forthcoming, The Bully of Asia.
–
TheBlaze contributor channel supports an open discourse on a range of views. The opinions expressed in this channel are solely those of each individual author.

Want to leave a tip?
We answer to you. Help keep our content free of advertisers and big tech censorship by leaving a tip today.
more stories
Sign up for the Blaze newsletter
By signing up, you agree to our
Privacy Policy
and
Terms of Use
, and agree to receive content that may sometimes include advertisements. You may opt out at any time.