Saturday Night Live produced a parody movie trailer for God Is a Boob Man mocking the Christian movie "God Is Not Dead 2."
Christians are such easy targets since we are non-violent - and we call being mocked "Tuesday."
SNL's trailer starts with a guy ordering a wedding cake from Beth. She refuses once she is introduced to his homosexual bride (or maybe his groom - I'm not sure how that works). The voice-over declares, "They want her to spit in the face of God."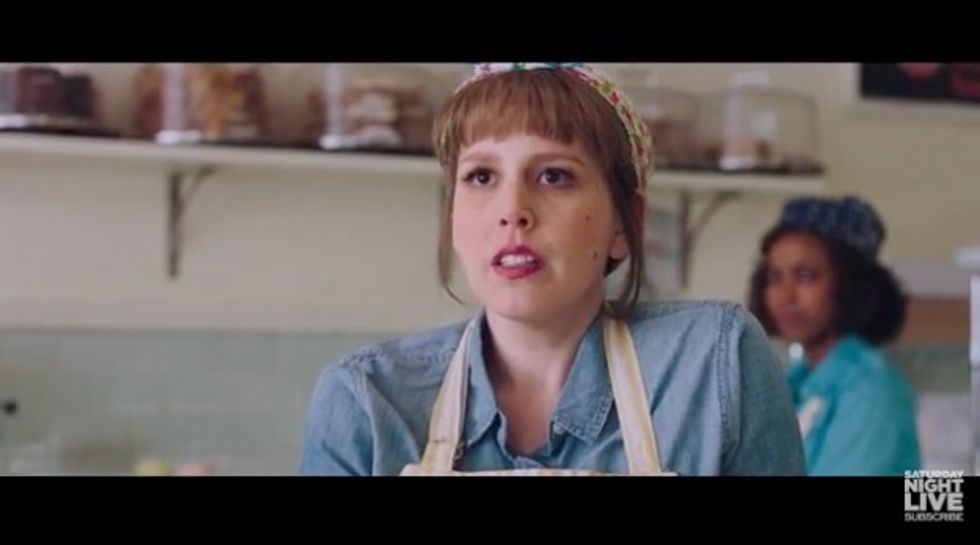 Image source: YouTube / "SNL"
The homosexual's Jewish attorney demands Beth say three words, "God is gay." She refuses.
Beth is on a mission to prove, in court, that God is straight.
In her defense, she offers this: "If God is gay why aren't there any gay priests?" One gay defendant rolls his eyes.
Then, it was time to mock Kentucky and county clerk Kim Davis for refusing to issue marriage licenses to gay couples. Beth burst into the governor's office and issues her request: "I want to deny basic goods and services to gay people." The governor makes it his top priority.
The "hysterical" trailer ends with Beth screaming "God is a boob man" as the crowd of "crazy" Christians cheer.
It's a typical anti-Christian attack by leftist elite perverts. These comedy warriors believe they are provocative and on the cutting edge of societal evolution. I wonder if they have the courage to mock Allah and Muslims in the same manner?
I would like to see SNL parody Muslims with "Allah Is Also a Boob Man."
Proposed SNL Trailer:
Caitlyn Jenner walks into a Muslim bakery and requests a wedding cake for his marriage to Bruce Jenner. The clerk, Aaeedah, refuses based on her Muslim beliefs. The scene ends with Jenner being thrown off the top of the building. It shows one Muslim saying to another, "As Allah is my witness, I thought gays could fly."
The dramatic voice-over begins, "7th Century Films, who brought you classics like:
'Sharia Law & Order,'
'Real Housewives from the 7th Century,'
'America's Got Caliphate,'
'Two and a Half Beheaded Men,'
'Tsarnaev Brothers' Big Bang Theory,'
'Desperate Burka-Wives,'
'News Magazine - 60 Mullahs,'
'How I Met Your Imam,'
and 'Dancing with the Shiites,'
...now brings you 'Allah Is a Boob Man.'"
The trailer continues with Jenner's Jewish attorney demanding Aaeedah say three words, "Allah is gay." She refuses.
Aaeedah is determined to prove Allah is straight. In her defense, she offers, "If Allah was gay, Muslims would not be stoning and throwing gays off rooftops all over the world. Allah clearly hates gays."
The trailer ends with Aaeedah screaming, "Allah is a boob man!"
Muslim men in the audience cheer wildly. A footnote at the bottom of the screen reads: Muslim women did not secure permission from their husbands to attend the trial.
Will SNL's courageous comedy warriors accept my challenge and take on Muslims like Christians, or will they just take the easy road and only bash Christians? What do you think? I agree! They're too scared. They probably can't fly either.
Tom Wurtz is a conservative writer from Kentucky. Contact Tom at tomwurtz@fuse.net.

–
TheBlaze contributor channel supports an open discourse on a range of views. The opinions expressed in this channel are solely those of each individual author.