With America militarily weakened by eight years of President Obama's policies and more internally divided than ever, Japan and Germany, our erstwhile foes turned by conquest into our staunchest allies, are now re-arming their forces.
Facing an aggressively territorial China, ceaseless North Korean provocation, an openly revanchist Russia as well as the scourge of Radical Islam, it seems they must realize: They may need to stand without us.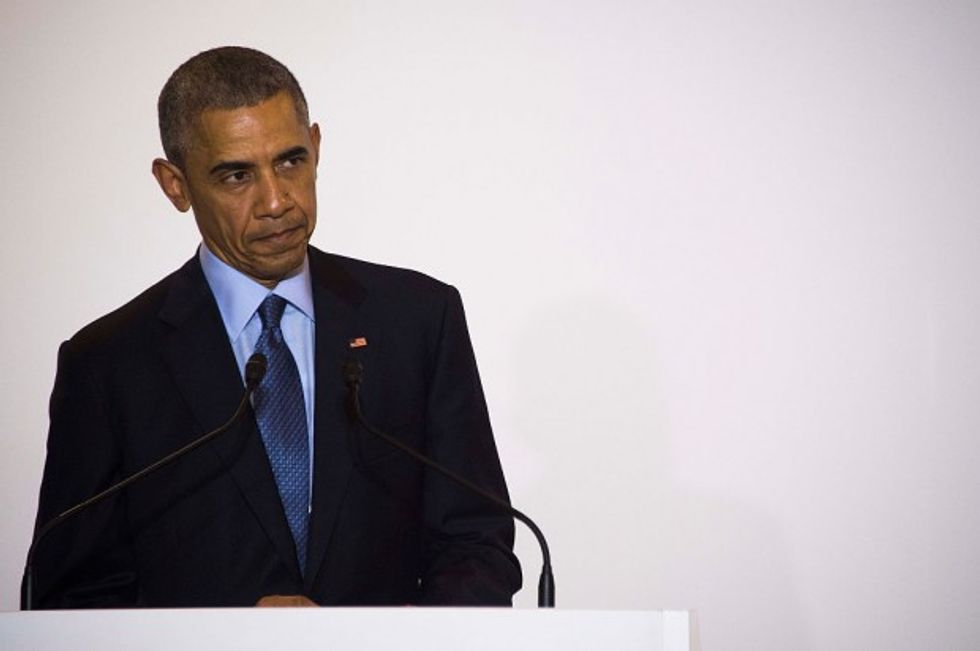 US President Barack Obama listens as Japanese Prime Minister Shinzo Abe speaks at a bilateral meeting during the Group of Seven (G7) summit meetings in Shima on May 25, 2016. (JIM WATSON/AFP/Getty Images)
The implications are disturbing when we consider the timing of Germany's unprecedented expansion of the Bundeswehr coinciding with Japan's recent launch of the JNS Izumo, an aircraft carrier in all but name escalating their undeniable sabre rattling in the South China Sea & Pacific - at the same time, according to Breitbart:
"The German and Dutch armies and navies are poised to "merge", creating the nucleus of the European Union's longed for pan-EU military force."
Forces throughout the world long thought pacified are stirring. Even in Turkey, we see Parliament Speaker Ismail Kahraman apparently calling for a religious constitution in the ostensibly secular U.S. ally. Could this controversial move signal a nascent desire for the resurgence of The Ottoman Empire as a rekindled caliphate to stand against ISIS?
Consider: How would Shiite Iran respond to a regionally powerful Sunni Islamic Government in a position to oppose them on sectarian lines? One cannot deny that second perhaps to the Wahabist Kingdom of Saudi Arabia's possession of Mecca and Medina, Turkish Istanbul as the former seat of Islamic power for four hundred and sixty-nine years is a powerful symbol for Muslims to rally behind. This situation would leave the whole of the Levant sandwiched between three rival sects of Islam vying for power over the faithful. The Hashemite Kingdom of Jordan could really go either way in this scenario, and Israel would hold a small lamp against the wind in a gathering storm.
Does America arise from 2016 united and ready? Or will we emerge more divided and impotent than ever, committed to isolationism or paralyzed by corruption and mismanagement? A destabilized America means that the coming conflicts will be decided by other powers and the "Pax Americana" as Henry Luce called it in 1941 will end ignominiously after some seventy years.
A character of J.R.R. Tolkien's master work warned:
"The board is set, the pieces are moving. We come to it at last...The great battle of our time."
What remains undecided is what battle lay before us? A battle for the world? Or a battle against ourselves?
Matt Holloway is a Millennial Constitutional Conservative blogger and was appointed a Republican Committeeman for Legislative District 13 in 2015 he is also a member of the Arizona Republican Assembly. Email: TheMattHollowayShow@outlook.com
–
TheBlaze contributor channel supports an open discourse on a range of views. The opinions expressed in this channel are solely those of each individual author.