On December 8, Jeb Bush tweeted:
Maybe Donald negotiated a deal with his buddy @HillaryClinton. Continuing this path will put her in the White House. https://t.co/AlvByiSrMn

— Jeb Bush (@JebBush) December 8, 2015
Am I the only one who sees the irony? As one who is tired of supporting a political party more adroit at providing candidates who give nice concession speeches than winning general elections, I am still trying get my head around Donald Trump. Whether his rhetoric is insulting or refreshingly candid depends on one's politics.
But one thing I do know about Jeb: while Trump's candidacy may or may not be good for Hillary, a Bush hat in the ring is a godsend for Trump. Jeb's support among the GOP establishment is emblematic of their chronic tone deafness to the mood of the American populace, particularly within their own party. But Bush has only himself to blame for the prominence of a candidate he calls "the other version of Barack Obama" vis-à-vis his own dead campaign walking.
When I heard back in June that Jeb Bush was running for president, my first thought was: "Did the RNC not just watch the last two general election cycles?"
More than any single factor, George W. Bush's broken legacy paved the way for Barack Obama's meteoric rise. The GOP needs a reality check. Do average voters look at Jeb Bush and see a successful former governor? Perhaps in less temperamental times--and with a different surname--they might. But this is a charged political climate. Emotions are high because mistrust in government is high. And who embodies the government class more than the dynastic Bush family?
Hillary Clinton offers herself up as Bill Clinton's roaring 90s redux.
But what does Jeb Bush harken back to? His father lasted one term. His brother survived re-election but left office in 2009 as one of the least popular presidents in modern times. When the most persuasive argument for supporting the wholly unqualified Barack Obama's 2008 run was "he's not George Bush" then, the GOP's got a problem.
And, much to the dismay of the base, the party's problem seems congenital. Team Obama roundly shellacked John McCain. He gave a nice concession speech. Mitt Romney, one of the finest and most qualified men to ever run for the office, brought the knife of civility to a Democratic gunfight in which volleys of "war on women" and "47 percent" bullets mowed him down. Another classy concession speech.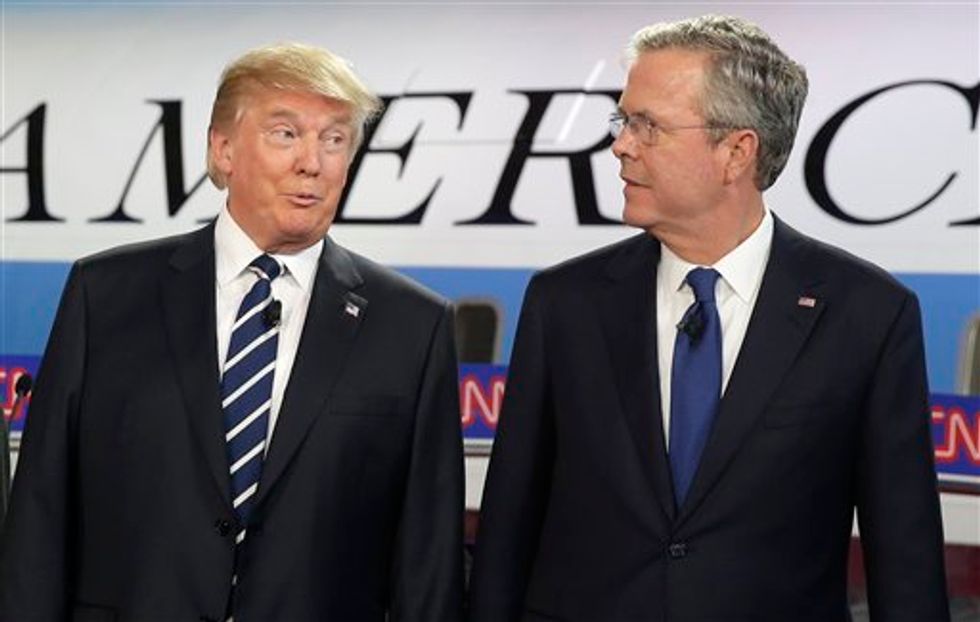 Republican presidential candidates, businessman Donald Trump, left, and former Florida Gov. Jeb Bush talk together before the start of the CNN Republican presidential debate at the Ronald Reagan Presidential Library and Museum on Wednesday, Sept. 16, 2015, in Simi Valley, Calif. (AP/Chris Carlson) 
Enter the GOP establishment's solution to break the losing streak. Another Bush.
What does this say about the Republican leadership? First is that the party is utterly insular. Their logic is what? "The American people didn't like Bush 41, and they really didn't like Bush 43, but Bush 45 is gonna rock the house!"? And this leads to the bigger issue: three Bushes in as many decades? Mark Steyn perfectly sums up the irritation with the GOP felt by those of us who do not see the presidency as a royal inheritance:
Jeb is campaigning "to restore the promise of America." A Bush has been on six of the last nine presidential tickets, but the smart money in the GOP thinks they're so indispensable to the Republic that they should now be given a shot at a third presidency. One man and his sons will have supplied three-fifths of America's presidents within a quarter-century - in a republic of over 300 million people. I don't think that's any way "to restore the promise of America."
The monarchical urge of Americans still exists—the Democratic nominee in waiting is the wife of a former president—but it is not boundless. Still, the GOP thinks the best solution to what ails them is yet another Bush. Is there any wonder the rank and file has turned to Trump?
All that was needed for an outright revolt against the party establishment was a perceived outsider willing to toss a match onto the tinderbox of a decade of pent-up conservative frustration and resentment so personified in Jeb's run for office. Donald Trump brought a flamethrower. Trump has effectively blown Jeb out of the running precisely because he is so many things that Jeb is not. The contrast is striking.
Jeb is backed by moneyed interests; no one owns billionaire Trump. Jeb comes from an old political family for whom government is in their DNA; Trump has never held public office in his life. Jeb's every word sounds carefully crafted and focus group-tested. Extemporaneous Trump unapologetically shoots from the hip. In the end, whether it is media manipulation or a genuine streak of affinity for the common man, Trump is Trump's own handler and he follows his own rules, wherever they may take him.
Jeb desperately needs to have a respectable showing in Iowa to keep the donation pipeline open. Trump knows that Iowa is a poor prognosticator of the eventual nominee and less so the next president. Past winners have included George H.W. Bush in 1980, Bob Dole in 1988 and again in 1996, Mike Huckabee in 2008, Rick Santorum in 2012. The main importance of Iowa and New Hampshire is to keep donations flowing by presenting an illusion of electability. Donations matter not to Trump.
Americans want to be led out of the mess of the past decade, not back into it. They see the problem as one that encompasses all inside the Washington Beltway, DemoCRANS and RepubliCRATS alike.
For some reason the GOP movers and shakers still haven't read the memo. The evident desperation of the latest Bush incarnation, the very name of which elicits so many bad memories, is the cloistered mindset in its death throes. Jeb Bush, the stilted, entitled son and brother of presidents who doesn't need to run for the office, what with all the other "cool" things he could be doing, is not the GOP's solution. He is, in fact, the very personification of their disconnect.
If Donald Trump is the Republican establishment's self-created monster, then Jeb Bush, their man, is his Doctor Frankenstein.
–
TheBlaze contributor channel supports an open discourse on a range of views. The opinions expressed in this channel are solely those of each individual author.