I got a text message a few days back that stopped me short.
It read: "…Do I want to go into a career where I could go to prison for doing my job?"
The text came from a relative who works in law enforcement, and has long wanted to become a police officer.
A few days earlier, I had the honor of attending a benefit for law enforcement families. One of the night's more entertaining moments came from a comedian as he shared the story of a time he got pulled over:
"Don't get me wrong," he said, "I love all you guys in law enforcement, but I just don't interact with you very much. Chiefly, because I'm usually not doing anything wrong. FUNNY how that works!"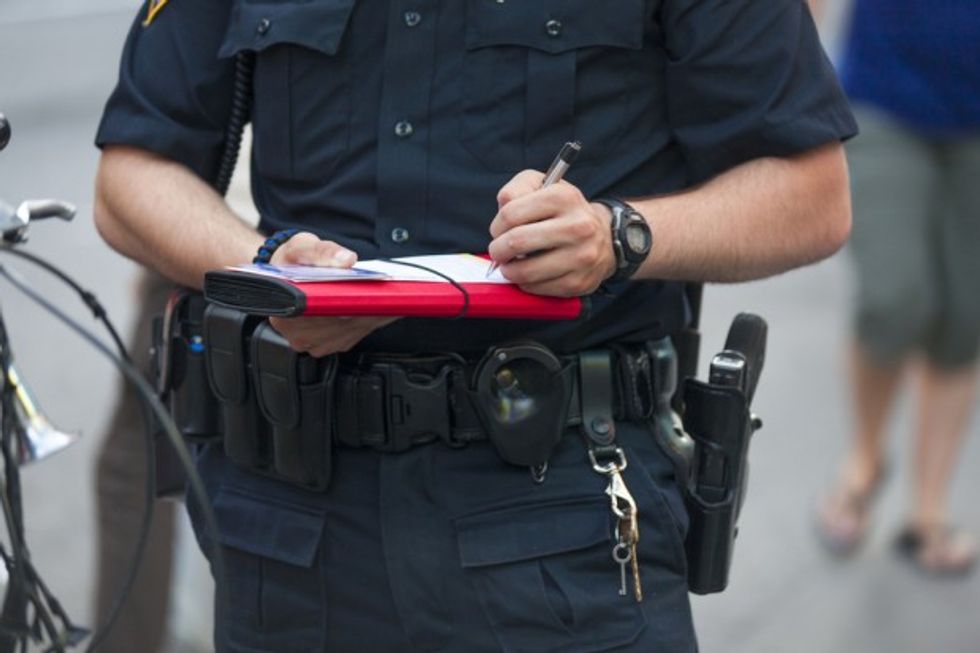 (Photo credit: Shutterstock)
Despite this simple cause-and-effect reality, police are increasingly viewed as vendetta-driven monsters out to use their authority to exact societal reconstruction.
Yet, so few holding this opinion have taken the time to ask questions and to listen … especially to that which might not fit a social or political agenda.
I'm asking you and your friends to humor me for a moment and do just that.
I want you all to meet a few people—all of whom work in law enforcement or love someone who does. They come from several states, and all walks of life. Their stories and perspectives deserve to be heard, and for most, today's climate meant speaking under a cloak of anonymity. You'll "meet" them briefly here—and I invite you to visit my blog to see their full stories; there's so much more they have to say.
On the Monumental Shift in Public Mindset
"It seems like hating cops is the cool thing to do. When's the last time you heard a song say something about respecting police? …I think a lot of parents are raising their children to hate cops and be afraid of them ..." –R.S., fiancé of a police officer
We've somehow gone from a society where our children grew up being taught that the police officers are the "good guys," to one that maligns the profession and actively teaches our children to fear them.
Whether it's an African American toddler seen raising his hands at the sight of uniform, or (as Officer D.H. once observed) parents who disciplined their young child "for simply smiling and waving at the police," the attitude towards law enforcement has never been worse.
"Our country is hurting, and has been for some time," said Officer D.H. "The human condition requires an explanation for the hurt, and when individuals fail to recognize their role in the hurt, they will seek blame. Police are the easiest targets for this condition."
On Misunderstandings, Misconceptions, and the Court of Public Opinion
"Not all teachers are pedophiles, not all lawyers are charlatans, not all restaurant inspectors are on the take, not all male gynecologists are deviants, and certainly nowhere near all cops are evil. This civic response is not only unreasonable, it is illogical." – Officer Tulio Tourinho
There's an increasingly prevalent belief that officers are just itching to carve another notch in the side of their squad car. Somehow the poor decisions of a select few (see: South Carolina) become the indisputable definition for all, when judgment is handed down in the court of public opinion. Is it truly right (or intellectually honest) to smear an entire profession when a select fewout of over 700,000 law enforcement personnel screw up?
"I hope I never have to [shoot anyone]," said Officer M.P., who went on to explain what's it like when that occurs. "It's a BIG deal. It's simply not human nature to take the life of another."
Yet that's the reality our officers face every day. They walk streets because evil is for real. And the reality is that more often than not, that evil will fight back. And what precisely would we have our officers do?
Think about it. Why is it that we automatically assume that just because the cop is in a position of authority, that they have no right to defend themselves?
[sharequote align="center"]A uniform doesn't erase the fact that they're human or that they care about the society they serve.[/sharequote]
There's also an increasingly prevalent belief that racism is institutionalized. Police are instantly judged not only by the color of their skin (i.e. white officers in a predominately black neighborhood) but also by the color of their uniforms. That is, that somehow blue=automatic prejudice.
"Being accused of racism is one of the hardest things we're facing now," said Officer M.P., "chiefly because I'm NOT a racist, and also because it has changed the way we can do our jobs. We're all being judged by an incident ('hands up, don't shoot') that categorically did not occur."
On the Humanity of an Officer
"I am human. I am fragile on occasion. I am fallible. I fear for my life. I love my fellow human beings. I have cried with victims and I have cried with my brothers and sisters in blue." – Officer D.H.
Talk to any officer who has ever had to bring a parent the news of a dead child. Talk to any officer who has ever had to see a disfigured infant trapped in the mangled remains of a DUI crash. Talk to the spouse of an officer who lives with the fear that they might not come back at the end of their shift. And, even if they return, they do so a slightly different person each time—worn down by society's deepest and darkest corners.
Talk to virtually any officer for just a few moments and it becomes clear:
An officer's uniform does not erase the fact that they are human beings, or that they actually care about the suffering of the society they serve. As Meghan T. (wife of an officer) lamented, "people can't see beyond a badge to see my husband as a father, a son, and someone that cares about his community."
"It might sound 'cheesy,'" said Officer M.P., "but I WANT to help. There are helpless people out there—some through their own doing, and some through uncontrollable circumstances—and I just want to go the extra mile."
Still, the good so many officers do is quickly lost. As Officer Tourinho explained it, "One thousand 'rights' are quickly and effectively undone by one 'wrong' moment."
On the Future of Our Police
"I'm first generation law enforcement. In the back of my mind I always thought it would be cool if my son followed in my footsteps. It would mean that he felt that it was an important, meaningful job. But today, I hope he doesn't make that decision. It's gone too far; it is changing so fast." Officer M.P.
It's a thankless, dangerous, comparatively low-paying profession. Yet hundreds of thousands of people have stepped up to do it. And today, they're more discouraged than ever.
And it's frightening to think of the vacuum left by the good, honest people who feel forced to set down their badges for good.
The public vitriol—from the highest office to the rioters on the streets—is also changing the way our officers can do their job, which in turn changes the extent to which they are able to protect you and I.
Even the most well-intentioned officer fears making that one tough call, or worse—that one critical mistake. "You see," said Officer D.H., "one mistake … results in indictment, blame for the woes of the country, and the loss of my family's safety."
Lest it be misconstrued, these officers don't fear equal application of the law. "Yes, we are held to a higher standard," said Officer M.P., "and the hammer should be dropped when something's done wrong."
What they fear is the mob that overshadows any semblance of facts—whether in favor or against the officer in question.
And in today's world where rioters are publicly given carte blanche to wreak havoc while being celebrated by a media that gives them a leniency they wouldn't dream of affording to the police . . . can you really blame them?
Readers: I highly encourage you to visit my blog to read these individuals' full accounts. Further, I'm asking you to help me keep bringing these stories to light. If you're current or former law enforcement, or their families, I want to hear your stories. More importantly, the country needs to hear your stories.
Mary Ramirez is a full-time writer, creator of www.afuturefree.com (a political commentary blog), and contributor to The Chris Salcedo Show (TheBlaze Radio Network, Saturday, from noon to 3 p.m. ET). She can be reached at: afuturefree@aol.com; or on Twitter: @AFutureFree