It's called a death spiral and it leads immutably to death. You are seeing it happen to Obamacare right before your eyes.
The promise of Obamacare was that everyone would be treated the same. Young or old, rich or poor, healthy or ill, we would all pay the same amount for a health insurance policy that would cover all health needs.
Are you 59 years old and retired? Your policy will include coverage for obstetrics and pediatric dentistry.
Are you a novitiate with the Little Sisters of the Poor? Your health insurance must pay for all reproductive issues including pre-natal care and abortifacients that will kill your baby before it begins to form or abortion that will take your baby's life just before its born.
Are you 28 years old and a triathlete who cares for his or her body like a fine work of art? Your policy will cost the same as your pal from high school who became an alcoholic drug abuser.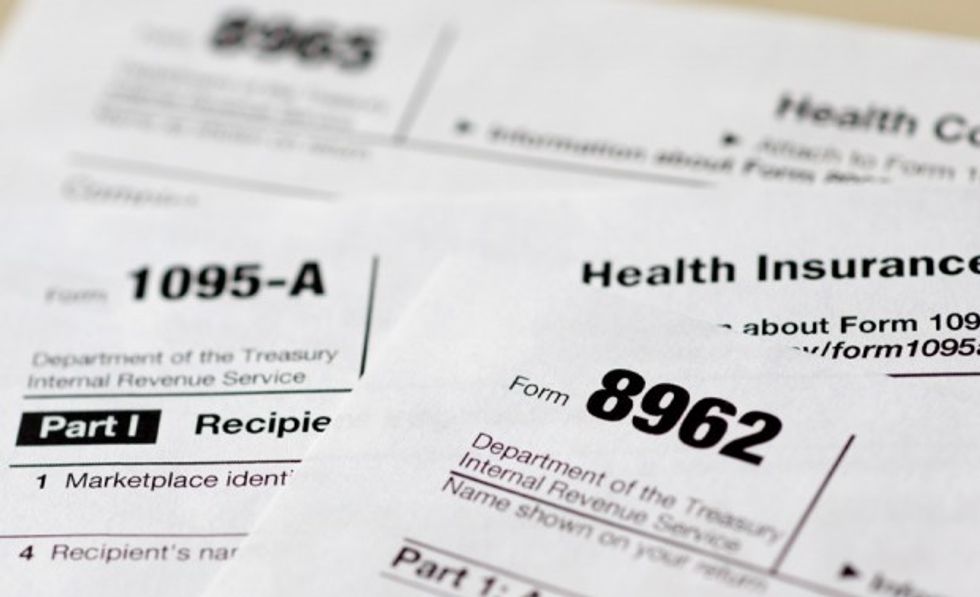 (AP Photo/Carolyn Kaster)
What could possibly go wrong?
Most Americans are patriotic, but most aren't stupid. Many made a rational decision that they would skip all of this and pay for their annual check ups themselves. They opted out. If they have a catastrophic event they would just buy the insurance that cannot be denied because of a pre-existing condition.
As the healthy opt out the risk pool gets older and sicker. To cover the costs the premiums, deductibles and copays go up driving more people out of the system causing the premiums, deductibles and copays to go up driving more people to system causing the premiums ….
It's happening right now.
Earlier exits from Obamacare were matters of choice. Today's race for the exits is out of financial necessity.
Jim Geraghty of National Review recently wrote of the dilemma. "The average premium for a family in an employer-sponsored plan in 2008 was $12,680. According to the National Conference of State Legislatures, for 2016, annual premiums for an average family are now beyond $17,500."
Prior to the passage of Obamacare we could buy a "catastrophic" policy that had a deductible of about one to two thousand dollars and a very low premium. President Obama said those were lousy policies and they were outlawed. Last year's average deductible was $6,500. It's going up to $7,135.
If you live in Phoenix you may see a 145 percent increase in your premium over last year.
In addition to huge increases in costs we are experiencing a decline in the numbers of participating insurance companies and fewer participating doctors.
President Obama has assured us that he has had nothing to do with these problems. His press secretary has blamed it on Republican governors.
Where do we go from here?
The Democrats passed Obamacare without a single Republican vote. The Republicans were ignored while that Democrats fought among themselves. Indeed, the final passage of Obamacare required the Cornhusker Kickback and the Louisiana Purchase in addition to stealing a senate election in Minnesota.
Democrats will use the failure of the system, not to question whether government has failed, but to insist that it didn't go far enough. If Hillary Clinton becomes president with a Democrat Senate and House they will pass a total government takeover and our healthcare will be like the British National Health System.
Do you remember when the Rockefellers and Vanderbilts and Kings and Queens of the world went to England for critical health care? Me neither.
There is a better way. Over two decades ago Rep. Cliff Stearnes (R-Fla.) drafted a bill that would allow all Americans to buy insurance through the same Federal Employees Health Benefit Plan that Members of Congress and federal employees had.
The FEHBP was a cafeteria plan that crossed state lines and private insurers competed for the business. If you were insured by the FEHBP you selected what coverage you wanted and what you were willing to pay. You paid part of the premium and the employer, the federal government, paid part.
Businesses would be allowed to buy in to cover their employees. States might decide to put their Medicaid population into the program to save billions in management costs.
Such a pool of tens of millions would be large enough to cover pre-existing conditions with some premium support from the state risk pools.
The legislation to accomplish this would take approximately one page. It should include tort reform in the form of loser pays.
Wouldn't it be something if the American people could get health insurance, not only as good as Congress, but the same as Congress?
Nah. Too simple.
If you would like to be added to John Linder's distribution list please send your email address to: linderje@yahoo.com or follow on Twitter: @linderje
–
TheBlaze contributor channel supports an open discourse on a range of views. The opinions expressed in this channel are solely those of each individual author.