The China National Space Administration is making some last-minute tweaks on its new Tiangong-1 spaceship that is set to launch this week. The spaceship is a prototype for a future space station, which is expected to be complete by 2020.
The spaceship will be unmanned and will later be met by three other spacecraft to create China's first space station while it's in orbit for two years. According to Space.com, Tiangong-1 will test unmanned docking procedures and other tasks to prepare for a space station.
Watch this ITN News report:
[youtube http://www.youtube.com/v/S2iyhhtWCtA?version=3&hl=en_US expand=1]
China Daily has more:
Despite the preparations, space experts said carrying out the plan still comes with many risks. They explained that the spacecraft and much of the other equipment being used is new and has not been tried on an actual mission.

"Tiangong-1 is a brand new spacecraft designed by China and is bigger and heavier than the Shenzhou spaceships China had developed as a means of transporting astronauts from the Earth to space," said Yang Hong, chief designer of Tiangong-1.

[...]

In comparison, the Shenzhou spaceship stands shorter, at nearly 9 meters, is slimmer, having a diameter of less than 3 meters, and weighs less.

In another difference, the Tiangong-1 is composed of two modules rather than the three that had made up the Shenzhou spaceship. Of the Tiangong-1's two primary components, one is an experimental module that contains a place that astronauts can live and work in on future missions. It is also equipped with a docking port.

The other chief component, a resource module, will provide the craft with power.

Astronauts on Tiangong-1 will have 15 cubic meters of space to move in, "much more than they had in the Shenzhou spaceship", Yang said.
Here's how China' space station is expected to work: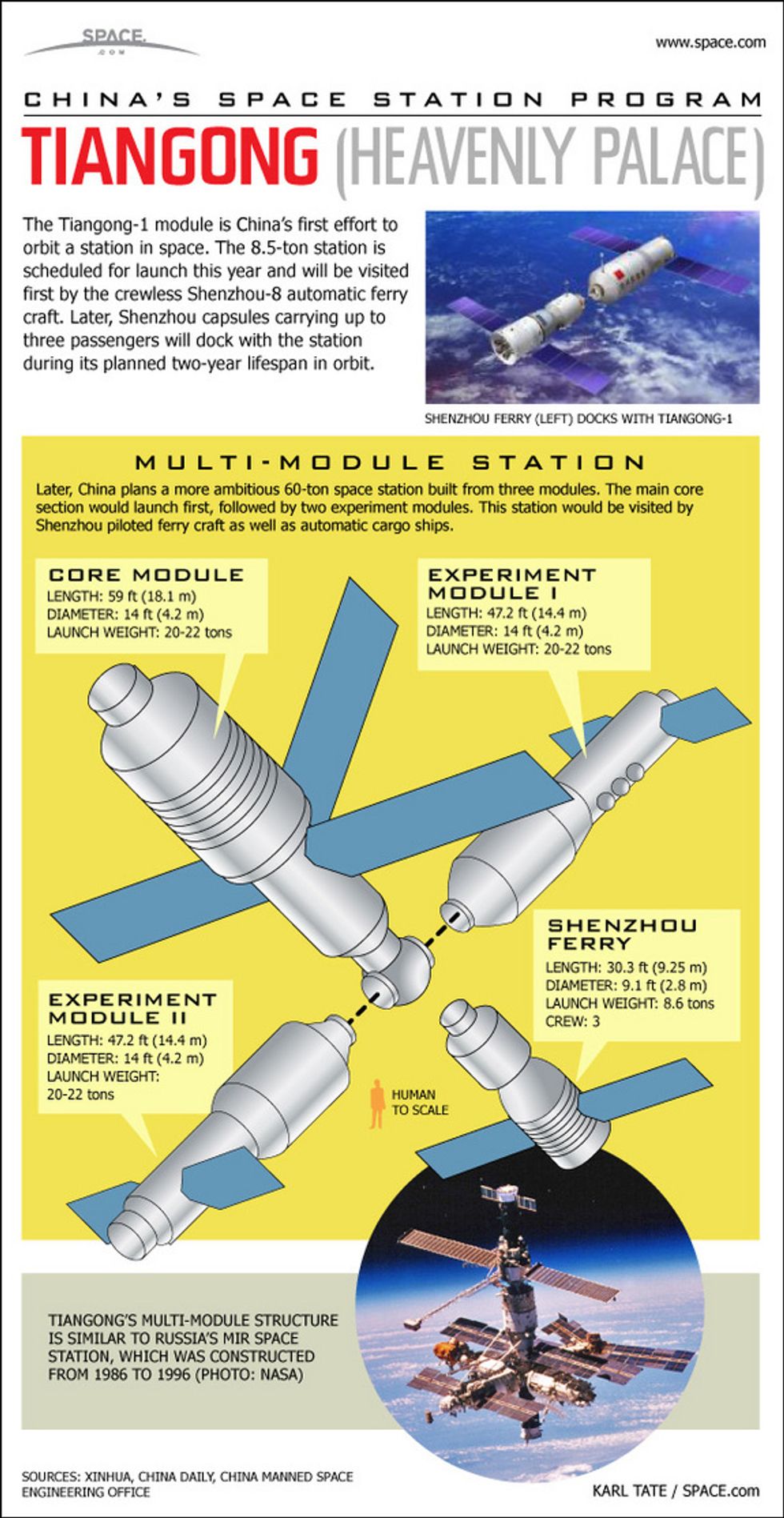 Tiangong-1 original launch date was delayed after a booster, similar to that which will carry Tiangong-1, failed to enter orbit last month. Some are saying that even this week's launch could be postponed if predicted cold weather comes through.
China's space program launched its first astronauts into space in 2003. With that, China joined Russia and the United States as the only three countries to successfully launch humans into space.