In 2004, when Vermont Governor Howard Dean enjoyed his brief spike in the polls, the conservative magazine National Review ran the following magazine cover as a reaction:
Now, with news coming from the New Republic (TNR) that Vice President Joe Biden is seriously building the infrastructure for a 2016 run, many snickering conservatives are likely to have a similar reaction. From TNR's story:
First, Biden is going to extravagant lengths to ensure his boss's reelection while putting his own ambitions on hold, in the hope that the Obama brass will reward this selflessness when the time comes. There is, quite simply, no speech Biden won't deliver if it advances the White House cause, no attack on Mitt Romney he won't wage, no annual convention of Pacific Islander flight attendants he won't attend on the president's behalf. "To some extent, he's put himself in a challenging position [for 2016] by playing by the rules of the Obama political operation and not doing a lot of the prep work, particularly around fund-raising, you would ordinarily be doing by now," says the adviser.

But Biden's inner circle believes the strategy will position him to inherit key players on President Obama's political team. The adviser notes, for example, that Jim Messina, the president's 2012 campaign manager, is a huge Biden fan who could play a leading role in a future campaign: "Jim and the vice president have built up a nice relationship these past four years." Likewise, Rufus Gifford, the Obama campaign's chief fund-raiser, could give Biden entrée to deep-pocketed donors (who have eluded him thus far) in Hollywood, Silicon Valley, and the financial sector. "I know [Gifford] felt the vice president has done a great job. He could be instrumental in pulling together money for this," the adviser explains.

Step two of the master plan is leveraging Biden's deep ties to traditional Democratic constituencies, such as labor, trial lawyers, and African American, Jewish, and gay groups and donors, the last of which were thrilled by his plug for same-sex marriage this May. The vice president cultivated some of these ties for decades as a senator, but has strengthened them significantly during his punishing tour of Holiday Inn ballrooms over the past four years. "Biden has a special call on a lot of people's loyalties, starting with the president," says the adviser. "That's why you've got to take him seriously. And he's serious."

All of which makes it unsurprising that Biden considers himself, if not the 800-pound gorilla of the 2016 field, then certainly a big-boned primate. "Other than Hillary, he doesn't consider any of the names lurking beneath the surface as competitors," says the adviser. But even if we allow that Biden's chances are far better in 2016 than they were in 2008, does that make them, you know, good?
Given that there have been repeated talks about Biden being dropped from President Obama's ticket for being a liability, this kind of ambition from the vice president will no doubt strike some as more than a little silly, given the Vice President's fondness for gaffes.
However, those gaffes are arguably no excuse to underestimate the vice president. Biden is a veteran campaigner, having run for president several times, and with his Vice Presidential chops, it's understandable that he might view 2016 as his last, best shot for the presidency. Moreover, with the exception of his widely panned remark that a President Romney would "put y'all back in chains"  and his apparently utterly serious statement that a vote against infrastructure spending is a vote for rape, Biden's gaffes have generally tended toward the silly rather than the offensive. Such statements would be political thin gruel after voters have had four years to forget them.
Still, in the event that Mitt Romney and Paul Ryan win election this year, Biden would probably have one glaring vulnerability: namely, his ties to the first one-term Democratic president since Jimmy Carter. Not that this stopped Carter's vice president, Walter Mondale, from running for president in 1984 (and winning the primary), but based on what happened to the electoral map after Mondale was nominated, that's not an experiment the Democrats are likely to want to repeat: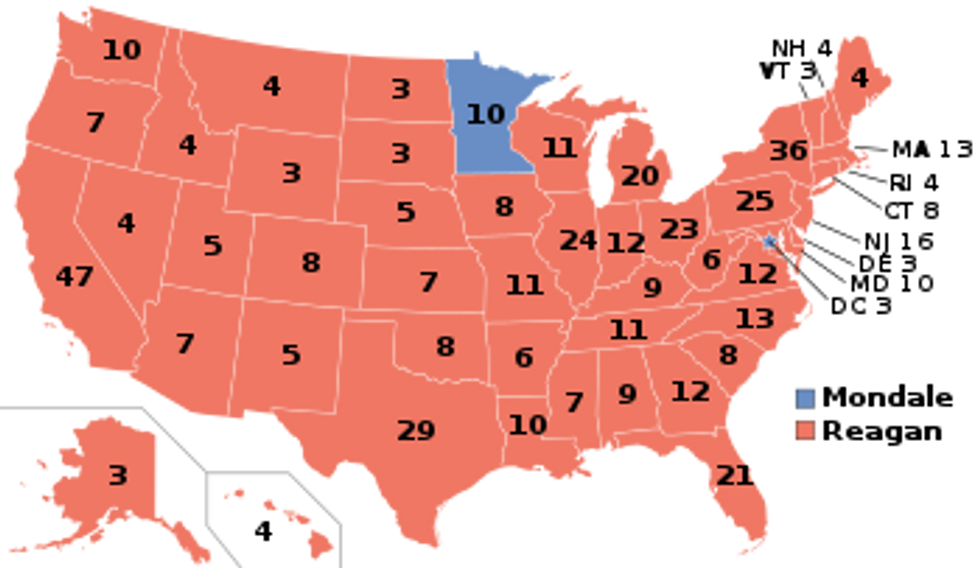 --
Related