Nine months ago, a software developer quit his job and moved to Europe, just so he could dive into his sport of wingsuit flying full time.
This amazing video is the product.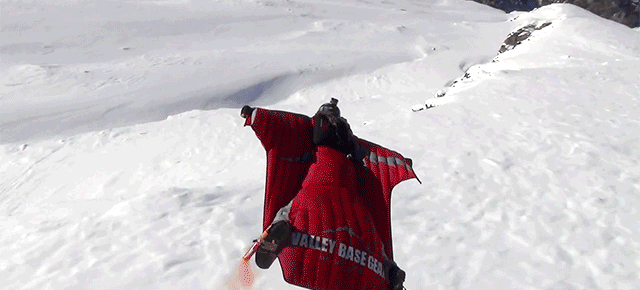 Brian Drake filmed this incredible video while airborne with fellow wingsuiter Dan Vicary; the roughly two-minute snippet is part of their full-length show on Epic TV that gives the audience a new view of the exhilarating and difficult sport of wingsuit flying.
"Wow, this might be the best video of wingsuit flight ever," Sploid reported. "Usually we see the flight ... from cameras that are far away or have footage that is a little bit shaky - it's rarely as awesome like this. It feels like you're flying with him the entire time."
Drake flew his wingsuit with a friend "surfing" on his back. (Photo courtesy of Brian Duke)
Most people watching the video probably have never donned a wingsuit, let alone jumped off a cliff and flown nearly three miles around snow-capped mountains. Drake, who got his start with the unique sport through skydiving,  explained most wingsuit flyers begin with other parachute adventures.
"Well ... if you want to live, you start with skydiving," Drake told TheBlaze, laughing maybe a little too comfortably.
"Most places will require that you have at least 200 skydives before they'll you put on a wingsuit," he said. "This is a parachuting sport, at the end of the day we are using a parachute to descend to a safe landing."
"My fourth skydive I saw someone fly a wingsuit ... and I thought, wow, ever since I was a kid I wanted to fly like Superman and fly a few feet off the ground," he said. "If you think about Leonardo Da Vinci, he had all the right ideas, he just wasn't born at the right moment in history. And I'm blessed to be able to take advantage of our accumulated knowledge and actually experience what I always dreamed about."
Drake said there is a certain level of physical strength needed to correctly fly the cloth contraptions to make sure the wind catches at the right angles.
"Every flyer has "wingsuit" muscles that don't typically get used that often, but you definitely feel them the next morning," he said.
Drake said when he started wingsuit flying in 2006, YouTube wasn't really around as much yet. But now, young daredevils interested in flying from mountaintops can watch their videos and get a taste for flight.
"That has really impacted the sport, to increase the public awareness of it," he said.
Watch their amazing clip here, and be sure to watch for an update on March 17; Drake said their next video will come out later this month.
(H/T: Sploid)
—
Follow Elizabeth Kreft (@elizabethakreft) on Twitter