Glenn Beck on Monday used four different vehicles to show Americans what he believes the future will bring. As he sees it, the world is starting to change increasingly rapidly, and that change is reflected in America's cars.
"It's our job to show you what's coming, to help you make sense of everything that you're seeing currently, and to prepare you for it," Beck said on his television program. "Tonight, I'm going to talk about some of the things that I see coming next -- some of the really scary things, and some of the positive things. The future is not frightening. It really isn't. It's just different, and you have to be prepared for it."
Beck began by showing his audience the car his wife got him for his 50th birthday, a 1958 Chevrolet Apache.
"I wanted a car that was like my grandfather's, and I have to tell you, I've learned more from driving this car than any vehicle I've ever been in," Beck said. "If you look into the interior, you will see that it's pretty simple. It's pretty bare. If you look into the engine, even I can figure this one out."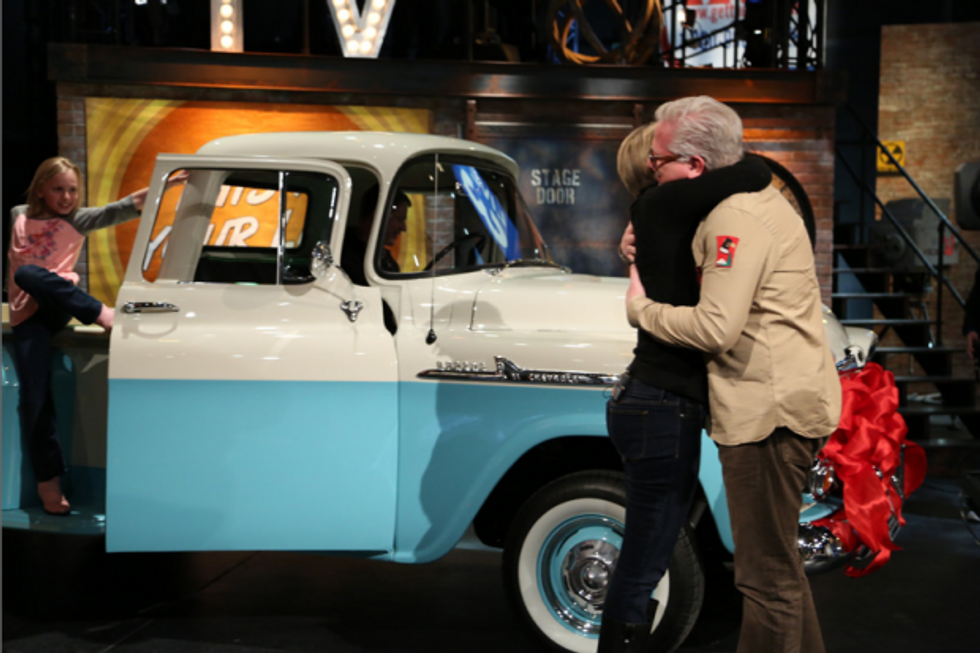 Glenn Beck's wife Tania gave him a 1958 Chevrolet Apache for his 50th birthday. (Photo: Paige Perry/TheBlaze)
Beck then walked over to the car he drives to work everyday, a 1976 Land Cruiser.
"It's a little more complex," Beck said. "It's got power steering, power brakes. But still, I can get in and change the air filter. I can change things myself. I can figure it out. I don't need a computer. All I need is a little bit of knowledge and I can trace all the wires back and figure out what's going on with my car. ... When you look in the interior of this car, you'll see that nothing has really changed. In 20 years, [besides] power steering and power brakes, the car is the same."
Beck then walked over to a Mercedes from 2009, which he said has "some bells and whistles," but is still "the same basic car."
"Here's the difference: I don't know how to fix this car," Beck remarked. "You can't fix this car. In fact, they seal the car so you can't fix it. You have to take it into somebody with a machine. It becomes a magic box. Nobody's going to fix this car."
But Beck said the 2015 Aston Martin Vanquish is such a remarkable change, even from the 2009 Mercedes, that he had to "ask the guy how you even open the door."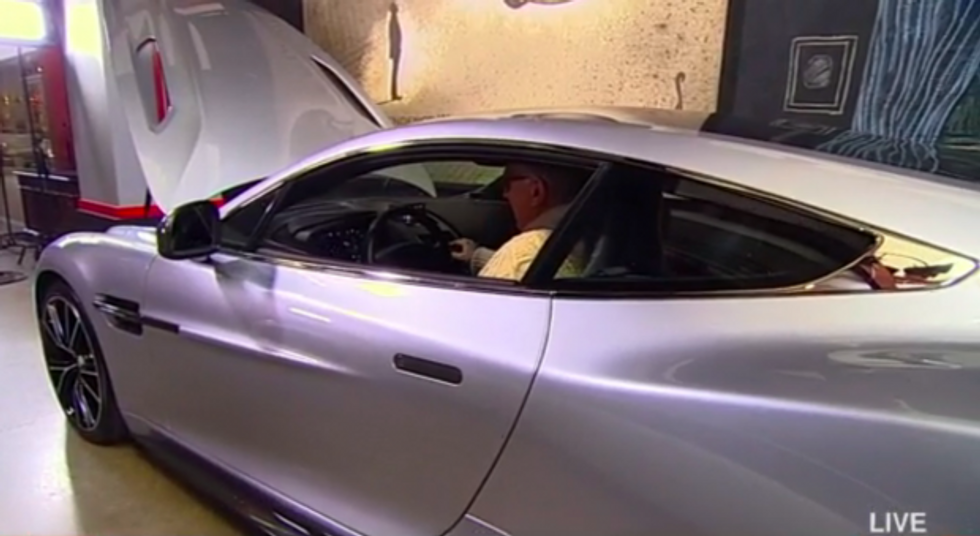 Glenn Beck sits inside an Aston Martin Vanquish as he discusses how the future will change. (Image credit: TheBlaze TV)
"This is an entirely carbon fiber car. It's absolutely unbelievable. This is built for speed," Beck said. "Those cars? No production car was going 200 miles an hour. Nothing would take you 200 miles an hour. This car? 205 miles an hour."
"I have absolutely no idea how to fix this car, barely have any idea how to drive this car, and this is today," Beck continued. "Take this car and compare it to Tesla. There is no engine in Tesla! The next generation of cars is going to be linked to your iPad. So whatever you're listening to -- forget about the radio, forget about a key. Your key is your iPad. Everything will be controlled with your iPad. That's the future."
Beck said the world "used to take a long time to change," but "you're not going to have the luxury" of deciding whether you want to adapt or not.
"The days of picking one career, one car, one thing and clinging onto it for 50 years are over," Beck said. "If you're not willing to adapt, you're going to be left behind. You can't just plug into the old time and disregard what's coming."
Beck said the future shouldn't scare people, but that people should be prepared for the massive changes on the horizon.
"Hopefully we're not going to leave you frightened," he concluded. "We're going to live you a little more prepared, a little more knowledgeable, and a little more inspired."
[mlbvideo content_id=37107471]
The full episode of The Glenn Beck Program, along with many other live-streaming shows and thousands of hours of on-demand content, is available on just about any digital device. Click here to watch every Glenn Beck episode from the past 30 days for just $1!