Many Americans are more than familiar with the Duggars, an evangelical Christian family comprised of 19 children as featured in TLC's "19 Kids and Counting" series — but there's a new reality show family in town: the Bates.
Much like their good family friends, Jim Bob and Michelle Duggar, Gil and Kelly Bates are Bible-believers who have 19 children between the ages of two and 25.
And the family, which lives in Tennessee, recently unveiled its new UP TV reality show titled, "Bringing Up the Bates" on January 1, providing viewers with a deeper lens into the familial chaos.
Lawson Bates, the couple's 22-year-old son who stars in the show alongside his brothers and sisters and is an aspiring country artist, told TheBlaze Tuesday all about what it has been like growing up as one of 19 children, claiming that it's always just been the norm for him.
"It seems so normal, because that's all I've ever known. I really can't imagine living with one or two siblings," he said. "I think I'd go crazy."
With 19 kids in the family — and with three of the older siblings either married or in courtship — it's hard to imagine what it's like to do basic things like have family meals together, but Bates said they all make a concerted effort to eat together at least once each day.
"We have a huge table that's like 16-foot long and we try to have dinner all together or at least one meal a day together. It is hard," he said. "We have an extra table in the overflow, as we like to call it. It's hard getting everyone at the table."
Meals aren't the only thing done a bit differently at the Bates residence. Unlike many — if not most — American families, the Bates don't have a television. Outside of the rough cuts of "Bringing Up Bates" that they watch on a computer, family members go to friends' houses to watch the show when it airs.
"We just don't have a TV mainly because of time," Bates said. "If you've got 21 people trying to watch TV, you're not going to have time for the important things in life. Mom and dad have always made sure the focus has been on each other and God."
When it comes to sharing their lives with the world, Bates said that the family was originally "pretty leery" of jumping into the reality show scene, but that, over time, they came to realize that more exposure would allow them to encourage and help others.
"At the start, I'd say we were pretty leery of it, just because you never know the way you're going to get painted when you open yourself up for the world to see and so we shied away from it," he said.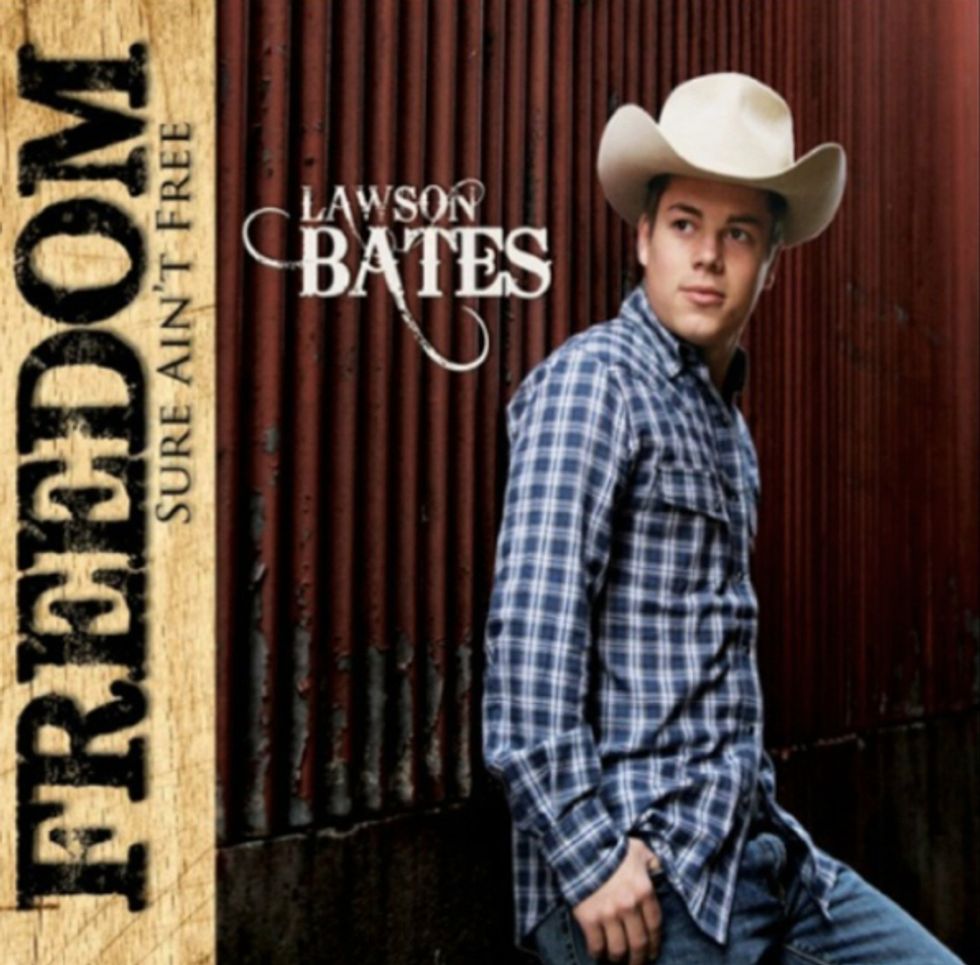 Lawson Bates (Image via Lawson Bates/Twitter)
But after watching the Duggars — whom the Bates have known for many years after Gil Bates met Jim Bob Duggar at a conference well before either family was famous — navigate all that came along with their public profile, the Bates, too, began opening themselves up for interviews and features about their lives, including a TLC mini-series, among other media appearances and endeavors.
"We got a ton of emails and calls from people that were encouraged and wanted to make changes in their life," Bates said. "And so mom and dad were like, 'This could be a great opportunity to encourage people' and that's what we're going to try to do with [the show]."
And since UP TV prides itself on uplifting and family friendly content, the Bates knew they were in good hands, having found the perfect fit for the program.
Of course, there's no shortage of controversy surrounding the Bates, Duggars and others who choose to have massive families.
"There's always a group of people saying some hateful stuff to you, but we really just try to phase it out and not let it bother us," he said. "Our goal is to be an encouragement."
He said that his parents had decided long ago to support their family on their own without government assistance, welfare or the like so that critics would not have an easy target to seize upon.
What some might find most intriguing about Gil and Kelly Bates are their original views on having children. After they got married, Bates said his mother and father weren't sure what to do about birth control, so they started praying about it.
"My mom said, 'Why don't we trust in God in this area and let God decide how many children we have?' and dad said, 'Well, that's crazy, we might have 20 kids."
But after Gil started going through the Bible, he began to realize that children are repeatedly mentioned as a blessing from God, which inevitably changed his views on the matter. And here they are decades later with 19 children.
The natural question, though: is the family done growing?
"We'd all sure want another child but I'm not sure it's going to happen," Bates said, noting that his mother is in her upper 40s. "She'd love it and we'd all love it. I do say we need one more boy to make it even [as we have] 9 boys and 10 girls."
Read more about the Bates family here.