Mexican President Enrique Pena Nieto praised President Barack Obama's executive actions on immigration as "very intelligent" and "an act of justice."
"I have made acknowledgement of the very intelligent and audacious decision of your administration regarding the executive action for immigration, which is of course an act of justice for people who arrive from other parts of the world but are now part of the U.S. community," Pena Nieto said during a meeting with Obama at the White House Tuesday. "And among the population that will surely be benefitted through your executive action, sir, there's a very big majority of Mexican citizens."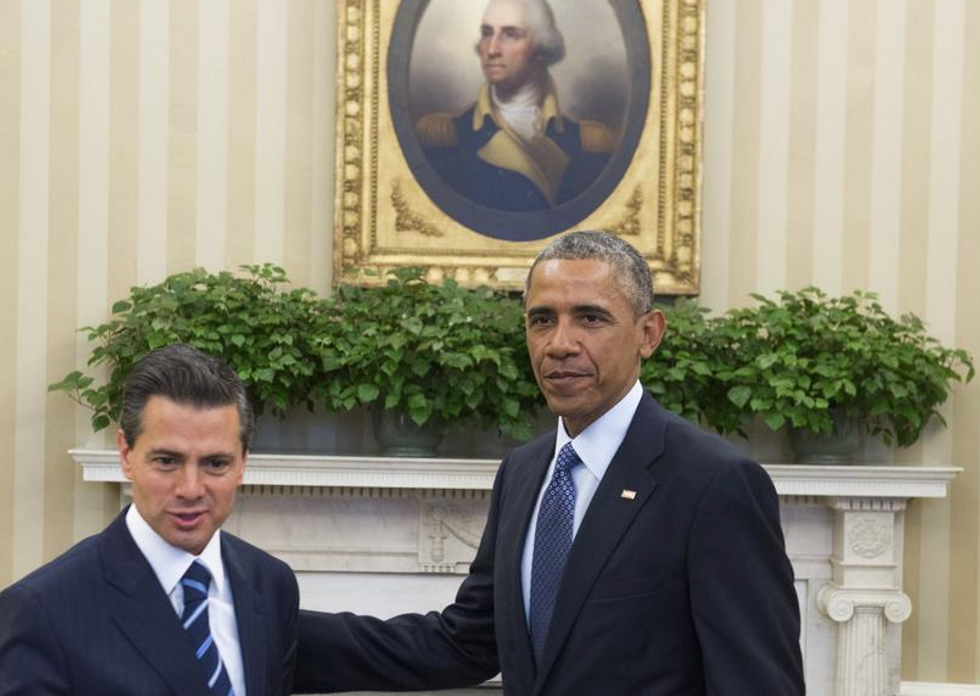 President Barack Obama meets with Mexican President Enrique Pena Nieto in the Oval Office of the White House, Jan. 6, 2015. (AFP/SAUL LOEB)
Obama's actions announced in November are expected to shield about 5 million illegal immigrants from deportation and focus enforcement primarily on those who have committed serious crimes.
Pena Nieto said his government would try to make it easier for illegal immigrants in the U.S. to obtain documents to prove they're eligible for deportation protection. He also said he wants to ensure those who benefit from Obama's action will not be involved in drug- or human-trafficking organizations, or the kind of immigrants "we don't want."
Obama also expressed his appreciation to Pena Nieto for taking action to secure Mexico's southern border to help stem the flow of unaccompanied children traveling from South America into the U.S. Nieto said Mexico would continue its efforts. Obama said the Mexican government is "sending a very clear message" regarding who is not eligible to benefit from the executive action.
"We're also going to be much more aggressive at the border in ensuring that people come through the system legally," Obama said. He added that the "Mexican government's been very helpful" in making that clear.
Pena Nieto called Obama's controversial decision to normalize relations with Cuba "audacious" and said Mexico wants to collaborate in the effort. Obama said the United States would insist on human rights in Cuba.
Obama said the United States would insist that human rights and other issues be on the Cuba agenda in what he hopes will be more "constructive" policy.
Obama and Pena Nieto also discussed the Trans-Pacific Partnership agreement, a pending trade agreement that includes 12 Asia-Pacific countries, and which is actually opposed by many of the more liberal Democrats in Congress.
Tuesday's meeting marked the first time the governments included energy and climate cooperation to their agenda. The governments will establish a "binational business to business energy council," according to the White House, and will also try to increase regulatory cooperation to promote renewable energy and lower emission use.
Mexico will be hosting the 2015 Energy and Climate Partnership of the Americas and the Clean Energy Ministerial. The two governments also seek to establish the 21st Century Border Management Initiative to focus on the social, economic, financial, and environmental elements along the U.S.-Mexican border region.
"We are determined to make our border, where each day $1.5 billion in two-way trade and more than 400,000 people legally cross between the United States and Mexico, a source of shared economic opportunity," said a joint U.S.-Mexico statement issued by the White House after the meeting. "We will continue to coordinate closely as we improve our border infrastructure by building new facilities and modernizing old crossings. We will also continue work to harmonize our data requirements to facilitate our customs processes in all modes of transportation."