Republicans looking to unseat House Speaker John Boehner (R-Ohio) picked up several more supporters over the last 12 hours, but they still appeared to be several votes short of stopping Boehner from winning his third term as Speaker of the House.
Reps. Justin Amash (R-Mich.), Curt Clawson (R-Fla.), Jeff Duncan (R-S.C.), Tim Huelskamp (R-Kan.) and Randy Weber (R-Texas) all said they would vote for someone other than Boehner — that brings the total number of GOP members who have publicly declared against Boehner to 15.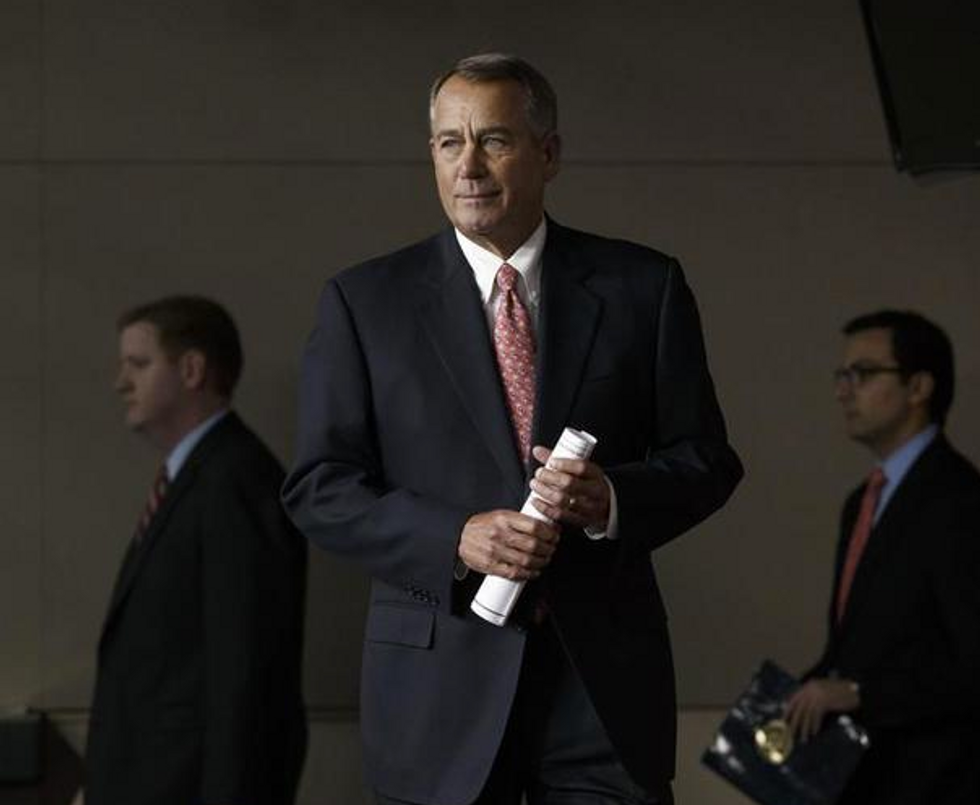 John Boehner will try to win his third term as House Speaker on Tuesday, but he faces a growing group of Republicans who will try to deny him a majority.
Image: AP Photo/J. Scott Applewhite, File
Normally, Boehner would still win a majority even if 28 Republicans vote against him, but after that, he would fail to win a majority, and a second round of voting would be needed to settle the fight. With the vote just hours away, the general consensus was that 15 to 20 Republicans would vote against Boehner, short of what's needed to force a second vote.
But Republicans will likely need even more defections, as several press reports say a dozen or more Democrats will not be in today, and will instead attend the funeral of former New York Gov. Mario Cuomo (D). The more Democrats who don't show up, the harder it will be to stop Boehner from getting a majority, and GOP defections will likely have to get to the mid-30s to force a second vote.
Last night, Rep. Louie Gohmert (R-Texas), who is running against Boehner, said he expected far more than 10 Republicans to vote against Boehner. Rep. Paul Gosar (R-Ariz.), who has declared against Boehner, said there would be more than 20.
There are still a handful of Republicans who are seen as likely candidates to vote against Boehner, which could easily bring the total number to 20 by the end.
In addition, another declared opponent of Boehner, Rep. Steve King (R-Iowa), said Monday that he expected Rep. Daniel Webster (R-Fla.) to formally run against Boehner.
Mid-Tuesday morning, Rep. Jeff Duncan (R-S.C.) announced his opposition in a Facebook post:
"A fresh start often requires change, and I believe that change should start with the election of a new Speaker," he wrote. "This wasn't a recent or hasty decision, nor was it one that I reached without a lot of prayer, reflection and listening. I believe a new Speaker of the House would send the signal to the American people that we're hearing their concerns while also letting the President know that Congress is committed to upholding the rule of law."
Rep. Tim Huelskamp (R-Kan.) announced just before Duncan did, in a tweet:
I am not voting for #Boehner. Honest. Principled. Conservative. Leadership is what I want.

— Cong. Tim Huelskamp (@CongHuelskamp) January 6, 2015
Both Clawson and Weber announced their opposition to Boehner in tweets a few hours before Huelskamp made his announcement:
After caucusing with my colleagues tonight, I will be voting for a change in House Leadership tomorrow. Now is a good time for change.

— Rep. Curt Clawson (@RepCurtClawson) January 6, 2015
Let's all get behind Judge Louie Gohmert for Speaker! He has my vote! He's not afraid to take the fight to the president & his veto pen!

— Randy Weber (@TXRandy14) January 6, 2015
Amash made his announcement via Facebook. "Speaker Boehner has been the leader of our party in the House for eight years," he wrote. "We have welcomed at least three large waves of new representatives during that time. Republican conference rules limit chairmen to six years in their offices to promote fresh thinking and new priorities. We should apply those same principles to all our party's leaders."
The 15 members eventually grew to 25 in the final vote for House Speaker, which Boehner won 216-164.
Before the vote, the following members said they would vote against Boehner:
Justin Amash (Mich.)
Dave Brat (Va.)
Jim Bridenstine (Okla.)
Curt Clawson (Fla.)
Jeff Duncan (S.C.)
Louie Gohmert (Texas)
Paul Gosar (Ariz.)
Tim Huelskamp (Kan.)
Walter Jones (N.C.)
Steve King (Iowa)
Tom Massie (Ky.)
Gary Palmer (Ala.)
Marlin Stutzman (Ind.)
Randy Weber (Texas)
Ted Yoho (Fla.)
— This story was last updated at 2:31 p.m.