When Gulf Breeze, Florida, police officer Sgt. Kerstan Tatro stopped a suspected drunk driver near the Pensacola Bay Bridge on Monday, he had no idea that two huge shocks were waiting for him.
The first: the driver would leave him with massive injuries.
The second: his daughter would show up on the scene mere seconds afterwards.
In dashcam video published to YouTube, Tatro can be heard telling the driver that she appears to be impaired and asking her to take a field sobriety test.
Then he notices her shifting her car into gear.
"Don't f*****g do it!" he yells, reaching inside the car to remove her keys.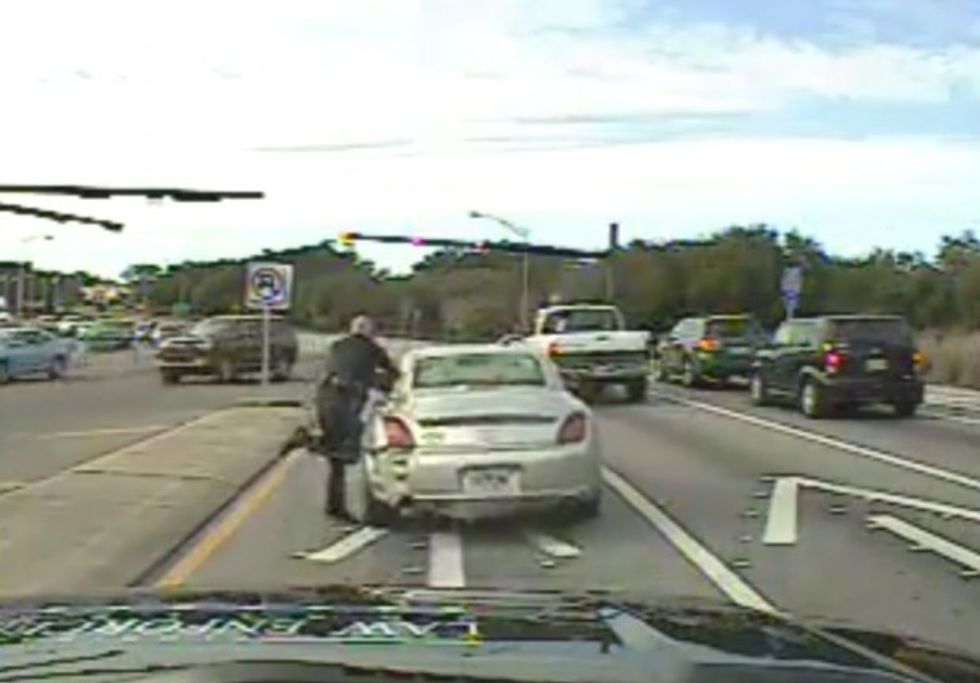 Image via YouTube
But Tatro can't get the keys out and the driver speeds away — with Tatro's arm stuck inside the vehicle.
His body is wrenched violently, and as he tumbles, his legs are run over by the fleeing vehicle.
Passers-by quickly gather, asking how they can help the fallen officer.
One of those passers-by is Tatro's own daughter.
"Dad are you okay?" she can be heard asking before bursting into tears and crying, "That's my dad!"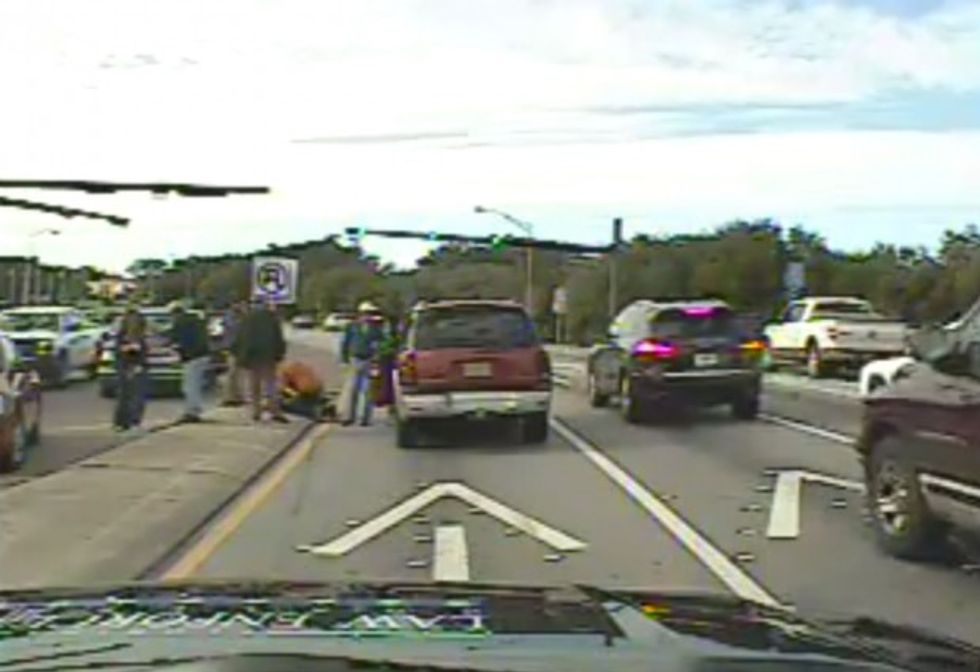 Image via YouTube
Watch the heartbreaking video below (content warning: brief strong language):
At the end of the day, it appears that justice was served: the apparently drunk driver, 30-year-old Amy Lee Giorgio, was apprehended.
The Pensacola News Journal reported that another driver saw Giorgio speed away from Tatro, so that other driver followed Giorgio and called 911.
Giorgio was arrested in a hotel parking lot, and police said they found drugs in her possession and that she appeared to be impaired.
Giorgio already had a court date, Jan. 20, for  a cocaine-related case, the News Journal reported.
She also had a slew of prior drug offenses and active warrants in several counties.
Tatro was hospitalized after the incident.
His arm was broken and he suffered several other injuries, police said, but none of his injuries appeared to be life-threatening.
—
Follow Zach Noble (@thezachnoble) on Twitter