A Phoenix, Arizona activist critical of police force underwent a use of force scenarios exercise with a local police department recently — and left with a change of heart. According to KSAZ-TV, Jarrett Maupin helped lead several marches on Phoenix police headquarters in recent months, upset about police shooting an unarmed man who they say fought with them. "We want his badge, we want his gun, we want his job," he was captured on video saying at one protest. The activist agreed to undergo a standard use of force training exercise with the Maricopa County Sheriff's Department where he was forced to decide whether to shoot or not to shoot in three different scenarios.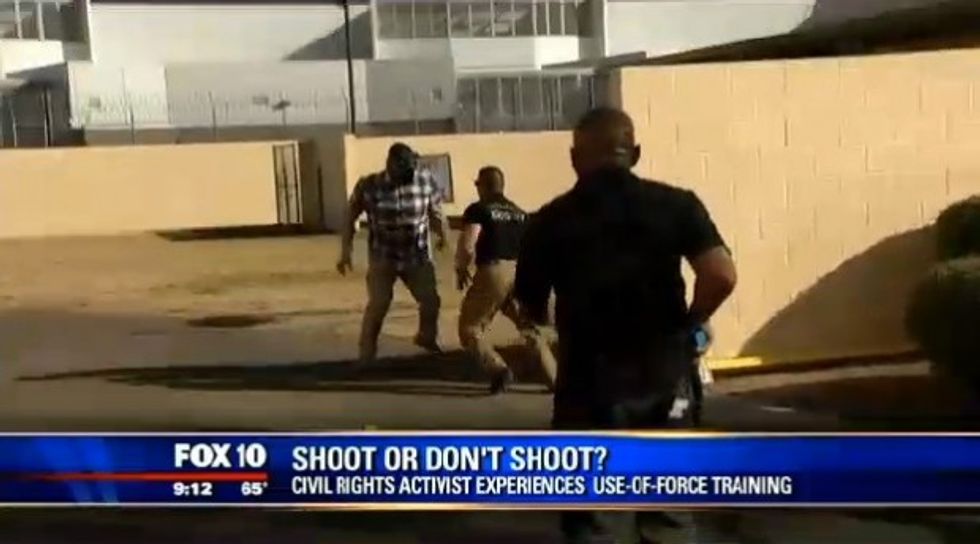 Image source: Screen grab via KSAZ-TV
In the first scenario, Maupin allowed a suspect to hide behind a car where he pulled a gun and shot him. "When he came to the back of the vehicle and started hiding, I could sense something was wrong," Maupin told KSAZ, noting he reacted too late.
In the second scenario, Maupin attempted to break up an argument that started to get physical. One of the unarmed subjects rushed him and Maupin fired his weapon on him. [sharequote align="right"]"I didn't understand how important compliance was..."[/sharequote] "Hey, he rushed me ... I shot because he was in that zone, I didn't see him armed, he came clearly to do some harm to my person," he explained to the Fox affiliate. "It's hard to make that call; it shakes you up." Finally, in the third scenario, Maupin successfully managed to detain a suspect on the ground, only to discover he had a knife in his waistband. After completing the entire exercise, the activist said he has a change of heart. "I didn't understand how important compliance was, but after going through this; yes my attitude has changed, this happens in 10-15 seconds. People need to comply for their own sake," he said.
thanks @troyhaydenfox10 #MCSO for use of force situational training, officer #deescalation & #complying citizens is the answer #commonground — Rev. Jarrett Maupin (@ReverendMaupin) January 8, 2015
— Follow Oliver Darcy (@oliverdarcy) on Twitter
[instory-firewire]