Amazon is rolling out a sleek new look that appears to be the company's latest attempt to sell more of its Fire and Kindle products.
As Business Insider noted, one of the most obvious changes is the new "Fire and Kindle" drop-down at the top of the page, beneath a darkened header. The additional tab option takes customers directly to a page featuring its Fire phone, Fire TV and Kindle products, sales of which have largely disappointed investors.
Amazon CEO Jeff Bezos introduces the new Amazon Fire Phone, June 18, 2014, in Seattle. (AP/Ted S. Warren)
A company spokesman confirmed that the changes are only part of a test, saying, "We are constantly looking for ways to improve the shopping experience for our customers."
Amazon has been in the process of testing new concepts since July, when the Daily Dot reported that the online retailer was testing the new feature on "select users." While Thursday's test appears to affect a wider swath of users, not every customer will notice the change right away.
Twitter users have pointed out the change is only showing up in the Safari and Internet Explorer browsers but not yet in Google's Chrome browser, Geekwire reported.
So far it's unknown whether more customers will begin noticing a new look on Amazon. The company did not immediately respond to TheBlaze when asked for a comment on the matter.
Here's a "before and after" look at Amazon's homepage: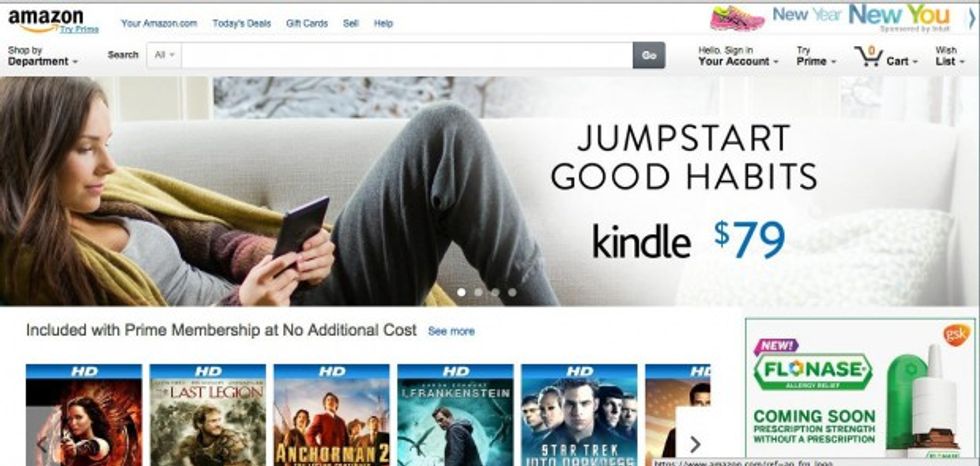 Amazon's previous homepage design. (Image source: Amazon.com)
Here's Amazon's redesign test. (Image source: Amazon.com)
(H/T: Business Insider)
—
Follow Jon Street (@JonStreet) on Twitter