When an Oklahoma family realized that two of the most expensive objects in their home were missing, they had a hunch that one of their dogs may have had something to do with it.
"I saw my dogs near the coffee table and remembered I'd left my wedding rings sitting on the table last night," Stephanie Lamb told KMYT-TV.
Those rings? They were worth about $23,000. The two dogs, Tahoe and Sierra, were in trouble.
"When I got over there two were gone and she was going for the other two," Lamb said.
When Lamb realized her own dogs had eaten the wedding ring and wedding band, she knew it had to have been Sierra: "She's just a little bit of a troublemaker."
The family took the dog to the vet and sure enough, an X-ray revealed two objects inside the pooch.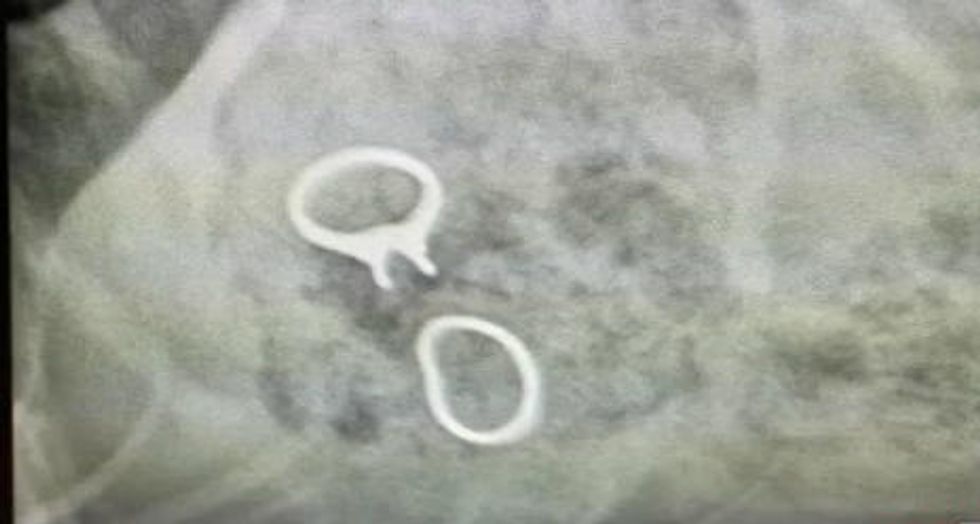 An X-ray revealed that an Oklahoma family's dog had eaten a $23,000 wedding ring and wedding band. (Image source: KMYT-TV)
But Dr. Rodney Robards of Southern Hills Veterinary Hospital, who performed surgery on Sierra, said the wedding rings weren't the only objects the dog had been eating.
"There were rocks in there and some sticks or maybe bones," Robards said.
While the dog went home on an empty stomach – as far as foreign objects are concerned – Lamb's son, Brody, revealed he wasn't as worried for the rings or for the dog as much as he was nervous about something else.
"I [thought] my mom and dad weren't married anymore," Brody said.
(H/T: KMYT-TV)
–
Follow Jon Street (@Jon Street) on Twitter