After radical Islamic terrorists raided the Charlie Hebdo offices in France and murdered 12 people last week, the satirical weekly newspaper has reportedly released a defiant new cover featuring the Prophet Mohammed crying and holding a "Je suis Charlie" sign.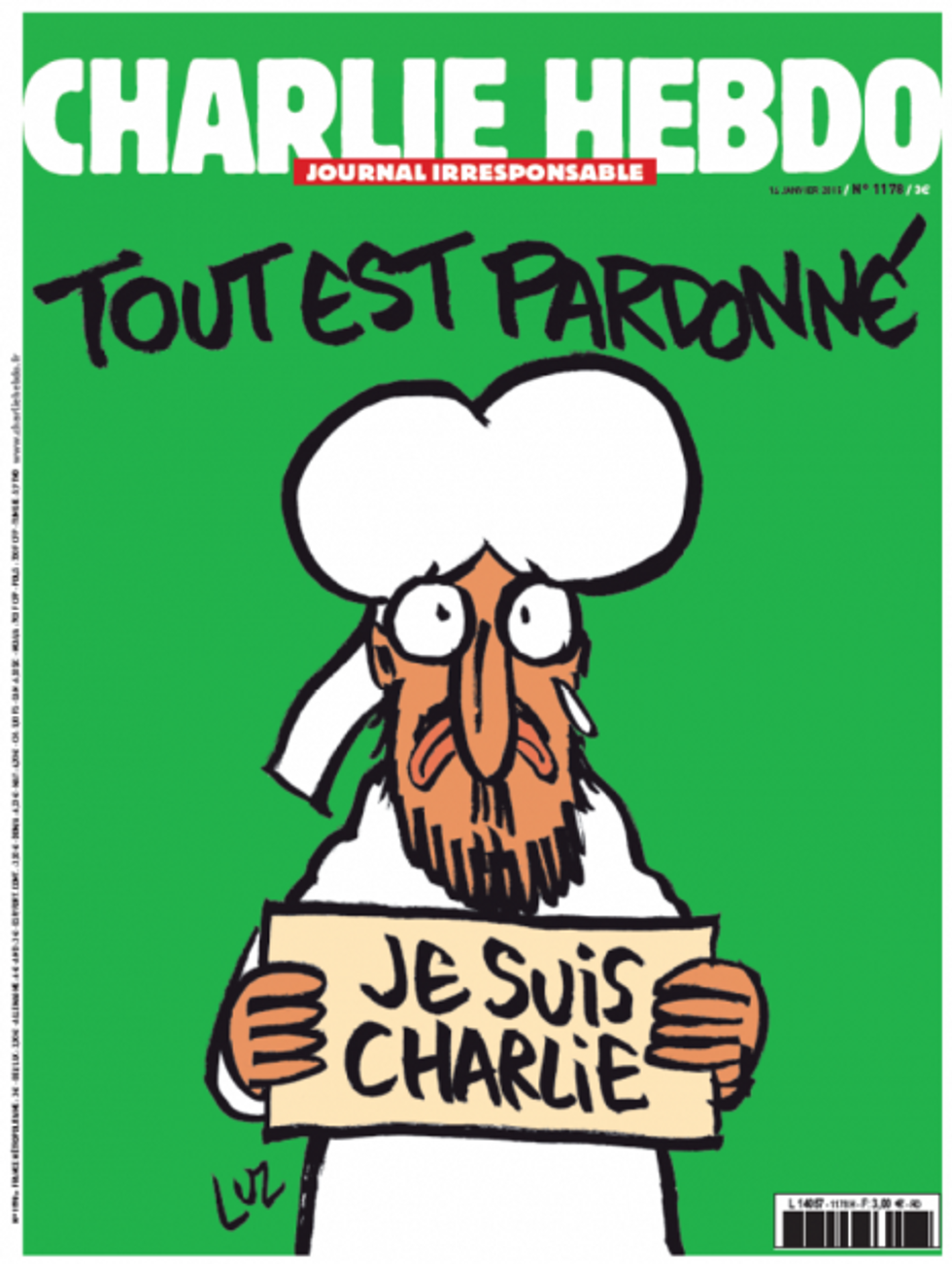 Source: www.liberation.fr
Je suis Charlie, a phrase that became popular across the globe following the attacks, means "I am Charlie." The other French phrase on the cover apparently means, "All is forgiven."
Last week's deadly attack on Charlie Hebdo's offices that killed 12 people is believed to have been revenge for the French satirical publication's mockery of Islam's Prophet Muhammad and France's military involvement in Muslim countries.
The main suspects in the attack, brothers Cherif and Said Kouachi, were killed Friday after police raided the building where they had holed up with a hostage north of Paris.
Review some of the reactions to the bold cover on Twitter below:
Oh whoa, the new cover of Charlie Hebdo shows "prophet" crying, saying #JeSuisCharlie and slogan "all is forgiven." pic.twitter.com/8qaL3Dnmza

— Summer Brennan (@summerbrennan) January 12, 2015
Fair play and uttermost respect to #CharlieHebdo for this weeks cover #NoSurrender pic.twitter.com/uAIl2uchAJ

— George Roe (@GeorgeRoe_) January 12, 2015
It'll be interesting to see which media organisations are willing to show the #CharlieHebdo cover: http://t.co/l6rfTZ8OIy 3m copies printed.

— Adam Bowie (@adambowie) January 12, 2015
This Is Charlie Hebdo's First Cover Since the Attack — And It's Absolutely Perfect by @jaredbkeller http://t.co/8Vy9U0TLjR via @MicNews

— jessica r. (@jsweet83) January 12, 2015
Wish the rest of the media was as brave. RT @voxdotcom Defying killers, Charlie Hebdo puts Mohammed on its next cover http://t.co/18QiiAelpj

— Todd Bosnich (@Te_Boz) January 12, 2015
What makes this cover so beautifully subversive is its portrayal of Muhammed as merciful, not vengeful. pic.twitter.com/MovZcRGHtX

— Brandt (@UrbanAchievr) January 12, 2015
The Associated Press contributed to this report.