On Monday, French satirical publication Charlie Hebdo released the new, defiant cover of its Wednesday issue — and Al Jazeera's handling of the cartoon image, which depicts the Prophet Muhammad crying and holding a "Je suis Charlie" sign, has critics calling the news outlet's legitimacy into question.
Citing inside sources, BuzzFeed's Rosie Gray reported Monday that journalists with Al Jazeera have already been informed that it's "absolutely out of bounds" to publish images of the new Charlie Hebdo cover.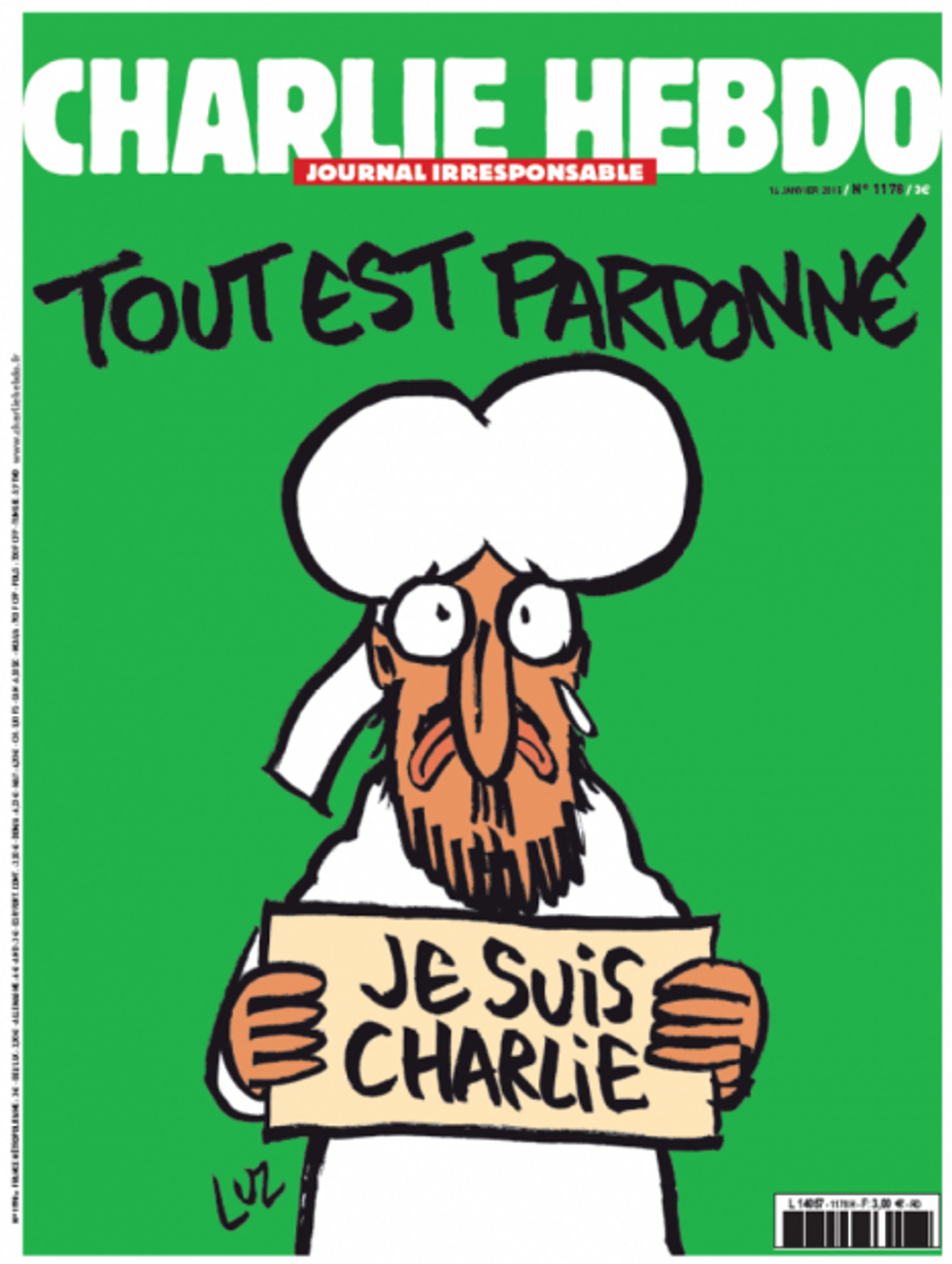 Source: www.liberation.fr
The news outlet is already facing accusations of self-censorship after emails outlining the internal debate over whether or not to publish past Charlie Hebdo cartoons featuring the Prophet Muhammad. Many of the emails criticized the publication for running the cartoons and one email from a staffer proclaimed, "I AM NOT CHARLIE."
Al Jazeera editors are also reportedly refusing to air an interview with French leader Marine Le Pen, who appeared on Al Jazeera English on Monday to discuss the terror attacks in Paris.
Visitors wait in the lobby of Al-Jazeera America after the network's first broadcast on Tuesday, Aug. 20, 2013 in New York. ( AP Photo/Bebeto Matthews)
"We have to go into fundamentalist mosques, we have to stop foreign financing of Islamist groups. We have to review our foreign policy and stop rolling out the red carpet for countries we know to be funding fundamentalism; countries like Saudi Arabia and Qatar," Le Pen said, according to a transcript obtained by BuzzFeed.
A source reportedly told BuzzFeed's Gray that "journalists and editors on the channel censor themselves," especially when Qatar is involved.
"It's basically a no-go area," the source added. "If it's Qatar it's kind of like, holy cow, no pushback, no one goes there."
Last week, radical Islamists raided the Charlie Hebdo offices and later a Jewish grocery store, murdering a total of 17 people.
Read the full report here.