As the world focused on terrorism in Paris, Nigeria was struck with new terrorist attacks this weekend, this time with young girls as suicide bombers, according to eyewitness accounts.
Reuters reported that two girls on Sunday detonated explosives strapped to them in a market in northeast Nigeria, killing at least three. Sunday's attack followed a deadly terrorist strike a day earlier, in which a girl strapped with explosives killed 16, according to Nigerian security sources.
Eyewitness Sani Abdu Potiskum told Reuters that Sunday's bombers were about 10 years old.
"I saw their dead bodies. They are two young girls of about 10 years of age," he said. "You only see the plaited hair and part of the upper torso."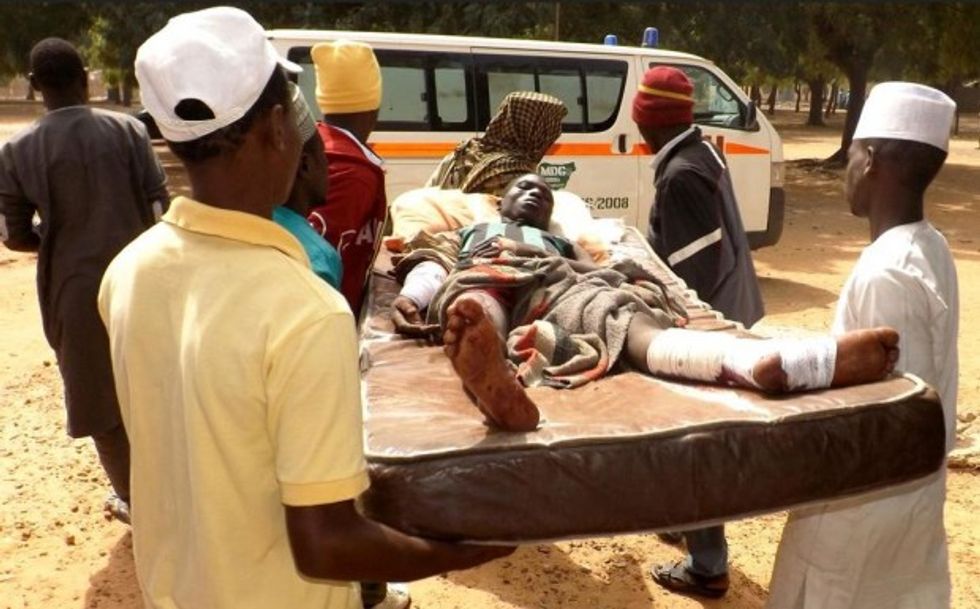 A man injured in a suicide blast is carried on a mattress by relatives at the General Hospital in the northeast Nigerian town of Potiskum, Jan. 12, 2015. Four people were killed and 46 injured when two female suicide bombers detonated their explosives outside a mobile phone market in the town on Jan. 11, 2015. Although no one claimed responsibility, the attacks bore the hallmark of Boko Haram Islamists who have been increasingly using female suicide bombers in their armed campaign to establish a hardline Islamic state. (AFP/Aminu Abubakar)
There was no claim of responsibility, but the Nigerian town of Potiskum, the site of Sunday's attack, has been targeted repeatedly by the Muslim militant group Boko Haram.
On Saturday, a bomb strapped to a girl also believed to be around 10 years old exploded in a busy market in the Nigerian city of Maiduguri.
"The explosive devices were wrapped around her body and the girl looked no more than 10-years-old," a police source told Reuters.
Boko Haram, which aims to impose Shariah law in northeast Nigeria, is estimated by Amnesty International to have killed as many as 2,000 in a violent rampage last week.
Amnesty International said the assault on the town of Baga might be the group's deadliest yet, calling it a "massacre."
"The attack on Baga and surrounding towns looks as if it could be Boko Haram's deadliest act in a catalogue of increasingly heinous attacks carried out by the group," said Daniel Eyre, Nigeria researcher for Amnesty International.
The Council on Foreign Relations estimates that more than 10,000 people were killed in the violence in Nigeria last year.