A New York City ninth-grade student was suspended from school after being caught on camera allegedly assaulting a substitute teacher who wouldn't let him go to the bathroom.
It happened at Gorton High School in Yonkers last week, when a 16-year-old male student, whom neither police nor the school have identified, was seen punching the substitute teacher repeatedly and putting the instructor in a headlock while school was in session.
Video of the Jan. 5 incident shows the alleged attack as seen from another student's cellphone camera, the New York Daily News reported. But as WNBC-TV reported, more video could still surface given the school has cameras installed.
One student familiar with the student who allegedly assaulted the teacher told WCBS-TV, "I see him around the school. The kid is usually quiet. He do[es]n't really do much."
Rocio Vidao, who is in 12th grade, said it all happened after the substitute, whom she referred to as Ron Santavicca, refused to let the student go to the bathroom.
"The teacher was, like, telling him, 'Don't leave,' and then the kid came out of the classroom, and the teacher went after him, and that's when the kid attacked the teacher," Vidao told WCBS-TV.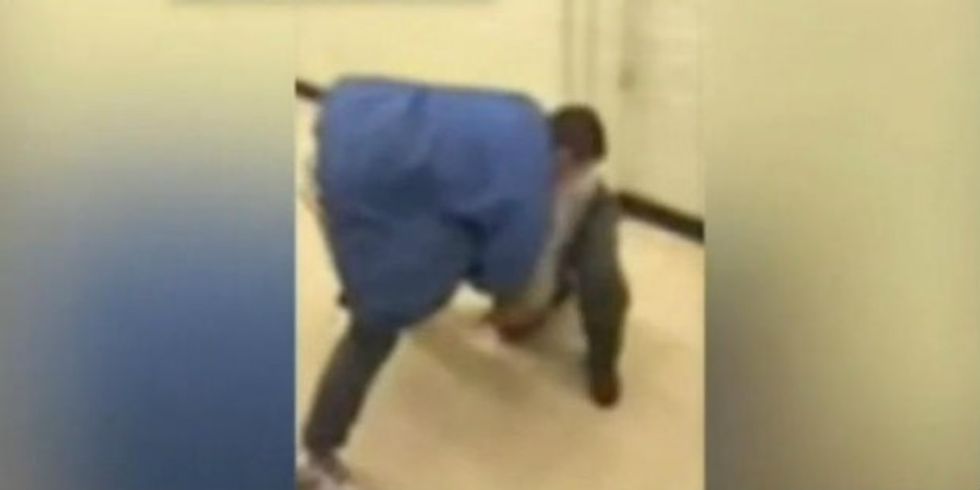 Cellphone video taken at a New York City high school last week appeared to show a ninth-grade student assaulting a substitute teacher after the teacher reportedly refused to let the student use the restroom. (Image source: WNBC-TV)
While police and the school try to find out exactly what happened, Santavicca is not allowed to teach in the district, according to WCBS. School officials are also investigating whether Santavicca may have been involved in any kind of misconduct.
The Yonkers Board of Education told WNBC in a statement that the police were contacted and the student was suspended for five days. An investigation is ongoing, and a superintendent's hearing has been requested.
Various reports indicate the student has not been arrested and that no charges have been filed.
Santavicca was not severely injured, according to WCBS-TV.
(H/T: WNBC-TV)
–
Follow Jon Street (@JonStreet) on Twitter