Palestinian students at Al-Quds University in Jerusalem produced a short film dramatizing stabbing and shooting Jews, the latest show of support for terrorism emerging from a campus that has partnered with U.S. colleges.
Jerusalem Post Arab Affairs correspondent Khaled Abu-Toameh reported that Hamas-aligned students at the college were behind the production, which featured a Jewish "settler" and a "rabbi" – played by students – facing the ultimate punishment for what was characterized as occupying Palestinian land.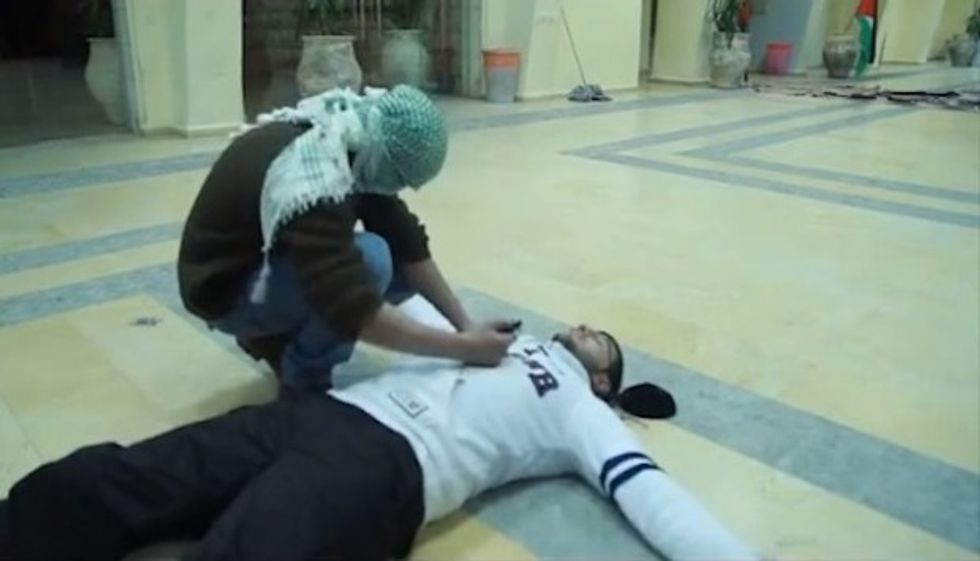 The "settler" is stabbed to death for his crime of occupying Palestinian land, the key message the student dramatization conveyed. (Image source: YouTube)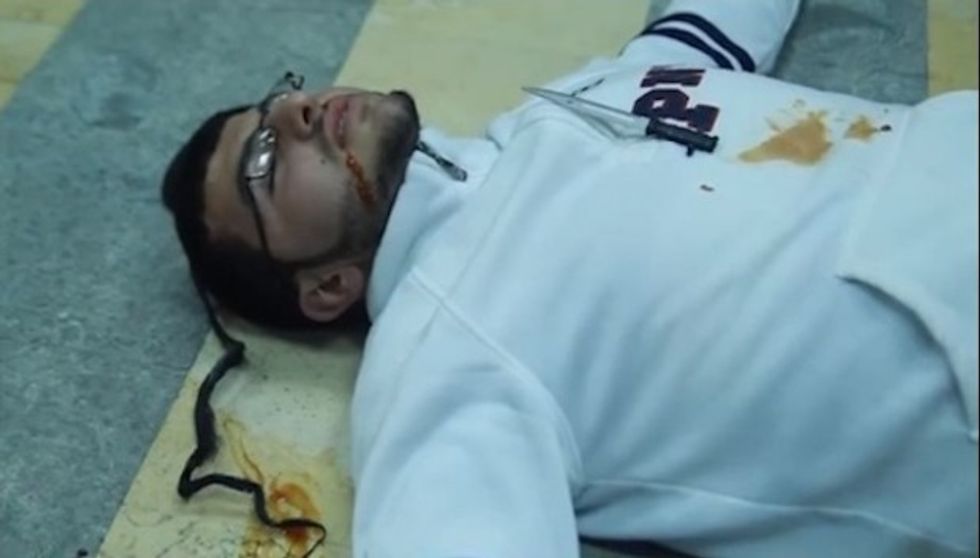 Hamas-affiliated college students used props including sidelocks, a knife and a colored liquid to dramatize the stabbing to death of a Jew. (Image source: YouTube)
The video, which featured no dialogue and was set to Arabic music, showed the stabbing of the "settler," the shooting of the "rabbi" and the triumphant arrival of men dressed in commando-type garb with their faces covered, presumably playing the role of Hamas terrorists. At the end, the men pray toward a replica of the Al-Aqsa mosque in Jerusalem.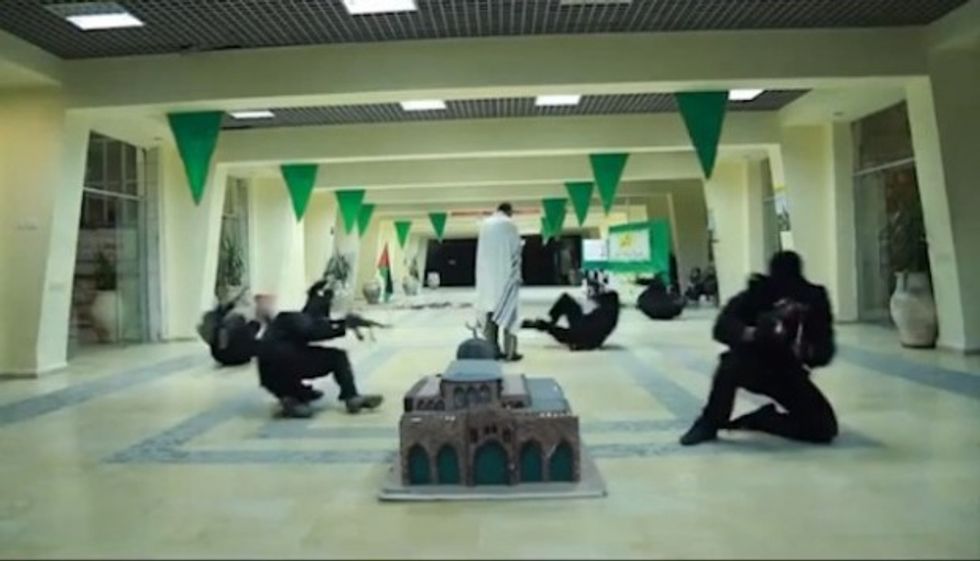 Students in commando-like uniforms somersault in, signaling an imminent end for the praying rabbi. (Image source: YouTube)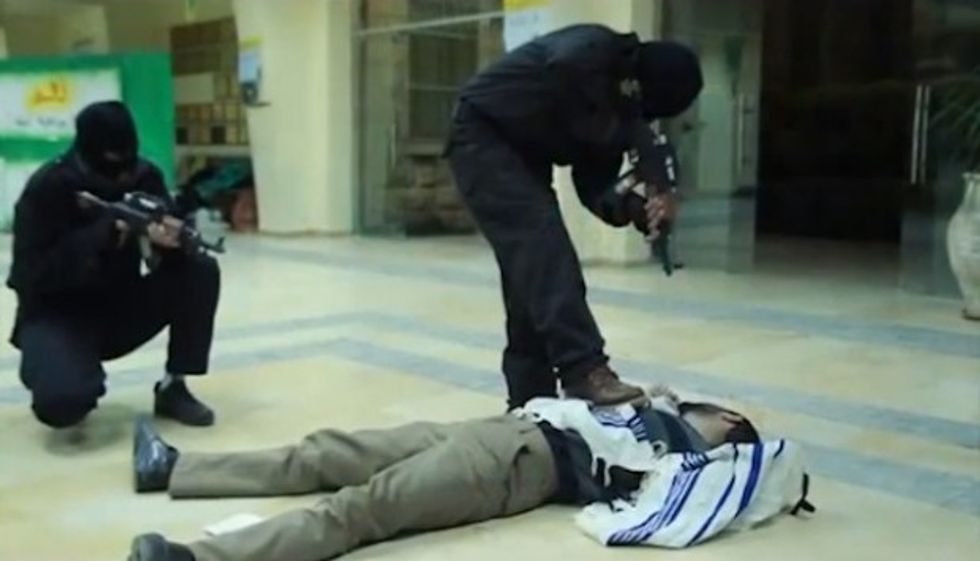 After demonstrating stabbing a Jew, the dramatization played out the shooting of a rabbi, also acted out by a Palestinian student. (Image source: YouTube)
Brandeis University in Massachusetts ended its partnership with Al-Quds University after students there held a Nazi-themed demonstration in support of the Islamic Jihad terrorist group in 2013.
However, Bard College in New York apparently continues its joint program with the Palestinian university which according to the partnership's website offers both American and Palestinian B.A. and M.A. degrees.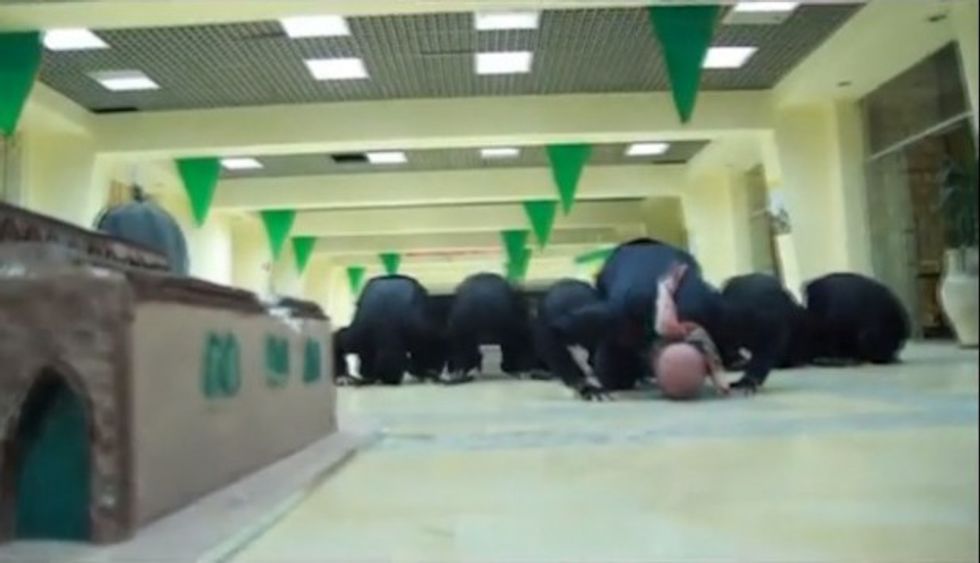 After the violent staging, the jihadists prayed together toward a replica of Jerusalem's Al-Aqsa mosque. (Image source: YouTube)
"The Palestinian Authority has been openly promoting murder by glorifying terrorists and has been paying salaries to terrorists for years and the West ignores it - and worse continues funding the Palestinian Authority and treating them like an acceptable government," Itamar Marcus, director of Palestinian Media Watch, which monitors Palestinian media and societal trends, told TheBlaze.
The U.S. is a key financial supporter of the Palestinian Authority.
"The West's message to the PA, that they can glorify murder and reward murder of Israelis with impunity, has given a message to the PA and other Palestinian terrorist groups that the world does not care about the murder of Israelis," Marcus said. "The result: the promotion of Palestinians murdering Israelis which had to be secret in the past is now promoted openly on YouTube."