Glenn Beck said the White House's explanation of President Barack Obama's absence from the historic anti-terrorism rally in Paris over the weekend is a "crock of crap." Beck parsed the entire conversation between White House Press Secretary Josh Earnest and Fox News' Ed Henry about the matter on his radio program Tuesday, and noticed something you might have missed.
Henry asked Earnest why the White House didn't send someone with a higher profile to the rally, since they openly admit they should have. Earnest's response began: "We're talking about a march that came together with essentially 36 hours notice."
Beck interjected: "I want you to know that the United States is not able to respond within 36 hours. We know we couldn't do that in Benghazi. We know we couldn't, in a 15-hour period, fly a jet off the side of an aircraft carrier and take care of some militants. But now we're not able to put a person on the ground for a march within a 36-hour window. That's how meaningless our security and our capabilities really are now. We're the ones that put a man on the moon ... when everyone said we couldn't do it. Now we can't put a man on the streets of Paris within 36 hours."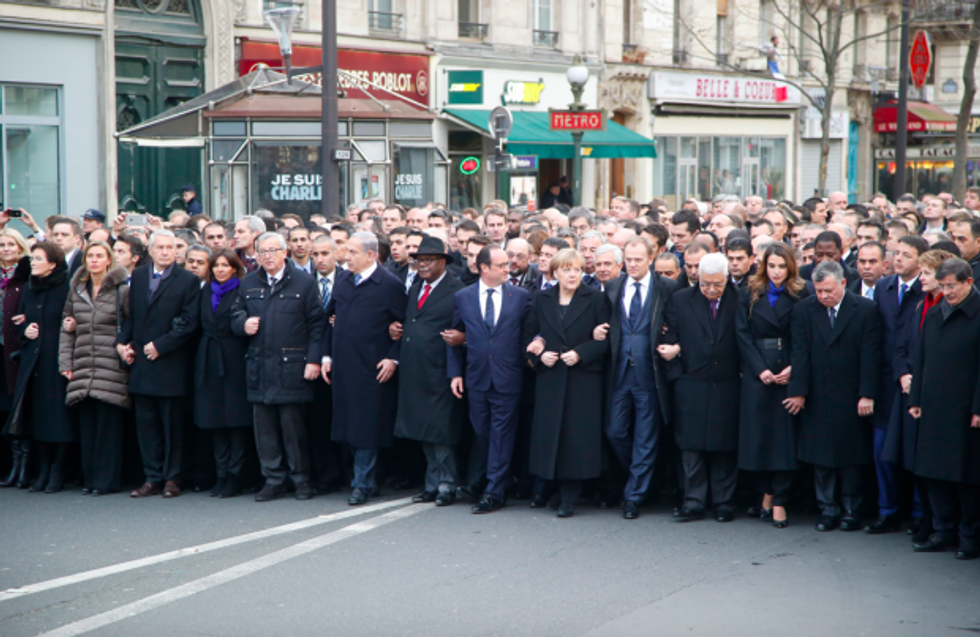 World leaders including Israeli Prime Minister Benjamin Netanyahu, Malian President Ibrahim Boubacar Keita, French President Francois Hollande, German Chancellor Angela Merkel, EU president Donald Tusk, Queen Rania of Jordan, Italian Prime Minister Matteo Renzi and Swiss President Simonetta Sommaruga march arm-in-arm in Paris, France, Sunday, Jan. 11, 2015. Thousands of people began filling France's iconic Republique plaza, and world leaders converged on Paris in a rally of defiance and sorrow on Sunday to honor the 17 victims of three days of bloodshed that left France on alert for more violence. (AP Photo/Michel Euler)
Earnest's response continued: "And a march that occurred outdoors, with an obviously very large number of people who participated."
"Stop. OK, so we're now outdoors and there's a lot of French people around," Beck remarked. "Think about how insulting this answer is. If we were all gathered in the streets after 9/11 and the French president said, 'It was only a 36-hour window, and I didn't know if we could send anybody because it was outdoors and there were a lot of Americans on the streets,' imagine how insulted we would have been."
Beck noted that there were dozens of world leaders at the event, including Israeli Prime Minister Benjamin Netanyahu.
"May I ask you a question: Is the Mossad sloppy?" Beck asked, referring to the Israeli intelligence service. "Does the Mossad allow people to open the front door of the prime minister's house? Is the Mossad going out and getting exotic massages? Is that the problem with France? You were going to bring the Secret Service, but within 36 hours, you weren't sure that they could sober up in time?"
Earnest's response continued: "We are mindful any time the president goes to a public place, or the vice president for that matter, that we don't want to -- or at least we want to try to mitigate the impact that the security precautions would have on those who are participating in this public event."
"Stop," Beck said. "[The president] was only making this decision because he wanted everybody else to enjoy themselves. When the president goes, he can't always enjoy himself because he has so much security around him. Let's say -- I'm just making something up here -- let's say he has to go to a funeral. He can't just sit there with some other world leader laughing and yukking it up at the funeral and maybe taking selfies. He can't do that because the security is far too tight for the president. He will destroy everybody else's time. For instance, when he went to Nelson Mandela's funeral, I'm sure it was security that wrecked the event for Mrs. Obama. Because I remember her being pissed off about something..."
President Barack Obama, U.K. Prime Minister David Cameron and an unidentified woman pose together for a "selfie" at the memorial service for former South African President Nelson Mandela. (AFP/Getty Images)
"By the way, did you notice he didn't answer the question?" Beck continued. "The question was: why didn't you send somebody else? He's answering for the president, [saying] that the Secret Service can't act within 36 hours. Bull crap."
Beck continued to parse the conversation, asking why the White House referred to the rally as one against "violent extremism" instead of one against Islamic extremism.
"Could you please name other violent extremist movements?" Beck asked. "I can give you two -- Ferguson [is one]. Would you consider that a violent extremist movement? Would you consider the march where they're calling for the killing of cops, and then the actual execution of cops, would you consider that a violent extremist movement? . ... And may I ask, when they were trying to blow up the bridges in Ohio through Occupy Wall Street, would you consider that a violent extremist movement? ... Who are you talking about?"
"I can't take the lies," Beck continued heatedly. "What is the difference, honestly, between the magazine printing this about Muhammad and the guy making the really bad film about Muhammad [before Benghazi]? The press cheered when we put that guy in jail! The press cheered when the president said, 'The future must not belong to those who slander the prophet [of Islam].' He said that in front of the UN. What's the difference? Why is the press all up in arms on this one, and they cheered in the opposite direction last time?"
Beck noted that Attorney General Eric Holder was in Paris at the time of the rally, but chose not to go. He also said that if the president couldn't make it for security reasons -- which Beck made clear he did not accept -- the president could have done something in America to show "the Americans are standing with the French."
"Are you done being lied to? Because I really want to know: what is the difference between this and what the president lectured the UN against?" Beck concluded. "I wonder if the press will ask the question: Did the president not attend because, maybe, he still is standing by 'the future must not belong to those who slander the prophet [of Islam]?' Because that's the only thing that makes sense here. Where was the change of heart?"
[mlbvideo content_id=37128629]
The full episode of The Glenn Beck Program, along with many other live-streaming shows and thousands of hours of on-demand content, is available on just about any digital device. Click here to watch every Glenn Beck episode from the past 30 days for just $1!